This is the Sony Ericsson Xperia Play slogan: Smart Phone, Smart Gaming
3 February 2011 by Olav Hellesø-Knutsen
Sony Ericsson is leaking information about the upcoming Xperia Play. This time it is the design sketches of a T-Moblie branded retail boots thats out on display
The Sony Ericsson Xperia Play Android devices will be officially announced at the Mobile World Congress in 10 days. We have seen leaks regarding this phone several times before. The phone / gaming device has been previewed, reviewed and dissected numerous times so nothing new would surprise us there. The remaining things to talk about is the wrapping, commercials and the display booths used by retail stores.
A Duch web site has published a computer generated image showing what the Xperia Play booth will look like. The counter display is branded with a T-mobile logo so the leaked image might have came from T-mobile, or it could just be an example of what the co-branding could look like.
The phones on disply are not looking like the Xperia Play, but it could be the Xperia Arc which was the only new available Sony Ericsson model the graphic designer had during the creation of the illustration.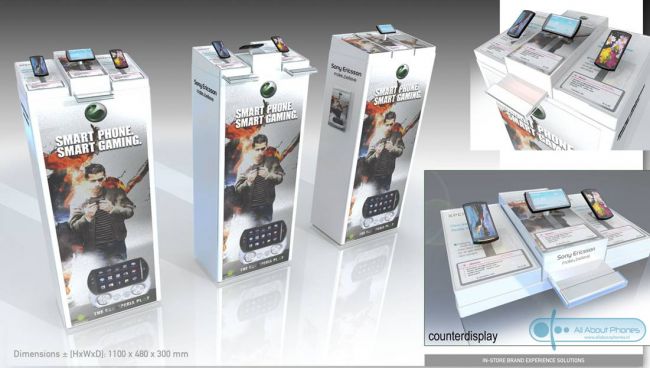 ---
Alternatively post this in the Esato forum
Please sign in to your Esato account to leave a comment regarding this article
Yeah, I'm still confused bout the phones on it. It's too rounded for the arc and to thin for the play. And the phone pictured on the bottom looks more like the PSP Go.
The pic is from a thrusted source though

And thanx for posting

MWC is gonna be great. Can't wait.
@domipost: aren't these "phones" meant to be the Play? They could be dummies though.

On 2011-02-03 14:02:32, tranced wrote:
@domipost: aren't these "phones" meant to be the Play? They could be dummies though.

In reality they will. In the pic I don't know :S
For me, this is a photoshop concept of something that would happen in MWC.
---