Sony Ericsson today released three new phone models. Z600, Z200 and T230
3 September 2003
The two Z-models are so called flip phones. This is the first Sony Ericsson flip model for the European market. In addition a new exciting game control for the Z600.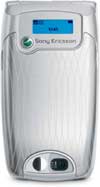 Out of these three phones, the Sony Ericsson Z600 must be considered as the top of the range model. It has integrated camera, 65,536 colour TFD display, Bluetooth, 32-voice polyphonic ringtones, themes, wallpapers, Java, Mophun games. A second display on the outside of the phone shows information such as caller ID, time, network and battery status. The Z600 comes with V-Rally2, a popular racing games for game consoles. Attach the Z600 to the Gameboard EGB-10, and you will have console-style feeling when playing mobile games. The Z600 menu layout is the same as in the T610. While the display resolution and number of colours are equal to the T610, the Z600 has a better TFD-display. It's tempting to say that this model is a T610 inside but with a camshell cover.
Sony Ericsson Z600:
Weight: 100g
Size: 90 x 48 x 27.9mm
Standby time: 200 hours
Talk time: 6 hours
Colours: 4 different with 2 Style-Up cover designs per kit.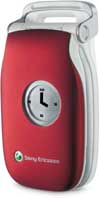 The Z200 is the second clamshell model Sony Ericsson introduced today. Itís an entry-level model for the mass market. It has a 4096 colour display, 40-voice polyphonic ringtones, wallpapers, themes and 3 Mophun games. In contrast to the T300, T310, T610 are you not able to download new games to this model. MMS is also missing in the Z200. A nice feature is the digital clock on the outside of the shell.
Weight: 98,3g
Size: 96,4 x 52 x 25,4mm
Standby time: 200 hours
Talk time: 4,5 hours

T230 is also a entry-level model. It looks like the American T226 model, but this model has a 4096 colour display in addition to 32-voice polyphonic ringtones, Mophun games, support for themes and wallpapers.


The Gameboard EGB-10 and Bluetooth CAR-100 (!) is probably something for the youngest consumers. Owners of earlier Sony Ericsson models (T68, T300, T610 and P800 etc.) are used to control the PC software with the phone, but the CAR-100 is probably the first device manufactured where a Sony Ericsson phone must be used as the main control for the device.
No information was revealed about the P800 inheritor today, but we have published pictures of the P900 and Z600 in an earlier article here at Esato.
See more pictures here
---