Sony Ericsson extends handsfree possibilities
15 July 2004 by axxxr
Sony Ericsson extends handsfree possibilities with new Bluetooth™ headsets in the Akono™ range and an innovative Desk Speaker Stand
Press Release:
The new Bluetooth™ headsets in Sony Ericsson's Akono™ range offer beneficial new features which make going handsfree easy, comfortable and convenient. Both models are lightweight and stylish and they can be used with any brand of Bluetooth™ phone that supports the Headset or Handsfree profiles.
The cutting edge functionality of Akono™ Headset HBH-660 introduces an Info Display which shows the caller's name or number. By pressing buttons on the side of the earpiece, the user can handle calls without having to touch their mobile phone. The HBH-660 has a talk time of up to five hours and standby time of up to 150 hours which makes it ideal for a full working day. With its slender shape, exclusive design, low weight and small size, the HBH-660 is comfortable to wear and easy to carry around. The HBH-660 will be available in Q4, 2004.
The true workhorse of Sony Ericsson's Bluetooth headset range is Akono™ Headset HBH-300, offering the best possible sound performance, especially in noisy environments. It has been designed with business people in mind, and copes easily with long days filled with calls in the office or in the car. Sound performance is optimised by an extended boom which puts the microphone nearer to the caller's mouth and a noise cancelling function which reduces background sound. A talk time of up to 10 hours and standby time of up to 300 hours means that the headset can last for several days' intense usage before needing a recharge. The HBH-300 will be available Q3, 2004.
The Desk Speaker Stand CSS-25 allows users to handle handsfree calls with excellent sound quality, either on loudspeaker or private. The CSS-25 has a built-in microphone/speaker so that the user can hear the caller loud and clear in the room, which makes it ideal for smaller phone meetings. For private conversations there are two plugs – one for a Sony Ericsson Portable Handsfree, and one for a professional headset with a 2.5 mm connector.
When needed, the CSS-25 can also run off the phone's battery, making it truly mobile. It can easily be taken on business trips or to meetings that require a loudspeaker phone. The CSS-25 will also charge the phone battery and synchronize the user's phone and PC, even while the phone is in use. There is no longer any need to have one fixed and one mobile phone – the easy-to-use CSS-25 together with a Sony Ericsson mobile phone can offer all the necessary functions. This makes the CSS-25 the ideal tool for businesses that are heading for a wireless office. The Desk Speaker Stand CSS-25 will be available in Q4, 2004.
HBH-660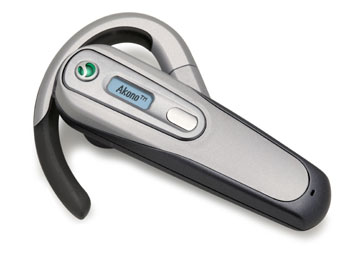 HBH-300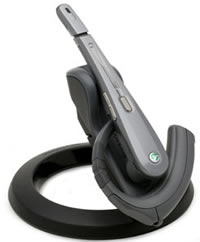 Speaker Stand CSS-25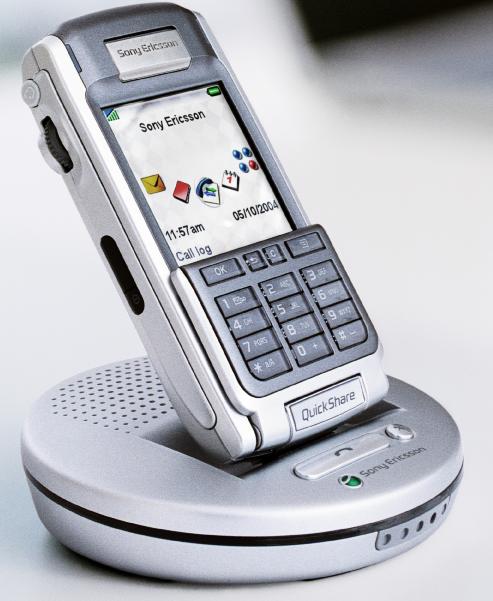 ---