HTC EVO Shift 4G officially announced
4 January 2011 by Olav Hellesø-Knutsen
Sprint today officially unveiled the 3.6 inch HTC EVO Shift 4G QWERTY slider with WiMAX
CES has opened and HTC and Spint announced the third 4G handset for the network provider. The EVO Shift 4G has a 3.6 inch display with a 480 x 800 pixel resolution. The screen is capactivie with pinch-to-zoom and tactile feedback. Surprisingly it is running on Android 2.2 (Froyo) and not 2.3 Gingerbread which is the latest version of the OS released one month ago. EVO Shift 4G is powered by a 800 MHz Qualcomm MSM 7630 CPU with 512 MB RAM and 2 GB storage built in. This can be expanded up to 32 GB with microSD card.
This is not a GSM phone and will not work on worldwide GSM networks. The 3G data speed is EVDO Rev A. with top download speeds of 3.1 Mbps. Maximum upload speed is 1.8 Mbps. But that is not all. As the model name revields, this is a 4G phone and to reach such speeds the EVO Shift 4G is fitted with a WiMAX connectivity promissing 10 Mbps download speed and 1 Mbps upload.
HTC Evo Shift 4G has a QWERTY slider form factor with a D-pad style controller. It has a 5 megapixel camera and can record video in HD 720p quality. The sensor list is comprehensive: Digital compass, G-Sensor, proximity sensor and light sensor.
HTC EVO Shift 4G highlights
167 gram
117 x 58 x 15 mm
1500 mAh battery promissing 360 hours of talktime
3.6 inch capactive touch display, 480 x 800 pixel resolution, 65000 colours
3G / 4G networks. EVDO Rev A. and WiMAX
Android 2.2 (Froyo)
QWERTY Slider
Bluetooth 2.1
5 Megapixel camera with autofocus
720p HD Video recording
512 MB RAM. 2 GB Storage. Expandable up to 32 GB with microSD card
GPS
HTC Sense user interface running on top of Android
Full EVO Shift 4G specifications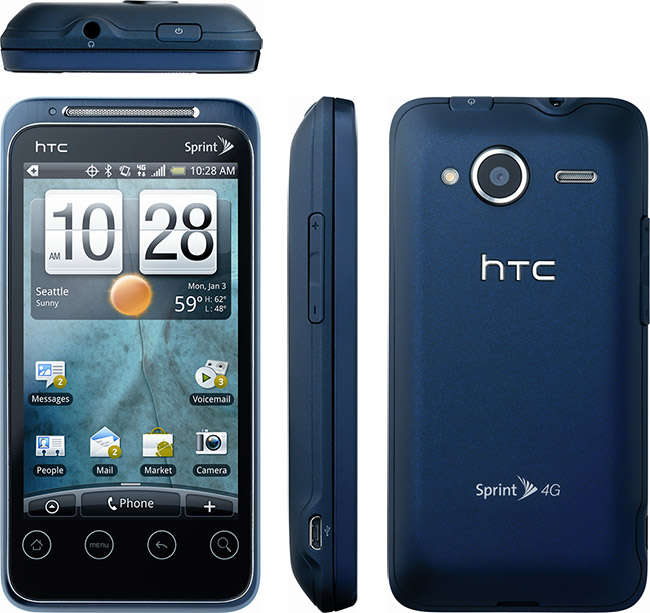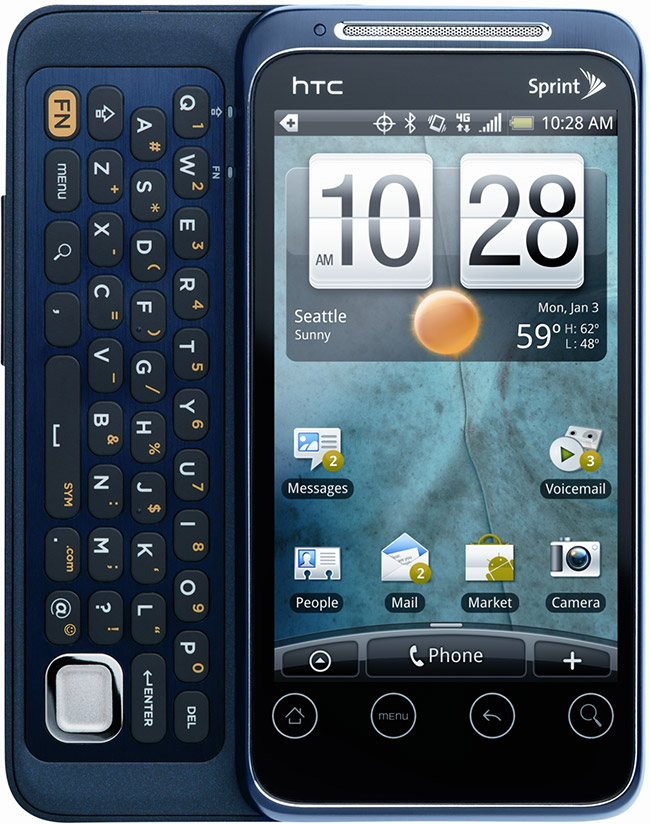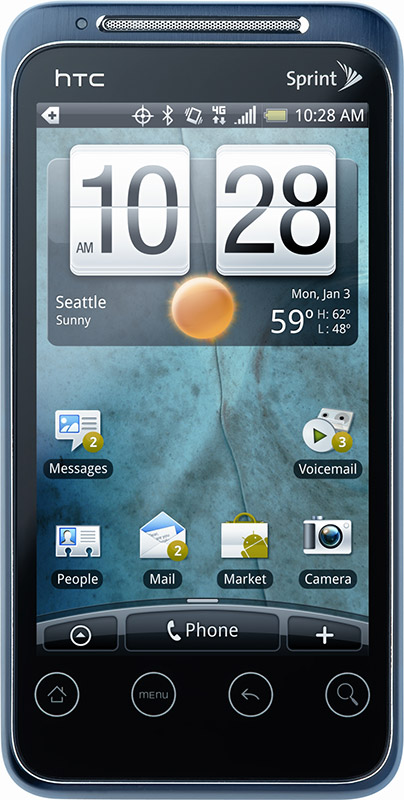 ---