False Sony Ericsson T69 rumours
16 January 2003
We feel like it's time to clarify some rumours about a new T69 model from Sony Ericsson. The phone was supposed to be the successor of the popular T68.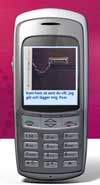 Several mobile sites have reported that Sony Ericsson will release a T69 later this year. We have to disappoint you all, but the pictures of the phone is taken from a website where Telia Sweden demonstrates their MMS services.
The rumour started probably with the publishing of an article and pictures (taken from the Telia website) on ThreeGMobile.net. Then came the sites MobileReview and Mobil.se (article removed) with follow-ups. Sony Ericsson will of course release a T68 successor, but this is not the one.
Follow the discussion in the Esato forum.
You'll find the MMS demo here http://mms-demo.telia.se/mms.asp

---