Apple's new Ipad might not be compatible with 4G networks in Europe
9 March 2012 by Olav Hellesø-Knutsen
The new Ipad announced by Apple yesterday was the first mobile device from the company with support for 4G networks. Problem is that the LTE 4G networks in the US not are compatible with those in Europe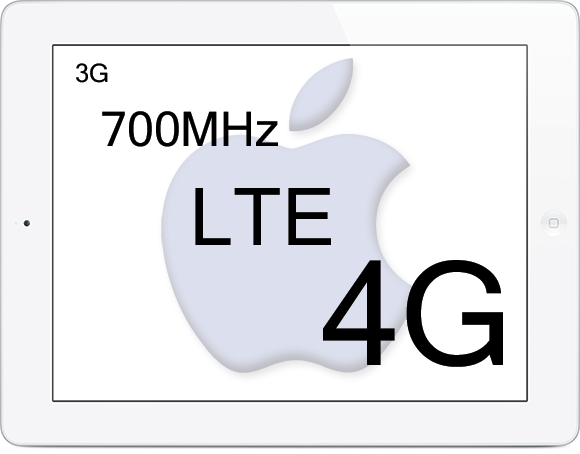 Apple announced the third generation tablet named "The new iPad" yesterday with the usual high media coverage. The main improvements over the older Ipad 2 is the higher screen resolution, better camera and support for faster networks. LTE 4G networks being one of these networks.
In Apple's home country U.S, the Ipad will be available in two version. One for the operator Verizon and one for AT&T. The difference between the two is the supported networks. Both the GSM/EDGE/UMTS networks will be the same, but Verizon will have HSPA+, DC-HSDPA, LTE 700 and CDMA EV-DO Rev. A. AT&T will have HSPA+, DC-HSDPA, LTE 700/2100. Did you notice the difference? Those fastest speed with LTE are either 700 MHz alone, or 700 MHz and 2100 MHz spectrum for the AT&T device. This is not Apple's fault, but to make things worse 700 MHz is not 700 MHz. AT&T is using the non-contiguous slots between 704 MHz and 787 MHz called Class 17, while Verizon is using the frequency between 746MHz and 787MHz.
European countries will use the LTE frequency's 800 MHz and 2600 MHz. The 800 MHz spectrum are used by most countries such as Germany, Italy, Span, France and later UK. The 2600 MHz spectrum are also used by most European countries and is expected to have a good coverage world-wide. The main difference between the 800 MHz and 2.6 GHz frequency is that the 800 MHz offers better coverage while the 2.6 GHz frequency offers better capacity.
As usual, Apple had to shut down their web site yesterday when they updated did major changes to it. Which by the way is a strange thing to do for a tech-company when doing a simple web page update. Several news sites reported about the 4G claim for European customers. The Norwegian Ipad home page early on the day linked to some operator pages selling 4G plans. The Apple text and link to these page was quickly removed from the Apple site when the press started questioning the the Ipad 4G support.
When the 4G issue is out-of-the-way, the only reason for Europeans to buy the new Ipad is the new high-resolution display or maybe the 5 megapixel camera? If you are coming from a Ipad 2, we can't see any other good reason to upgrade.
---
Alternatively post this in the Esato forum
Please sign in to your Esato account to leave a comment regarding this article
---