---
Posted by
Guarulhos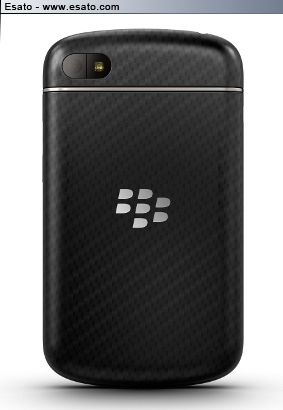 BlackBerry Q10
Key Features:


3G Network: HSDPA 850 / 900 / 1700 / 1900 / 2100 ( HSDPA, 21 Mbps; HSUPA, 5.76 Mbps)

Connectivity: Wi-Fi 802.11 a/b/g/n, Dual Band, Wi - Fi HotSpot, Bluetooth v4.0 with A2DP, USB v2.0 And NFC

GPS And A-GPS

BlackBerry Maps

Dimensions 110 x 60 x 10.3 mm

Weight 139 Grams.

Display 3,1" Super Amoled (~328 Ppi Pixel Density) With Corning Gorilla Glass

16 GigaBytes Memory Internal

Card Slot (Up To 32 GigaBytes)

2 GigaBytes Ram

CPU TI OMAP 4470 Dual - Core ARM Cortex A9 1.512 Ghz (SemiConductor Technology 45 nm)

GPU PowerVR SGX544 (Dual - Core Graphics @384 MHz)

BlackBerry 10

8 MP AF Camera With Led Flash

CamCorder FullHD 1080p @30 FPS

2 MP Front Facing Camera For Video Chat And CamCorder HD 720p @30 FPS

Document Viewer

Standard Battery Li-Po 1800mAh

Available Black And White Colors

[ This Message was edited by: Guarulhos on 2013-01-31 03:58 ]
[ This Message was edited by: laffen on 2013-01-31 11:14 ]
---
---
Posted by
fbloise
amazing little phone, this will be a winner in latin america, where blackberries are used a lot.
---
Posted by
Tsepz_GP
BlackBerry Q10 is now available here in South Africa:
Some contract deals from Vodacom
http://www.vodacom.co.za/pers[....]p=home_hero1_BlackBerryQ10_New
---
Posted by
Bonovox
I like this one

---
Posted by
jameshopes
I think the device is fulfilled with all the latest stuffs.
---
Posted by
Supa_Fly

On 2013-05-07 13:39:12, jameshopes wrote:
I think the device is fulfilled with all the latest stuffs.

It is ... but unfortunately a lot of the media consists of a lot of haters against BlackBerry and will try to steer many away stating "BB is dead" or "RIM is dead" yet not sure just how advanced the OS is nor any knowledge of the infrastructure behind it.
We'll see what BlackBerry has in store this Monday at BlackBerry Live ... and see if their ready to jump into the $1Billion (this year alone) industry of Machine to Machine (M2M or short) service industry. They have their NOC, 208+ wireless carrier partnerships that have stood the test of time (over 18yrs), and specific APN's to allow secure data traffic to support this M2M. BlackBerry has the ONLY mobile OS that has yet to be compromised as a system level - browser circumvention affected all OS, yet it prompted the user for data to be lost.
---
Posted by
johandirano
How do you rate BB Q 0 as far as playing game online from the phone is concern?
---
Posted by
Supa_Fly

On 2013-05-21 13:13:31, johandirano wrote:
How do you rate BB Q 0 as far as playing game online from the phone is concern?

Rating Q10 when it comes to games? Fairly well ... just you have a smaller screen so the games better suited for it will differ from the Z10. For example side scrollers would work perfectly, yet first person shooters may or may not be coded for it; as their better suited to the Z10. I'm not sure what you mean with online games, my understanding is that games are multiplayer or connected to join and update status/ranks with others over BBM. Multiplayer games don't restrict based only on form factor so it should be just fine. Many developers are making games for both Z10 & Q10.
Best consensus ... check out BlackBerry World on your PC/Mac/Linux browser and select Games ... of the games that appeal to you check the "Compatible Devices" list and if the Q10 is listed (if that is the device you're looking for) then you can bookmark it for when you purchase your device.
http://appworld.blackberry.com/webstore/product/2/?countrycode=CA
Right now I'm HOOKED on Sector Strike (an 80's classic "R-Type") a side scroller. Since the controls are on-screen, Q10 isn't supported (for obvious reasons; limited screen real-estate).
http://appworld.blackberry.co[....]ntent/20358814/?countrycode=CA
---
Posted by
marybro
cute phone tough competition to other mobiles

---
Posted by
Supa_Fly
On 2013-06-06 07:53:17, marybro wrote:
cute phone tough competition to other mobiles

tough competition, yes, but you need to focus on where the competition is eating their lunch and where they're eating the competitions.
Markets:
S. Africa - still king
W. Africa countries - still king
India - still leading.
UK (close to 36% market)
S. American countries - still king
notice that although these markets have a lower income bracket per family vs N. America (with UK being a HUGE exception), users have almost equal ARPU for cellphone line respective to N. America?! These are also very high-growth markets in terms of data use, upgrades to smartphones, and continuous upgrade cycles lasting less than 12 months.
Apple has a Cloud & Computing business aside from mobile
Google has a Cloud & Internet business' aside from mobile (actually mobile is going to drive their core business "search" but their still behind and now trying to force Google+ users to surf using their ID to collect data; The internet is free Google has stated so many times both on homeland and abroad, especially to China, yet their forcing G+ sign-ons to collect data on search and internet browsing to mine data, hmmm).
BlackBerry has a mobile business and going into M2M business and is leveraging their mobile expertise, device access via QNX platform, and their NOC for security and real-time accessibility and deployment of management and updates, through wireless partners data. Big win for every player and thus a self sustaining industry.
---
Posted by
fbloise
I have both the Q10 and the Z10... Q10 battery life is top notch.
---
Posted by
Dups!
Getting mine next week, my network is slowly in getting it. Strange that they were quick to get the Z10 but are slow at getting this beauty.
---
Posted by
Tsepz_GP
Congrats Dups!!

Hope you enjoy it as much as you did your P1.
---
Posted by
Supa_Fly

On 2013-06-14 19:48:43, Dups! wrote:
Getting mine next week, my network is slowly in getting it. Strange that they were quick to get the Z10 but are slow at getting this beauty.


Congrats Dups! One thing you should do is register for BB Beta Zone for the BBM Channels and get the auth code and installation (Windows required as the file is an .exe). You're going to love it. Secondly add us in case you got questions or want to check out BBM Video & ScreenSharing.
Next,
Register your existing or for a new Box.net account on the device - 10GB FREE! The app is native and integrates VERY well for auto uploads (either on cellular or wlan; you choose).
BB10.1 Caveats:
Forget everything you know about BBOS (legacy devices)!
1 alarm only.
POP3 (and most IMAP) email accounts is 30 days email only. This includes GMail regardless of how you set it up previously.
- ActiveSync (even Outlook.com) gets forever email history including search.
BB10.2
- 30 days email will no longer be an issue/restriction
- priority email is there

- BB Maps gets landscape orientation.
- JB4.2.2 runtime support - hello PlayStore

GChrome mobile etc etc.
- Settings will be native.
- rumor & large request to get the Browser to be native (QML code) but I fear this will screw with performance and compatibility since its already in HTML5 code entirely and improvements keep occuring in the leaks of BB10.1 its insanely fast!
- Low light setting in the camera
- MirrorCast support (hardware is already supports this).
- HDMI 1.4 support (1.2 I think is current).
- BBWorld 'pin' apps to view later for review or download vs having to search for them again.
- BBWorld gets landscape support
- PRAYING that Z10 gets homescreen landscape support; and that BB launches the landscape media dock!
- BlackBerry add a Screen Capture screenshot API both in native and Cascades. This just allows apps to save a picture of any screen and save it to the camera roll. Currently this works with the volume button screenshot keys (for BB10 itself, not 3rd party apps directly) but developers can add their own screenshot options. They can also choose to save the screenshot in JPG or PNG formats.
- Peripheral Discovery Library" that allows you app to get notified and grab information for any devices connected over USB, Bluetooth, DisplayPort, & HDMI. BB doesn't support DisplayPort (I'm not aware of adapters from HDMI to DP, so maybe a new hero device will use this?), which may enable USB Host

!!
- many many more features; especially many that we've come to love in BBOS that is currently missing in BB10.
PS:
the tiered and tiered location launch of Z10 and Q10 was deliberate 2 fold. One to allow for production to ramp up and accurately without loosing on costs for manufacturing (supply chain is kept very tight to control costs), and also to support the larger markets that BB does hold largest share and brand name recognition in a positive light. This is why the Q10 launched on Monday in the USA - very late, since they only have 4% marketshare there and pretty much are hated on every which way until Sunday, even by grandmothers, lol. Those whining about USA release date foor Q10 are those that are true diehard fans/users that want nothing else, literary.
Heck Pakistan got the Q10 weeks before USA did, so it shows you where the demand is greater. 2014 2nd Quarter results on June 28th I believe, estimates of 5 million devices, and 3 major analysts or firms rate as a buy, up from sell just 1 qtr ago. Keep in mind Z10 had less than 30 days for full global launch for it to really show up on this quarter and the Q10 even less than that so I'm very surprised, and hoping to see it progress. However with HTC One and SGS sales the cloud still looms. Mi na care though.
---
Posted by
Dups!
Thanks, Tsepz_GP and Hardened!
I am looking forward to this phone. I tried to like typing on the full-touch phones but it is just not my cup of tea, I hope BlackBerry makes it and keeps making the Q- series cause I don't see myself using the full-touch phones unless
they are the only option.
Thanks, also, for the tips- will get to them when I get my phone. I also love the swift manner in which BlackBerry updates the BB10 OS/ phones.
[ This Message was edited by: Dups! on 2013-06-15 04:57 ]
---
Posted by
Supa_Fly
Indeed I too am liking the swift updates ... not to mention the co-ordinated Canadian launch of 10.1 as soon as CEO mentioned its available, people across 5 providers here began to get an update in Notifications area of The Hub stating new OS was available for download. Very cool actually, and it shows what BB has in terms of its NOC and working well with providers.
---
Posted by
Bonovox
I like this model but is so pricey at £529 on O2 for example
---
Posted by
Supa_Fly

On 2013-06-18 05:17:00, Bonovox wrote:
I like this model but is so pricey at £529 on O2 for example


I have to agree about the price ... that's what happens when competition continually lacks due to lack of demand for competitions lack lustre products.
BB10.2 will make the price worth while that you can fully trust from even a critical BB user.
---
Posted by
Tsepz_GP
Just picked this up for one of the biggest BB fans I know, my Mom. She has both a BB9900 Bold and iPhone4S, got very sick of the 9900 as it became faulty so here we are, hopefully she enjoys it.
I like the build of the Q10, very compact with a nicely sized display, the kevlar back cover is nice and grippy and the phone is lite with nicely rounded edges so it's top notch in terms of ergonomics, the keyboard is nothing short of brilliant, very tactile , keys are well space and nicely raised. As for BB10, it is more intuitive than OS7, but not to the same degree as Android and iOS. At the end of the day, this is a great business phone for those who spend a lot of time writing Emails and also for, IM, Tweeting and FB. It is not a media powerhouse like its Android competitors, and it doesn't try to be.
As I type this it is running an update that is just over 220mb
Some pics of it and next to my GS4:
---
Posted by
Supa_Fly
Media powerhouse? BB10 can play quite a lot of media codes out if the box and the sound is 192khz off the dsp on chip, which bests the iPhone 5 quite considerably.
Have her use the switch device wizard using BlackBerry Link software and also get used to the new Kb command shortcuts, there is a lot more than on OS7 and yet some are gone.
If you get the chance upgrade to the recent leak for Bb10.2 it's really nice and make using the software that much more intuitive.
Of note only 1 alarm is in 10.1, a very sad oversight. Bb10.2 resolved this. Also note IMAP/POP3 emails only get 30 days history accessible even with remote search!
If you need a hand BBM me before next week and I can video chat and show on screen what issues or help you may need.
Cheers,
Dono.
---
Posted by
Tsepz_GP
Thanks Supa Fly, she should be fine, she is a fast learner when it comes to these things. I'm going to look into updating it to leaked 10.2, if I'm not lazy and she doesn't mind me dabbling a bit with it.
It's such a shame BB are pushing for a sale, BB10 has a lot going for it and under the correct marketing and management could go very far.
WRT Media Powerhouse, what I mean is that it doesn't have the huge HD1080P display, powerful CPU/GPU capable of decoding HD1080P content at 60FPS, top notch camera sensor, IR Blaster etc...top hardware of its Android rivals or the endless media apps, although it is great to hear that Flipboard is on its way at least. It certainly has all the essentials from a very nice Super AMOLED high PPI display to HDMI.
[ This Message was edited by: Tsepz_GP on 2013-09-08 20:28 ]
---
Posted by
fbloise
Been using a Q5 now have a Q10, i can say BB10 is awesome and very stable. Battery life is good.
Some stuff they planning for 10.3 is slow motion 60fps camera options, along with panorama.
---
Posted by
Bonovox
I was going to buy the Q5 as a spare phone when it recently dropped to £99 @ Carphone stores and free but I was too late
---
Posted by
fbloise
I'm selling mine in ebay in case :
http://www.ebay.co.uk/itm/151[....]X:IT&_trksid=p3984.m1555.l2649
---
Posted by
Bonovox
Hmmm,I would but hoping by next week I will have the money for a Lumia 1520

Love that device and they are on Amazon for £366

---
Posted by
fbloise
I played with a 1520, is HUGE!!
I would suggest you to wait for the Lumia 930. The 1520 is cool but after a while, peple start complaining about the size.
Back to Blackberry, the battery life in my Q10 is impressive. All day in 4G (I use T-mobile/EE), bluetooth on (to listen music) push emails, bbm, whatsapp. I charged it last night and still has like 50% left. I think it gives one solid day of full usage (BBM, Whatsapp, Push emails etc) or two days normal usage.
The only thing is the camera, but for that I have the 808 Pureview.
---
---
Posted by
Bonovox
Nooo I have played with one too and I love a nice big phablet. I have big hands and I love big screens 😀 I have had fantastic battery life on the LG G2 best battery of any Droid i've ever had goes all day and then some. But now with Kit Kat update the battery is worse 😞 but the phone is buttery smooth and fast. Had a while now and a while for me is 3 months

Now WP 8.1 is coming with long overdue changes it's time for me to go back to my old favorite OS. It hadn't changed much for ages. Anyway yes back on topic
_________________
LG G2 White
[ This Message was edited by: Bonovox on 2014-04-03 14:06 ]
---
Posted by
paritapandya
Classic Smartphone of blackberry..
---
Posted by
Supa_Fly

On 2015-06-24 12:06:42, paritapandya wrote:
Classic Smartphone of blackberry..


nope that would be the blueberry, the 7290.
Funny enough BB has had 3 major OS transitions for their smartphones, 1 more than any others in history/competition
---
Posted by
Tsepz_GP
Lol, so the BB Q10 I posted above in 2013 is now mine.
Great having Android, iOS and BB10 to use daily I must say. Still need to spend more time exploring the BB, and as you can imagine, going from my Note 4's 5.7inch QHD display to the Q10's tiny 3.1inch 720x720 display is quite a task, but its what makes things all the more exciting.
---
Posted by
emerson_shei

On 2015-06-24 12:06:42, paritapandya wrote:
Classic Smartphone of blackberry..