Vodafone First To Launch It's Own Brand Push Email
4 December 2005 by axxxr
Vodafone UK announced the first network-designed email service from a UK operator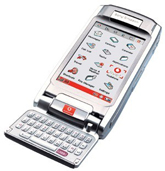 Vodafone Business Email. Alongside Vodafone Business Email, Vodafone UK will make Blackberry Connect and Microsoft Windows Mobile -based devices and email service available in the near future.
The announcement represents a move by Vodafone to further support mobile working by improving access to desktop email and personal information management (PIM) systems for users on the move. These three new services take pride of place alongside the successful BlackBerry from Vodafone and Vodafone Mobile Connect services, giving customers greater mobile email choice.
Vodafone Business Email Available early December, Vodafone Business Email, provided by Visto, comes in two forms. For smaller companies and individuals, a personal solution that 'pushes' internet emails to a wide selection of mobile phones1 in real time is available. In addition, the enterprise server-hosted version, gives larger companies the freedom to have 'push' email and PIM functionality on a wide selection of Symbian and Windows Mobile®-based devices. The set-up is simple and entirely wireless, allowing existing devices to be email enabled without having to return to the office. BlackBerry Connect
BlackBerry Connect allows new and existing Vodafone enterprise and SME customers, via BlackBerry Enterprise Server, to benefit from proven and popular BlackBerry features2, such as push email, attachment viewing and secure encryption on a broader range of handsets3. The application extends the availability of mobile email and PIM across the organisation without changes to hardware or the need for further IT planning. The launch of BlackBerry Connect expands Vodafone UK's BlackBerry portfolio which includes the BlackBerry 7100v, BlackBerry 7290 devices and BlackBerry Enterprise Server and BlackBerry Internet Solution.
Windows Mobile®-based devices and email service Completing the offering is the Microsoft Windows Mobile service using scheduled ActiveSync, designed for companies that use Microsoft Exchange 2003. By upgrading to Microsoft Windows Mobile Smartphones4 companies can ensure that end users have access to their familiar Windows environment including Outlook, or if using a Windows Mobile-based PDA, Word Mobile, PowerPoint Mobile and Excel Mobile as well. Attachments on a Windows Mobile-based PDA can be viewed in colour, edited and resent with ease5.
Additional Windows Mobile®-based services, like direct push technology, which pushes Outlook information quickly and directly to a mobile device, will be available early 2006.
Vodafone Device Management Alongside these new email solutions, Vodafone will soon offer all Vodafone smart device customers access to enhanced customer service support. This secure service will allow Vodafone to remotely configure, interrogate, diagnose, manage and maintain smart devices connected to the Vodafone network. The service will also offer a lock and/or wipe facility for lost or stolen phones to protect sensitive information held on the handset. The service will be inclusive on certain Vodafone Business Email and Windows Mobile-based device price plans. Vodafone already allows customers to manage devices on the BlackBerry Enterprise Server, providing IT departments with simplified management and centralised control.
Mark Bond, Director of Enterprise Marketing for Vodafone UK, says: &quote;Vodafone is now a 'one-stopshop' for mobile email. We have developed a range of solutions that complement existing IT investments and strategic road maps to ensure companies of all sizes can adopt mobile email with minimal disruption. Vodafone's got something for everyone. We can meet everything from the needs of larger companies that have complex requirements, a defined IT strategy and technology preferences, through to small organisations and individuals who want to add easy to manage email to their phone of choice."
He continues, &quote;As mobile technology pervades more and more businesses, security is paramount. We are excited that we will be offering the new Vodafone Device Management service, which will give assurance to all our smart device customers. Enhanced customer support services, which provide immediate diagnosis and resolution, will become an integral part of the mobile world and we are proud to be leading the way." www.vodafone.co.uk
---