Vodafone Announces Vodafone 360
25 September 2009 by Olav Hellesø-Knutsen
Vodafone today announces the launch of Vodafone 360 - a new suite of internet services for the mobile and PC. Two new devices from Samsung was also announced today. The Vodaphone 360 H1 and M1
Vodafone 360 is a brand new set of internet services for the mobile and PC which gathers all of a customer's friends, communities, entertainment and personal favourites (like music, games, photos and video) in one place
Two tailor-made Vodafone 360 mobile handsets, manufactured by Samsung, give the best customer experience of the services including the unique 3D contacts display, driven by Vodafone's 'proximity algorithm', bringing the most frequently contacted people closer to the front.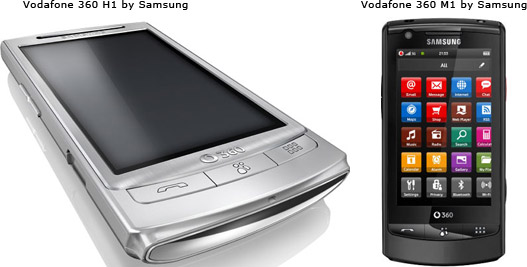 Vodafone 360 H1 key features
3.5" OLED touchscreen
16GB internal memory
Wi-Fi / HSDPA / Bluetooth 2.0
5Megapixel autofocus camera with flash
58x115.9x12.9mm / 134g
Vodafone 360 M1 features
3.2" TFT touchscreen

1GB expandable internal memory (MicroSD card)

Bluetooth 2.0 / HSDPA

3Megapixel camera with 8x digital zoom

55x111x13.3mm / 111g
All of a customer's contacts, status updates and messaging services are brought together in one place enhancing the customer's experience and use of social media. Customers will have integrated contacts, music, photos and mapping services and can share their favourite music choices and even their physical location, how and when they choose, with their chosen groups of friends.
The service is automatically backed up and synchronised, regularly and wirelessly, between the mobile and PC or Mac. All contacts updates, emails, photos and conversation history or settings changes made either at home or when on the move are saved, keeping all the content up-to-date.
"Vodafone 360 is the first service of its kind to offer customers the benefits of a truly integrated mobile internet experience that gathers all their contacts and content, all around them, in one place," said Pieter Knook, Director of Internet Services at Vodafone Group.
"The beauty of Vodafone 360 is that all the services work together and they are easy to use. Vodafone 360 enables customers' digital lives. Customers can stay in touch and share experiences through social networks, instant messaging, email, apps, maps, music and buying digital content on their mobile bill, with the personalised address book at its heart."
Vodafone 360 is a substantiator of Vodafone's new brand expression – 'power to you' - which is focused on putting the customer in control and enabling simple and easy to manage communications, both mobile and fixed.
Benefits
bringing together all contacts and content in one place and allowing customers immediate access to their various contacts across different networking sites – all the latest information updates including Facebook status updates and the ability to chat through Windows Live Messenger and Google Talk
the ability to create different contact groups across social media networks, allowing customers to organise their contacts the way they want and manage how they share different information with different groups
the ability for customers and friends to share locations, tag and share pictures and favourite places
confidence that your connected address book is synchronised between your phone and the web and you can easily recover your phone contacts if you change or lose your mobile
access to the service through a variety of handsets and operating systems from multiple manufacturers – the ultimate experience being through a custom-built device
a catalogue of over one thousand Apps at launch available to different handsets, downloadable through the Vodafone Shop
the ability for non-Vodafone customers to access some of the range of services, linking them to their social networks via mobile.
The Vodafone 360 suite of services has been designed and developed by Vodafone. At launch the full Vodafone 360 experience will be available on two exclusive handsets built to Vodafone's specification by Samsung. The Vodafone 360 H1 by Samsung boasts a 3.5" multitouch, high definition OLED screen, 16GB memory, WiFi, a maximum talk time of over 400 minutes (3G) and a 5 megapixel camera. It will be followed shortly by a second Samsung handset, offering customers a range of colours and price points.
At launch four Nokia Symbian smartphones will come pre-loaded with Vodafone 360 and part or all of the service will be downloadable to over one hundred popular phones. In the coming months Vodafone will be making the service available through as wide a selection of handsets and operating systems from multiple manufacturers as possible.
The 2009 launch in Germany, Greece, Ireland, Italy, Netherlands, Portugal, Spain and the UK will be followed by launches in a number of other countries in 2010, including India, Turkey, South Africa, New Zealand and Romania and in France through SFR. through MTS in Russia, and through Vodafone Hutchison Australia.
Vodafone 360 specifications
115.8 x 58 x 12.9 mm
134 gram
3.5 inches widescreen multi-touch display with AMOLED screen, 800x480 pixels, 16 Million colours
16GB / 8GB internal user memory. Expandable with MicroSD card
Networks: HSDPA7.2 Mbps, HSUPA 5.6 Mbps, UMTS (900, 2100MHz), GSM Quad-band, GPRS, EDGE
WiFi
Bluetooth
Assisted GPS
FM radio
Video: H.263, H.264, MPEG4, DivX
Camera: 5 megapixels, autofocus, 8x digital zoom, flash
Sensors: Motion sensor, proximity sensor, light sensor
Opera 9.6 browser, flash player support
Messaging: MMS, SSM, Email IMAP4 supporting OMA Push, Chat
Vodafone 360 H1 by Samsung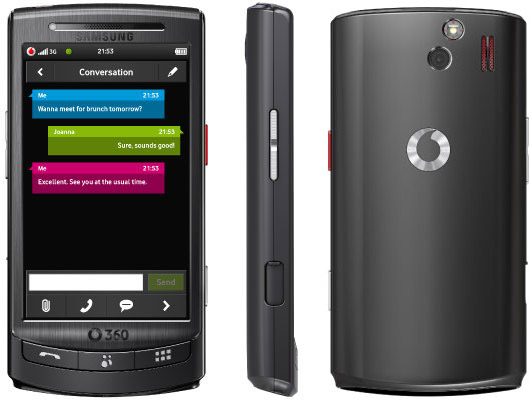 The Vodafone 260 M1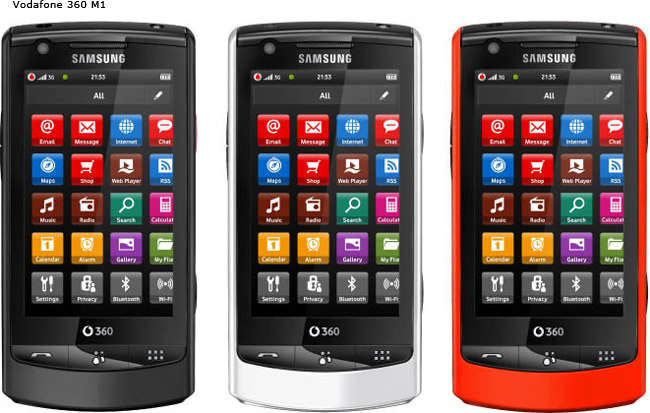 ---