Nokia today unveiled the Nokia 6233 3G mobile
1 December 2005 by Olav Hellesø-Knutsen
Nokia today announced the Nokia 6233. The smallest WCDMA phone from Nokia to date.
The Nokia 6233 is the smallest WCDMA phone from Nokia. "The Nokia 6233 builds on the formula that made the Nokia 6230i so popular - a classically-designed, feature-rich device together with an intuitive, easy to use interface. As 3G gains even greater mass-market attraction, we are confident the Nokia 6233 will also be extremly popular with consumers" says Kai Oistamo, Executive Vice President and General Manager, Mobile Phones, Nokia.
The lack of front side camera reminds me of the 6630, one of the first 3G models from Nokia. Too bad, because the Nokia 6233 is a phone model full of features usually only found in high-end models.
The latest Nokia model phone to feature the Series 40 Platform 3rd Edition, the Nokia 6233 ensures that 3G services and applications can be accessed easily and intuitively. Supporting the latest messaging, browsing, music and video standards, the Nokia 6233 features a brilliant 320 x 240 QVGA display, with an 'Active Standby Mode' that gives immediate access to the most-used applications.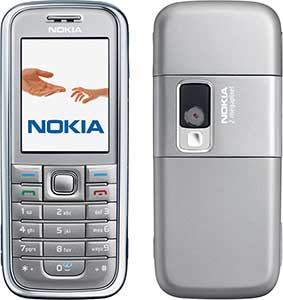 With the Nokia 6233, the mobile office is a few keystrokes away. To be sure an appointment is never missed and the phonebook is always up to date, the Nokia 6233 easily synchronizes calendars, contacts, and to-do lists via SyncML. To print your favorite images or to connect with a headset or car kit, the Nokia 6233 offers Bluetooth wireless technology for quick and easy data transfer and connectivity.
Moreover the Nokia 6233 is compatible with the Nokia Mobile Holder CR-56, also announced today. Featuring an integrated antenna for enhanced reception, the Nokia Mobile Holder CR-56 supports connection to Nokia car kits and charges the phone's battery when placed in the holder.
In addition to having all the latest features to stay connected to work, the Nokia 6233 doesn't forget how to have fun. With exciting new 3G services, such as streaming multimedia audio and video content, consumers can download the latest business news as well as sports highlights of the game they missed. Consumers on-the-go can quickly upload and download large files - including downloadable games, videos or MP3 or AAC ringtones. Music lovers can connect a pair of headphones and scan through their favorite music albums, thanks to the Nokia 6233's hotswappable microSD memory card support of up to 2 GB. A Visual Radio client and built-in stereo speakers offering 3-D sound complements the audio experience.
The Nokia 6233 offers more than 4 hours of talk time on GSM networks (more than 3 hours of talk time via WCDMA) and up to 2 weeks of standby time.
Specifications:
3G, EDGE, GPRS

2 Megapixels camera

Bluetooth

Email, MMS

Expandable microSD port

Java

MP3 player

262144 colours 240x320 pixels display

FM radio
---