"Virtual Girlfriend" on your mobile
23 August 2004 by axxxr
Artificial Life, Inc.'s electronic love interest will appear as an animated figure on a Mobile telephone screen.
Press Release:
Hong Kong based Artificial Life, Inc. (OTC: ALIF) a leading provider of intelligent agent based mobile and Internet technology and applications today announced the upcoming release of its new 3G game and product line: Virtual Girlfriend.
The Virtual Girlfriend is a very innovative mobile game that is based on intelligent animated 3-D characters (avatars) that live in a virtual mobile world. The virtual girls can be contacted and seen using a 3G phone at any time. However, the characters will be involved in different activities during the day, for example, the girlfriend may be in her virtual home or at her virtual workplace or in a virtual bar or restaurant or just shopping with another virtual friend in a virtual shopping mall. The user can watch the characters during these activities and interact with them via the mobile phone. The characters and the game follow a certain daily and weekly schedule which will continuously change and progress over time.
Users can interact with the game characters on their mobile phones by sending SMS and MMS messages or chat with them in real time through a J2ME client. Several interactive game icons are available as well. Users even have the option to interact with the Virtual Girlfriend by sending her virtual gifts which can elevate the user to different, more sophisticated game levels. A Virtual Boyfriend version of the game is scheduled for release in February 2005.

The new 3G game supports all major 3G handsets currently on the market. Furthermore, 2G users can access a limited version via a WAP interface. The 2G counterpart will not have any autonomous behavior and visual content will be down sampled to make up for limited bandwidth.
The Virtual Girlfriend product line is scheduled for launch on December 1, 2004 and will be presented to the public and a broad audience during an invited speech by Artificial Life's Chairman and CEO at the upcoming 3G World Conference to be held in Hong Kong on November 15, 2004.
"We are very proud of this new product line. It combines in a unique way our Smart Engine Mobile Platform™, proprietary artificial intelligence technology, human like behavior of the game characters, natural language processing in several languages including English, German, Chinese, Korean and Japanese, uses text to speech voices, high quality and realistic 3-D animations, a sophisticated and innovative game logic with a continuously evolving and always progressing story and user specific content delivery. For our corporate partners we offer a new and innovative way of advertisement: virtual product placements as part of the game. The Virtual Girlfriend is a lot of fun to play and the game sets new and high standards for future 3G mobile games" said Eberhard Schoeneburg, CEO of Artificial Life, Inc.
About Artificial Life
Founded in Boston in 1994 and registered in Delaware, Artificial Life, Inc. (OTC: ALIF - news) is a public US corporation headquartered in Hong Kong and a leading global provider of intelligent agent Internet and mobile computing technology, content and applications
(www.artificial-life.com).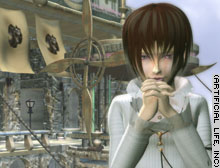 ---