T68i – now with Java?
15 November 2002
The T68i is an almost complete phone with all the features you'll ever need. The few things missing are polyphonic ringtones, downloadable games, built in camera and Java. Are T68 owners now getting Java on their phone?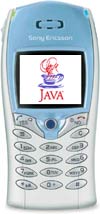 Yes, we know it is possible to attach the MCA-20 CommuniCam to the phone, but it is still missing a built in camera. One of our Swedish forum members (FM) had a visit by Sony Ericsson (SE) to his university (Lund Sweden). Sony Ericsson hold a showcase for their new phone models. The FM was able to take look at the phone and fiddle with the menus. What he discovered was that there was a new menu item in the Fun&Games menu called Java Manager. There was also a debug menu in the demonstration model.
FM asked the Sony Ericsson representative about this new menu element and the SE representative answered that SE was working on phones with Java support, but refused to comment if Java would be implemented in the T68i.
The T68i is Sony Ericsson's best selling model so far, and a huge amount of both T68m and T68i models are in circulation. We therefore doubt that they will release another T68(j) model with built in Java. Depending on which continent you are located, you are already able to upgrade the old T68m to a T68i for free by installing new software on the phone. The upgrade is undoubtedly a costly affair for Sony Ericsson and letting all current T68m and T68i owners upgrade their phone to a T68j will be even more expensive.
A future model could be based on the hardware found in the T68. It is more likely that we will find a new model called T400 or Twhatever00 with almost the same hardware and more added features such as Java.
As with all discussion forums, users can post whatever they like. There is no way we can verify the truth in what our members write. We have no reason to believe that what this FM posted is a lie, but you never know.
Read the post here http://www.esato.com/board/viewtopic.php?topic=14103&forum=2
---