Symbian Version 9 Launched
2 February 2005 by axxxr
Symbian Limited today announces the launch of Symbian OS™ version 9, the latest evolution of the world's leading smartphone operating system.
Symbian's key strategic focus is to ensure Symbian OS is adopted as a platform for the development of higher volume and lower cost, advanced phones for 2.5G and 3G networks around the world. Symbian OS v9 helps lower Symbian OS licensee development costs and accelerate time to market for smaller, less expensive and even more capable Symbian OS smartphones. As a robust, secure, open and standards-based platform, Symbian OS v9 will support network operators' cost-effective deployment of revenue-generating services, content and applications.
Symbian OS licensees have phones based on Symbian OS v9 in development, with product launches anticipated during the second half of 2005.
Key enhancements in Symbian OS v9 include:
Enabling multimedia phones – Symbian OS v9's multimedia capabilities support Symbian OS licensees' development of phones for specific markets. For example, Symbian OS v9 supports Bluetooth stereo headsets, USB mass storage, advanced audio mixing and playback, as well as the latest MPEG and OMA DRM standards that make Symbian OS the foremost smartphone platform for delivering music and other digital content. Symbian OS v9 also supports the coming generation of multi-mega-pixel cameraphones. Enhanced support for 3D graphics, multimedia and graphics acceleration as well as support for different screen sizes and orientations, and simultaneous multiple displays make Symbian OS v9 a flexible and powerful platform for gaming-oriented handsets.
Managing Symbian OS phones – the enhanced Device Management framework implemented in Symbian OS v9 gives network operators and enterprises new capabilities to manage phones in the field. Using OMA-compliant Device Management solutions, network operators and enterprise IS managers will be able to access a user's phone over the air to deploy new network services, capabilities or applications, or to diagnose a problem, as well as to audit applications installed on a phone. These capabilities will help network operators provide cost-effective support to customers accessing next generation services and content on Symbian OS phones.
Supporting the Enterprise – Symbian OS v9 provides new enterprise functions such as enhanced filtering and sorting of IMAP email, as well as new group scheduling capabilities, including accepting meeting invitations from standard PIM applications such as Lotus Notes or Microsoft Outlook. Symbian OS v9's Java implementation gives developers the opportunity to access the functionality and performance of Symbian OS to create advanced Java-based applications and services. Fully compliant with network operator Java specifications and Java Community Process standards, Symbian OS v9 continues to support the latest Java innovations including JTWI (JSR 185) and Personal Information Management (JSR 075).
Enabling advanced network operator services – Symbian OS security capabilities have been evolved in Symbian OS v9 to a finer-grained security model that will help network operators deploy more advanced m-commerce services and DRM-protected content to Symbian OS phones. Symbian OS v9's security model also helps protect networks, phones and users' personal information from malware by ensuring applications can only access sensitive phone capabilities (e.g. sending SMS, making calls, access to personal information on the phone etc) when they have been given specific permission to do so. Symbian's application certification and signing program, Symbian Signed, has been extended to further support the Symbian OS security model.
Even better phone performance – Symbian OS v9 supports the latest generation of ARM-based processors that will enable faster and more powerful Symbian OS phones with improved battery life.
Accelerating time to market and reducing development costs – reference designs from leading semiconductor vendors such as Intel are targeting Symbian OS v9. Reference designs pre-integrate Symbian OS with target hardware, enabling handset manufacturers to reduce Symbian OS phone development time and costs, and to focus development on new competitive and innovative features.
Reducing Symbian OS phone build cost –new software development tools for Symbian OS v9 include ARM's RealView compiler that substantially improves performance of gaming and multimedia applications. The hard real-time kernel introduced in Symbian OS v8.0 allows manufacturers to build Symbian OS phones based on a single core processor that integrates the two processors (baseband and application processors) commonly used today, thereby helping handset manufacturers reduce phone build costs. www.symbian.com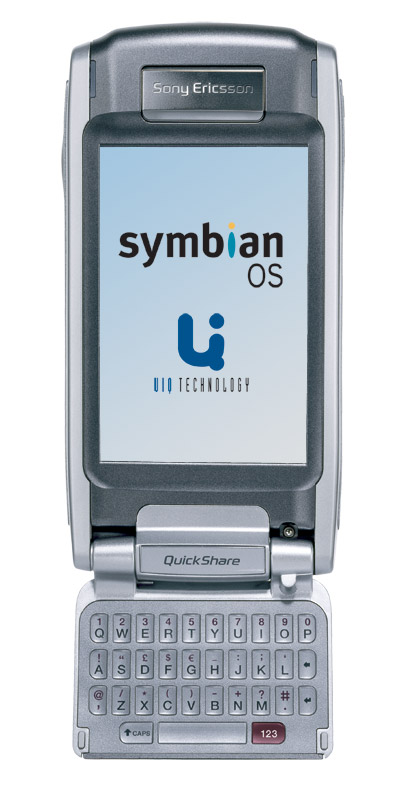 ---