Nokia 801T high-end Symbian smartphone announced
27 December 2011 by Olav Hellesø-Knutsen
Nokia 801T Symbian smartphone with 4 inch display and TV-receiver announce for the Chinese market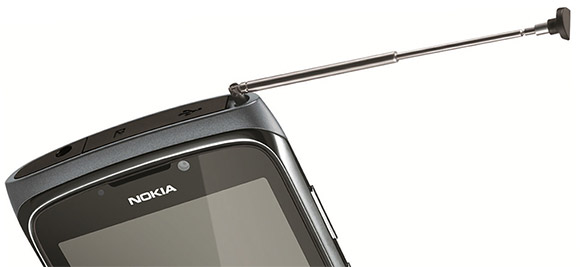 The Nokia 801T is a TD-SCDMA smartphone running Symbian OS. It has a 4 inch touch display, NFC and telescopic TV antenna for China Mobile Multimedia Broadcasting (CMMB) transmissions.
According to the Chinese edition of the Nokia Conversations blog, the 801T is a model aimed at elite high-end business users. Pompous words there but the description is an indication of the price tag and aimed audience. Nokia 801T is the first phone made using a one-piece stainless steel back panel. Nokia N9 was the first model where the back panel was made out of one piece of polycarbonate and Nokia is following up the manufacturing process with the 801T.
Nokia Maps and Nokia navigation services are pre-installed. Corporate e-mail client and document editors are installed as well.
Nokia 801T highlights
Size: 125 x 65 x 12 mm
Weight: 171 gram
Networks: TD-SCDMA/GSM dual-mode. 900/1800/850/1900 MHz
WLAN
GPS
4 inch touch screen, 360 x 640 pixel resolution, 16 million colours
256 MB RAM
Chinese intpu Handwriting, Pinyin, Stroke
Symbian ^3 operating system
WAP 2.0
TV via CMMB
---
Alternatively post this in the Esato forum
Please sign in to your Esato account to leave a comment regarding this article
nHD in 4" reminds me of the old nokia communicators (E90, 9500 etc)
---