Nokia announces the Nokia 603 Symbian smartphone with 3.5 inch display running Symbian Belle
13 October 2011 by Olav Hellesø-Knutsen
The Nokia 603 is the fourth model from the Finnish company running on Symbian belle. The Nokia 603 has a 3.5 inch touch display, NFC, 720p HD video capture and impressive 960 minutes talk time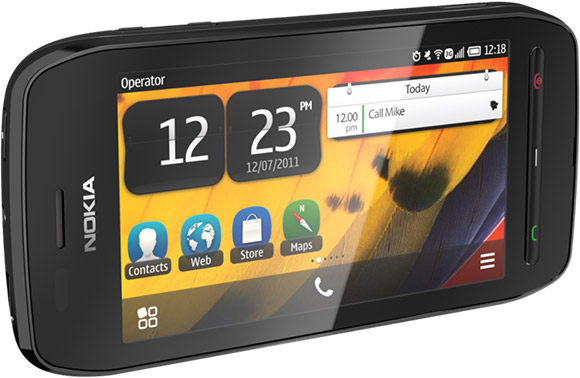 More Symbian smartphones are coming from the Finnish mobile phone manufacture. Like the previously announced Nokia 600, Nokia 700, and Nokia 701, the Nokia 603 is running on the latest version of Symbian operating system called Symbian Belle. The Nokia 603 is a powerful device with a exceptional battery performance. According to the official Nokia phone specification page that is. The Nokia Developer web site has different opinion where it reports only 8.7 hours (522 minutes) talk time. A new BP-3L battery could be blamed for the battery time. We haven't been able to confirm this, but it is rumored to be a 1500 mAh battery.
There is another mismatch between the two Nokia sites. One reports a camera aperture of f/2.8 while the other says f/2.4. Nevertheless, even a f-stop of 2.8 is more than acceptable. In addition to the 5 megapixel still camera, Nokia 603 also has a 720p HD video capture. When we went through the Nokia developer site more thoroughly, we found that the Nokia 603 requires a Micro SIM card. This information might be wrong but if you not are an existing iPhone owner and for some reason want to buy the Nokia 603, you have two choices when it comes to Micro SIM. Request a new SIM card from your operator, or trim down your existing card using a sharp knife or scissor.
Nokia 603 has a ARM11 processor clocked at 1 GHz and 512MB RAM. It has 2 GB storage which are expandable up to 32 GB using a microSD card. NFC is the new abbreviation you should know about. In addition to the short range device-to-device communication it allows for convenient payment using the mobile phone.
The Nokia 603 is found with 6 different colour variants on the back cover. The front side of the mobile phone is available in white or black.
Nokia 603 highlights
Size: 113.5 x 57.1 x 12.7 mm
Weight: 109.6 gram
Networks: GSM/EDGE 850/900/1800/1900, WCDMA 850/900/1700-2100/1900/2100, HSPA 14.4/5.76 Mbps
Wi-Fi b/g/n
Bluetooth 3.0
USB
3.5 inch touch display, 360 x 640 pixel resolution, 16.7 million colours, 1000 nits brightness, ClearBlack display with IPS technology
5 megapixel camera, 2x digital zoom, f/2.8
720p HD video capture, 30 fps
1 GHz ARM 11 processor
512 MB RAM 340 MB available to user. 1 GB ROM. 2 GB internal storage. Expandable up to 32 GB
A-GPS
Java
3.5 mm audio jack
BP-3L battery (might be 1500 mAh)
Talktime: GSM 16 hours, WCDMA 7 hours
Standby time: GSM 460 hours, WCDMA 490 hours
Micro SIM
Sensors: accelerometer, ambient light, compass
Nokia Maps 3.0
Composite TV Out
Available colours: White, Black, Red, Green, Yellow, Blue
---
Alternatively post this in the Esato forum
Please sign in to your Esato account to leave a comment regarding this article
It may be a bit late but its so refreshing to see a Nokia with 1ghz and 512ram!! Does this have eDOF camera again?
Geesh how many of these phones are they going to push out?
I wonder if it has the same GPU as the 701, it will be the best Symbian phone out right now if it has that GPU plus a large 1500mAh battery.
Its typical Nokia behaviour, but also perfect business sense. Back in the old days they used to pump out new feature phones every month. Here in 2011 smartphones sell more, so thats what Nokia are doing, pumping out tons of those.
Well done to them, they've started making some good decisions. Should have gone with Android or Meego than WP though.
I like the direction Nokia are taking. They are a couple of years late to the party but I think they just might catch up.
Symbian is now looking more and more like Android IMHO. Since Nokia control the hardware and software, if they manage to optimise performance issues, they may be onto the same winning formula that Apple are on. ONLY IF Symbian is not killed off...
The jury is still out for me in terms of the Nokia Windows Phone for me. Windows Phone is really ELEGANT and Nokia might just succeed in bringing it to the masses and growing that market share. Time will tell.
but why do phones from hundreds of euro even without the flash and autofocus ????? not even put the camera then !!!!! idem for samsung

---