Play DVD Movies on Sonyericsson P800/P900
2 September 2004 by axxxr
Dutch software company Makayama today released 'DVD to Mobile (Sony Ericsson Edition)' which allows users to convert DVD's to a Smartphone format.
This software lets users convert a DVD to a Sony smartphone and watch it in great quality in full screen landscape mode*. A memorycard as small as 128 Mb is sufficient to store a full length feature film.
Users can watch their DVDs on the go, on any Symbian UIQ-based phone, such as the Sony Ericsson P900-series, from a postage stamp size memory card. The software installs an encoding package on a PC with Windows XP, users insert a DVD in the drive of their PC and with only two clicks, the software turns it into a super small movie file, which will play on the built-in mediaplayer on the phone. No extra software needs to be installed on the phone itself.
The headset or the built-in speaker can be used to listen to the sound. Subtitled and foreign language DVDs are also supported. Feature films look crisp and sharp on the phone and still fit on a relatively small Memorystick Duo card.
The free tryout version allows users to convert 5 minutes of a DVD. The retail price for the software is $24.99 (EUR 21.95), available through major online distributors, such as Handango and SmartSam.
More information on the company website:www.makayama.com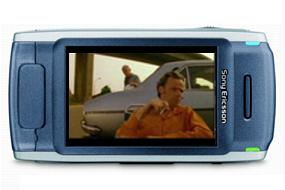 Via: designtechnica.com
---