Motorola announces a powerful Motorola Droid Razr Maxx
11 January 2012 by Olav Hellesø-Knutsen
Motorola Droid Razr Maxx was announced during CES this week. Droid Razr Maxx is a 4.3 inch Android smartphone with a very powerful battery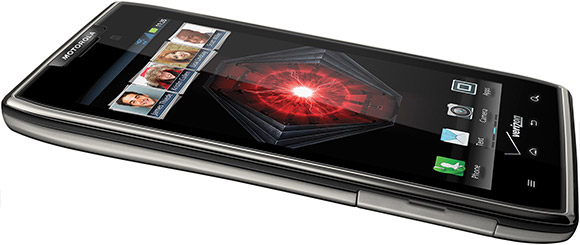 Motorola announced the Droid Razr Maxx during CES this week. The Droid Razr Maxx is an exclusively model for Verizon in the U.S. Just three month ago, Motorola announced the predecessor Droid Razr for the same operator. The original Droid Razr was special because it was a very thin smartphone. Measuring only 7.1 mm at the thinnest part. A small section of at the top of the Droid Razr is a little thicker because that is where the camera is located. Motorola has not been able to shrink the size required by the camera module.
What Motorola has done now is to fill the previously reduced space with something all smartphone owners want more of - a larger battery. Motorola has managed to install a really powerful 3300 mAh battery into the Droid Razr Maxx. For a comparison, the Samsung Galaxy S II has a 1650 mAh battery, iPhone 4S has a 1432 mAh battery.
The enlarged Droid Razr Maxx battery increases the talk time up to 1290 minutes. That is an impressive 21.5 hours of talk time. Strangely enough, the standby time has a more normal value to 380 hours. Motorola claims you can watch a video on the Droid Razr Maxx for 16 hours and 17 minutes.
Except for the improved battery, size and weight, the two Droid Razr models share most features. The 4.3 inch touch display with a 540 x 960 pixels resolution. 8 megapixel camera, 1.3 megapixel front camera, 1 GB RAM, 16 GB storage and dual core 1.2 processor. The Droid Razr Maxx will shipped with Android 2.3 Gingerbread, but it will receive an update to Android 4.0 Ice Cream Sandwich later.
Motorola Droid Razr was initially a Verizon model, but an identical model called Motorola Razr was later release in Europe.
---
Alternatively post this in the Esato forum
Please sign in to your Esato account to leave a comment regarding this article
Wow that is one massive battery. I knew Motorola would come up with something like this. Battery technology can only get better but how can such huge batteries fit in such skinny phones?? Never knew the iphone had such a paltry battery
Not shocking that Motorola would do this - once again screwing over its customers and partners - it almost doesn't make sense for the DRoid RAZR to exist. I'm so glad I rid myself that in a hot-second.
Oddly enough the iPhone 4S (I have the 32GB) performs quite well through a 10hr day - then again I'm on an HSPA+ network that was built properly from the beginning (Rogers) and not backwards steps since inception (AT&T).

that is incredible, even the Galaxy Note only has a 2500mAh batt.
Will 2012 be the year where we see more +2000mAh batteries i wonder? Great move by Moto, last year it was the huge 1900mah in the Atrix.
---