Microsoft releasing Windows 7 Slate tablet commercials
8 March 2011 by Olav Hellesø-Knutsen
While we are waiting for Windows 8 and tablets for the next OS, Microsoft is releasing a couple of commercials for Asus Eee Slate running Windows 7 Home Premium
The Asus Eee Slate EP121 was unveild at CES earlier this year but the device is not yet available for sale. We are usually writing about Android devices here at Esato, but are doing an exception for this one. Asus has a couple of Android tablets in production, including 10.1 inch Eee Pad Slider, 10.1 inch Asus Eee Pad Transformer and 7.1 inch Eee Pad MeMO. All are running the latest Android 3.0 Honeycomb OS for tablets. The three Android devices are powered by Nvidia Tegra 2 chipset and has support for Android Flash, HD video and HDMI out.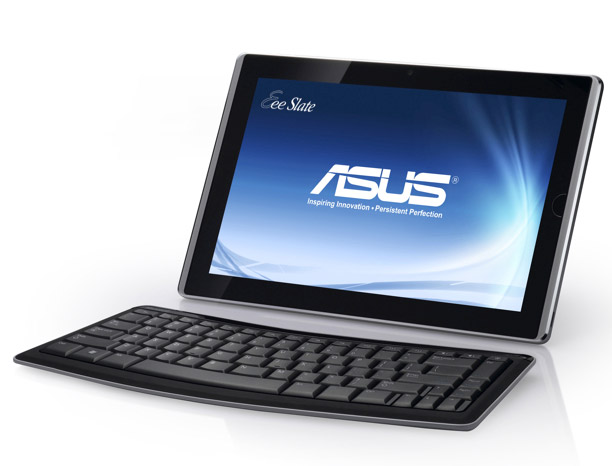 Eee Slate on the other hand is a 12.1 inch Windows 7 Home Premium tablet powered by a Intel Core i5 dual-core cpu. It has a 1280 x 800 pixel resolution capacitive touch screen. It also has a capacitive stylus for better input and control. The Slate has no docking craddle, but it can be connected to an external keyboard via Bluetooth and you will have full access to the usual Windows 7 applications. The commercial points out that the Eee Slate is both a full grown PC and a tablet. The tablet part reminds us of Windows Mobile 5 from 2005 and that's not a pleasant memory.
We saw the Motorola Atrix 4G demonstrated at the MWC last month, and that was more our kind of toy. An small mobile phone powerfull enough to be used as a pc replacement. You will be missing many of your usual office applications on the Android platform, but for simple tasks like browsing and messaging, the Atrix 4G will do fine.

What about the iPad 2 then? Do you see yourself buying the $999 Asus Eee Slate before considering the cheapest $629 iPad 2 with a 3G network? If you want a PC with tablet functionality, maybe. If you are looking for a tablet with light PC functionality. No way.
As for the two videos below. Is it any thought behind the fact that the Slate tablet are used as a PC on a table by adults and the tablet part as a drawing table by the children in both the commercials? Isn't Windows 7 tablet usage suitable for grown ups? We haven't tested the three Windows 7 input methods but none of them seems very quick. It is easy to see that this OS not are created with thumb input in mind.
Make sure you visit the Microsoft Slate mini site at http://www.windows.com/slate
---
Alternatively post this in the Esato forum
Please sign in to your Esato account to leave a comment regarding this article
---