In Barcelona: Olav Hellesø-Knutsen


Sony Ericsson introduces the X1 XPERIA running Windows Mobile - Esato Special
Sony Ericsson today announced their first Windows Mobile phone model. Sony Ericsson X1 XPERIA

11 February 2008
The Sony Ericsson announcement that Windows Mobile 6 is one of many platforms for upcoming phone models surprised the audience the same way Steve Jobs announcement the Mac would switch to Intel processors. Sony Ericsson told that the operating system is of no importance. User experience is. And the X1 offers a good user experience even on a Microsoft OS. XPERIA is by the way not the name of the device. It is the name of a range of devices / platfor where future models can be running Symbian UIQ or other OS. In short, the X1 is a Windows Mobile 6 unit with a "shell" on top where it is possible to switch between 9 different desktops. An advanced version of the Today-screen offered by Microsoft, or the Touch addition in the HTC Touch models. The prototype device was not available for testing, we where not even allowed to touch it. I thought maybe the keys on the keyboard looked a little small, but then again I did not hold it in my hand. The display is a 3 inch widescreen with a 800x480 pixel resolution which is quite impressive. Touchscreen of course. I was told that much of the navigation should be possible to do using the dedicated navigation buttons.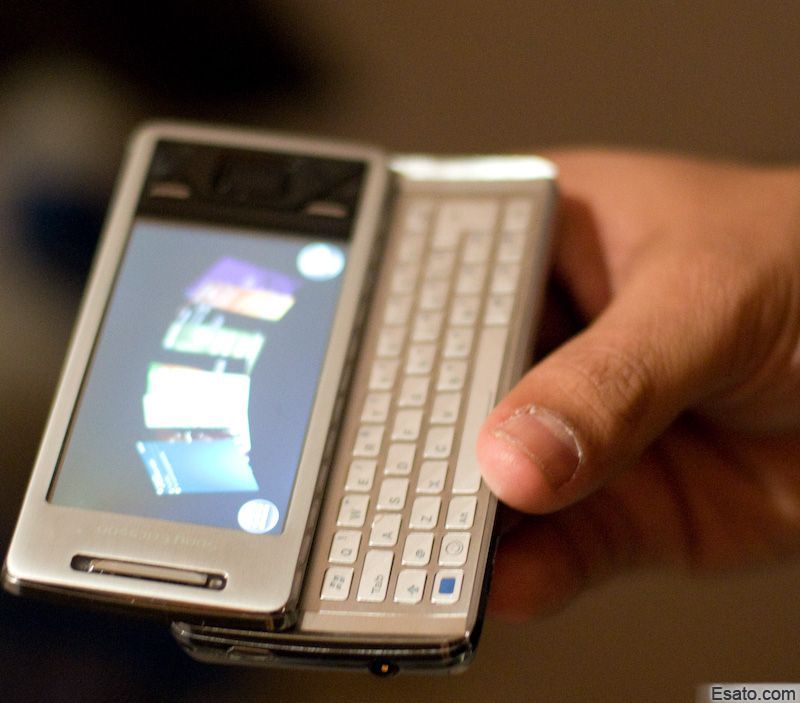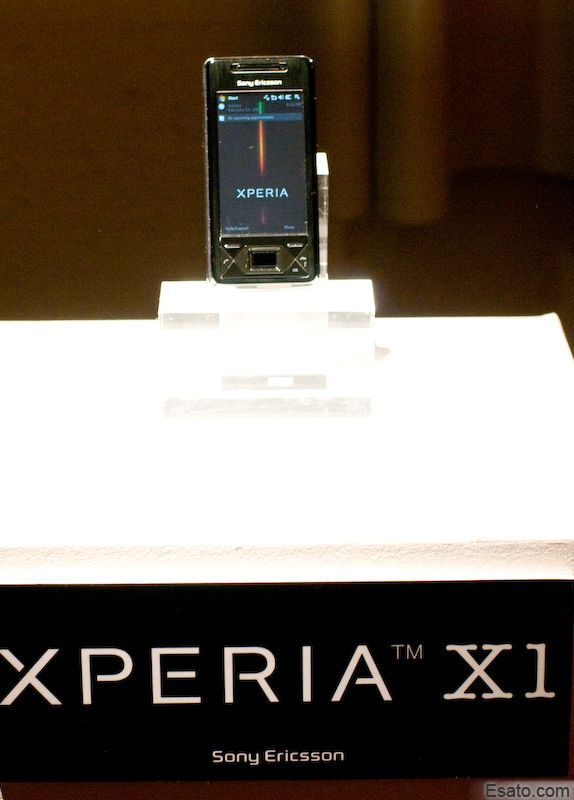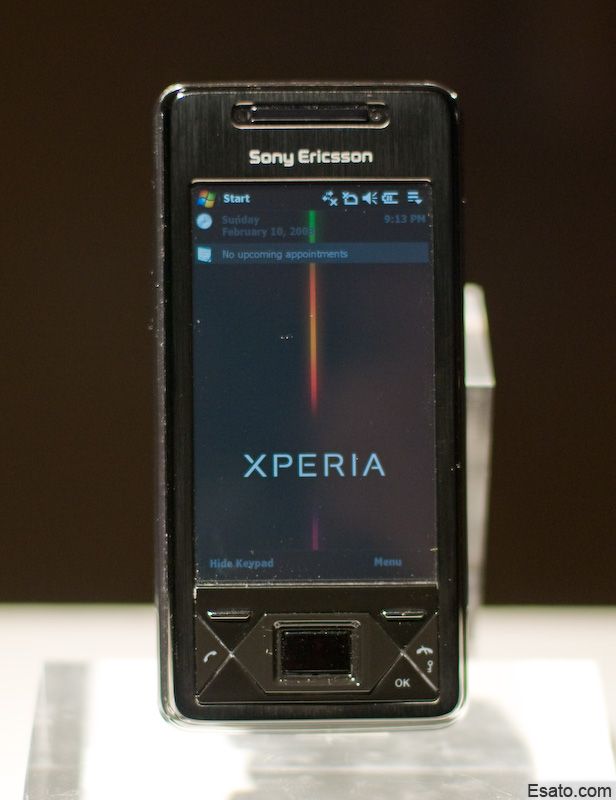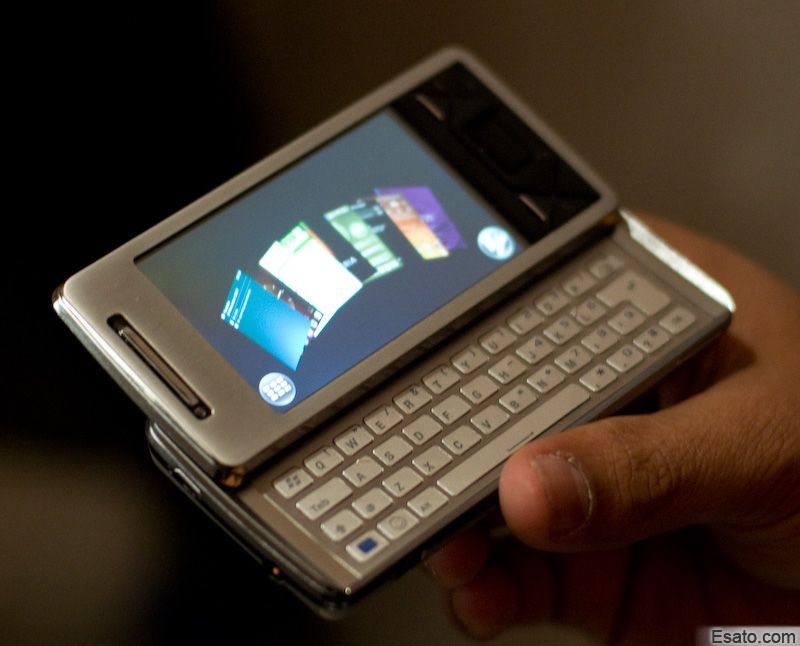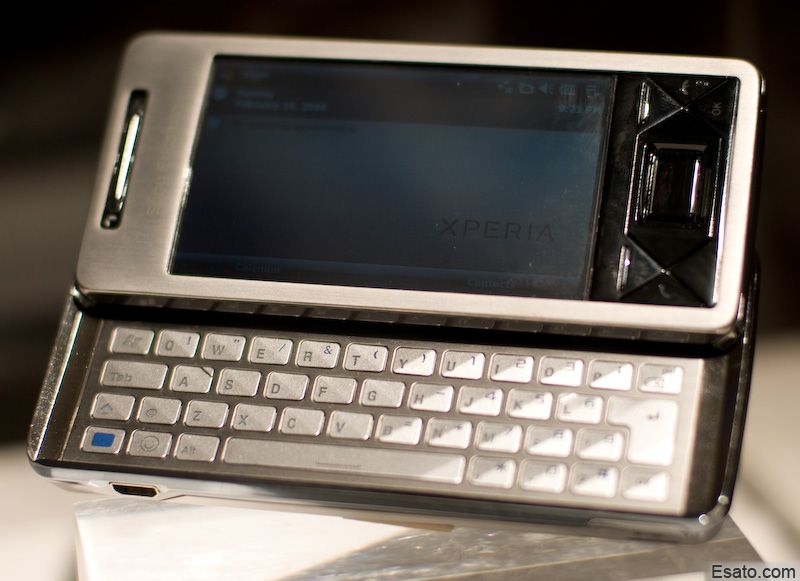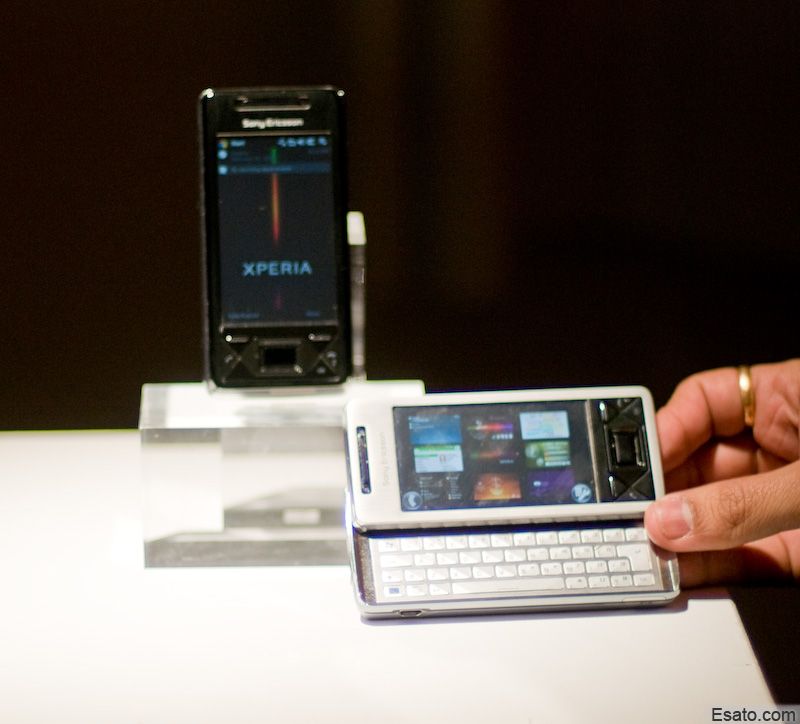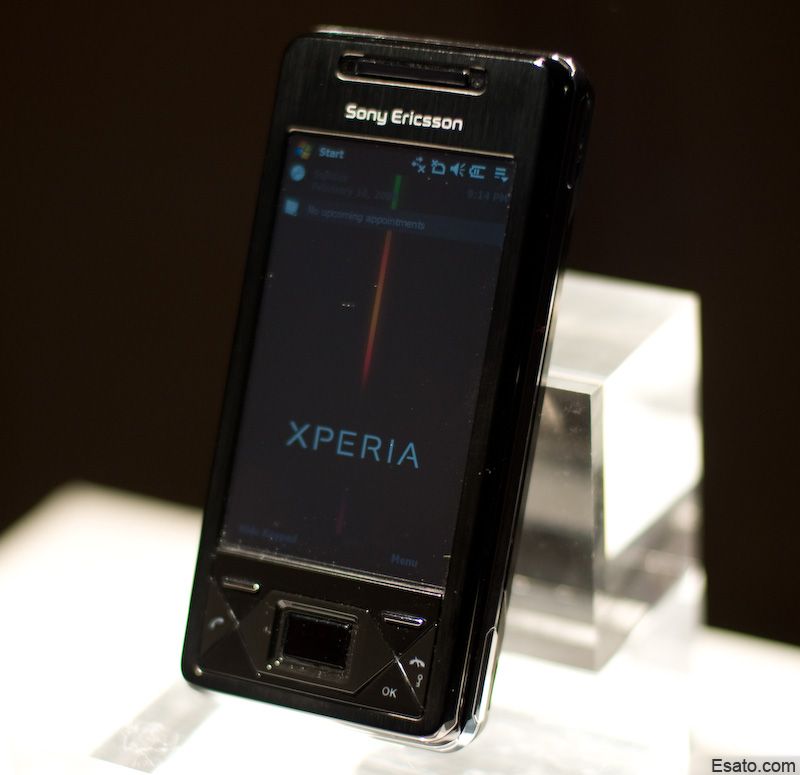 And we should not forget the proud product manager himself: Mr Magnus J Andersson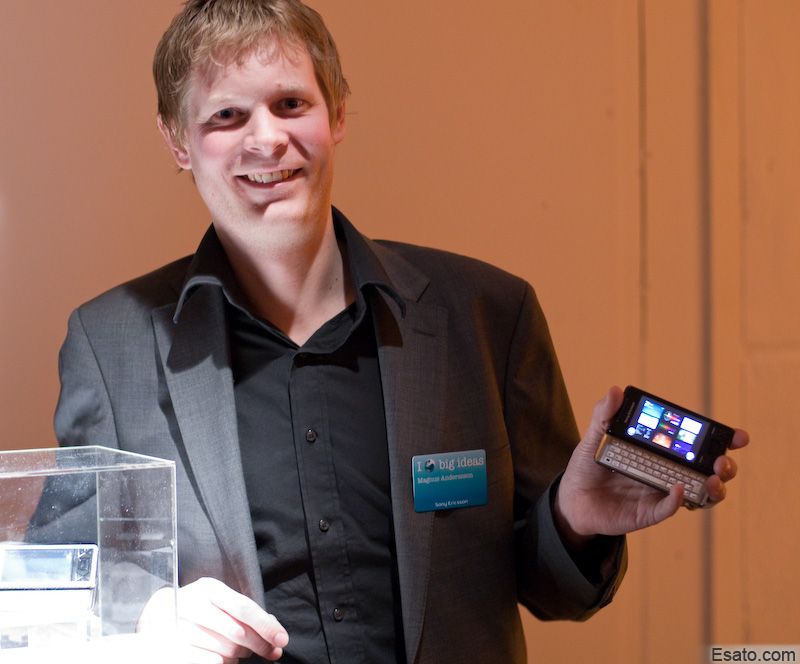 Press release:
Sony Ericsson marks the launch of its new brand XPERIA with the unveiling of the XPERIA X1

The world of our consumers and customers is changing. To meet the growing need for mobile Web communication and multimedia entertainment, Sony Ericsson introduces XPERIA. With this new brand Sony Ericsson will position itself at the forefront of mobile convergence.
Barcelona, Spain – 10th February 2008 –Today marked the launch of XPERIA and a new era in mobile communications with the announcement of the XPERIA X1, a stand-out, arc slider phone from Sony Ericsson designed to address the growing need for a premium, converged mobile experience.
The XPERIA X1 combines a 3-inch clear wide VGA display and a full QWERTY keyboard within a quality metal-finish body. With Windows Mobile inside, the XPERIA X1 lets you choose from a dynamic range of activities at anytime and anywhere; from enjoying your favourite entertainment content to working efficiently on-the-move. Access a world of experiences simply by touching the XPERIA panel on the screen.
"XPERIA represents the first brand that is truly borne from within Sony Ericsson. It represents our vision for a premium, energised communication experience," said Dee Dutta, Head of Marketing, Sony Ericsson. "This launch, and the announcement of the X1, further strengthens the overall Sony Ericsson brand and places us at the forefront of mobile convergence."
"Our vision for the XPERIA X1 is to deliver a seamless blend of mobile Web communication and multimedia entertainment within a distinctive design," said Rikko Sakaguchi, Head of Portfolio and Propositions, Sony Ericsson. "XPERIA is our promise to think foremost of user experience and to deliver the premium experience – anytime, anywhere, anything, with anyone."
Sony Ericsson XPERIA X1 – energised communication, the premium experience.
Convergence of multimedia entertainment and mobile Web communication
Unique arc slider with wide pitch easy-to-use QWERTY keyboard
XPERIA panels - arrange as you want for easy access
Enjoy multimedia entertainment on bright wide VGA display
Windows Mobile capabilities
XPERIA panel interface – experiences just the way you want them
Enjoy access to different experiences – Web, multimedia, applications – from your desktop. Navigate with the tip of your finger. Configure and have your XPERIA panels just the way you want them.
Multiple navigation – the choice is yours
XPERIA X1 lets you interact with your phone in different ways. Touch, full QWERTY keyboard, 4-way key and optical joystick navigation. Switch seamlessly between operation modes.
Arc slider design – makes it stand out
The arc design gives a distinct and unique feel. Slide the screen upwards to reveal the wide pitch QWERTY keyboard. Ample distance between keys makes writing fast and easy.
Ultimate mobile experience – performance on the move
With Windows Mobile, the highest data transfer rate (HSDPA/HSUPA) and WiFi support, you can enjoy your favourite entertainment and work efficiently on the move. Mobile access to everything that is important to you. aGPS gives you the freedom to explore the world. XPERIA X1 is a premium mobile experience.
The Sony Ericsson XPERIA X1 will be available in selected markets from the second half of 2008.
Sony Ericsson XPERIATM X1 – At a Glance
Camera
Auto focus
3.2 megapixel camera
Photo light
Video recording
Music
Bluetooth™ stereo (A2DP)
Media player
Music tones
PlayNow™
Windows Media Player Mobile
3D games
FM radio
Java
Video streaming
Video viewing
Internet
Internet Explorer® Mobile
RSS feeds
Communication and Messaging
Polyphonic ringtones
Speakerphone
Vibrating alert
Video calling
Email
Picture messaging (MMS)
Predictive text input
Text messaging (SMS)
Design
XPERIA™ panels
Optical joystick navigation
Navigation key
Picture wallpaper
Touch navigation
Organiser
Alarm clock
Calculator
Calendar
Document editors
Document readers
Flight mode
Handwriting recognition
Notes
Phone book
Tasks
Touchscreen
Connectivity
aGPS
Bluetooth™ technology
Modem
Synchronization
USB support
WLAN
Windows® Mobile® Operating System
Microsoft® Outlook Mobile: email, contacts, calendar, tasks
Microsoft® Office Mobile: Word, Excel, PowerPoint
Internet Explorer® Mobile
Windows Media™ Player Mobile
Windows Live™
Exchange ActiveSync®
Voice control
Utility Applications: file explorer, calculator, pictures & video, notes
Facts and Figures
Size: 110 x 53 x 16.7 mm
Weight: 145 grams
Available colours
Black
Silver
Main screen: 65,536 color TFT
Resolution: 800 X 480 pixels
Size: 3 inches
Memory
Phone memory: up to 400 MB
microSD™ memory card support
Availability and versions
Networks
GSM/GPRS/EDGE 850/900/1800/1900
UMTS/HSDPA/HSUPA 900/1700/1900/2100 MHz
UMTS/HSDPA/HSUPA 850/1700/1900/2100 MHz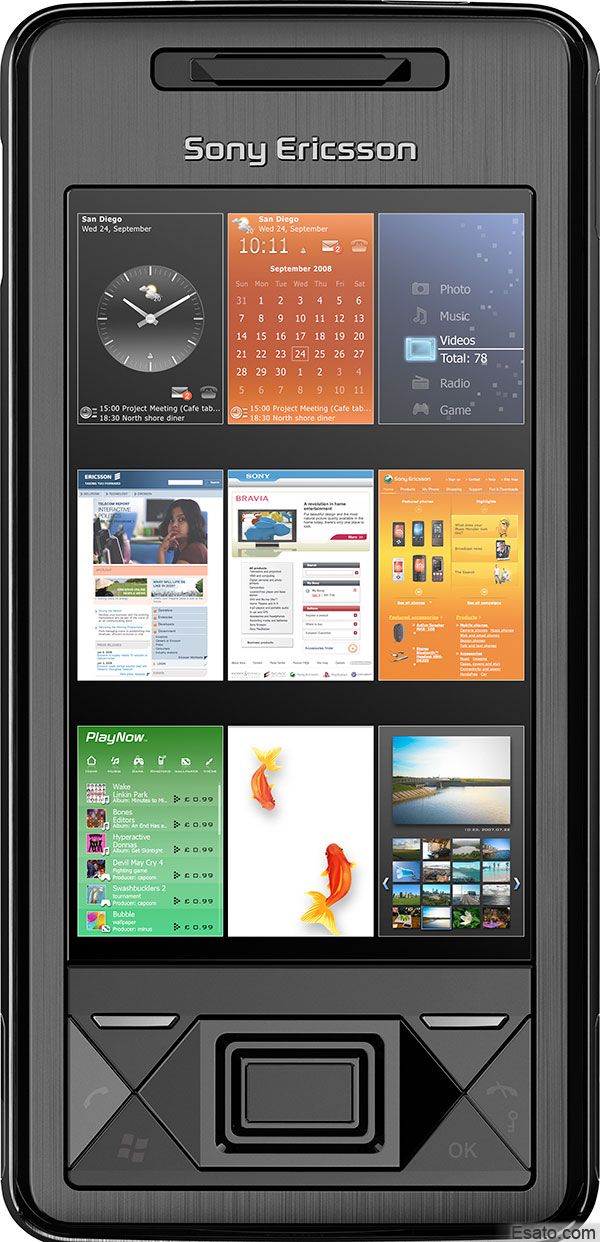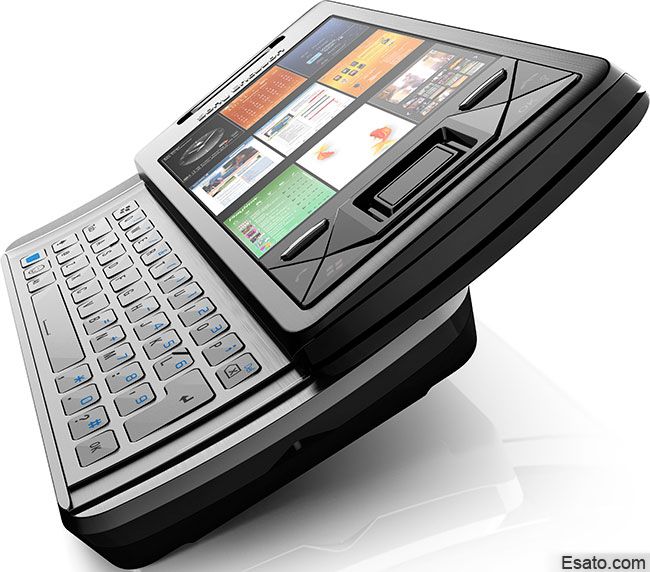 User comments:
Hey guys,

There seems to be a lot of negativety going on here about this new technological innovation from SE. Although I have to say guys, Sony is fast becoming the world dominator of the mobile phone industry and this phone is just a taste of what's to come in the near future for all their new phone ideas. This version of the XPERIA has been said to be the "iPhone killer" to which I can believe. The phone is packed with more features than you would get on any standard mobile phone and can stand strongly against any competing PDA. Think of this phone as a new spawn of the SE family that will develope and grow with newer and better featured models of its type in the future.

So the last word is to give it a chance, don't slag it off too much as you may end up eating your words.

iB
By iB on 7 Mar 15:30

excellent for mobile business people..... nice one SE
By Dalle on 23 Feb 14:19

What's wrong with a 3.5MP camera? It's good enought for a true device like this. Do yoursef a favor and buy a DIGICAM!
By WMFan on 13 Feb 02:45

this is a very beautiful mobile....and very faster and very good softveare!!!
By Exaaa on 12 Feb 22:29

i really want this device...
just want to confirm the battery lifetime..

and about the 65k screen...
please do read the 800x480 pixels resolution...
i bet it's still on par with 16m 320x240 screen...

(at 1st i thought only japanese se phone features that screensize)
By skylineR35 on 12 Feb 13:53

mj... Show me please a windows mobile based device that haves a screen with more than 65k colors...
By Steve on 12 Feb 12:40

HTC Phone with Sony Ericsson brand ;)
By Sri on 12 Feb 06:19

wtf!! 65k only? whats wrong with SE? looks fugly. and a 3.2mp camera. damn.. they need to re-do this phone from scratch and add a 5mp atleast and 16m colors. this phone will go down. not an iphone killer at all.
By mj on 12 Feb 05:41

the people dem a try how you people think so negative. it people like you that cause alot to fail with your negative thoughts :(

I love the phone and im very impress

unu too bad mine
By user on 12 Feb 02:41

Just what the world needs. ANOTHER Windows device.

People are stupid.

By Doctor on 11 Feb 20:36

So the rumours about HTC producing Windows Mobile phones for SE were true after all . . . Remains to be seen whether this is one more device based on the Qualcomm MSM7x00 chipset and with crippled multimedia acceleration like HTC's current models based on the same chipset (TyTN II, Touch Cruise, etc.) . . .
By AbuBasim on 11 Feb 18:19

the call buttons below the screen look so much like the nokia prism phone buttons!!
By CrazyGuns on 11 Feb 16:50

WHY why, do they have the Green and red phone buttons=?!?!

2 buttuns that not are needed just makes it messy!
By SKIBBE on 11 Feb 16:15

zomguh! this phone is teh awesome! plz can I haz?
By phonelover on 11 Feb 14:22

The difference between 65k and 16 million colours is huge - and it's noticeable with bare eyes. The reason for choosing 65k colours in X1 is probably because Windows Mobile doesn't support more colours.
By MwR on 11 Feb 10:59

"XPEDIA is by the way not the name of the device" - too right, you plonkers - it's XPERIA!

XPEDIA is a travel agent!
By Boinng on 11 Feb 09:13

The design is really bad & not "sonyericsson" ... the keyboard is good but still w8 for P5 guys ;)
By SEALOVER on 11 Feb 09:12

you ARE totaly wrong geezay.

it has a video call camera... that picture above is a photoshop....
you must look at the real pics.

and for the 65k colors.
you have NO idea what lt looks like on a ((WVGA)) resolution display...
you won't notice the color banding at all... and i mean AT ALL.
By chombos1 on 11 Feb 08:36

Hmmm...

I like the overall design somewhat but a few issues with the spec level, especially for a device which they (SE) might be looking to as their flagship? 3.2MP camera in this day and age? Surely at least 5MP! And 65, 536 colours? That is like the T610 of years ago. 3G calls? No camera on the front for that either? SE is slowly losing it...
By Geezay on 11 Feb 08:03

To the first poster below: Half of that nine grid screen are not internet pages, so yes you can.
By MuhummadOli on 11 Feb 06:26

Is it me or does the home 9 grid screen look liek the speed dial for opera browser.

Can it be used for programs not just internet pages???
By Andrey on 11 Feb 05:52

---
This article is closed for new comments.