LG Optimus 3D Max Android smartphone announced
22 February 2012 by Olav Hellesø-Knutsen
LG today announces the second generation Optimus 3D Max Android smartphone with a couple of new 3D features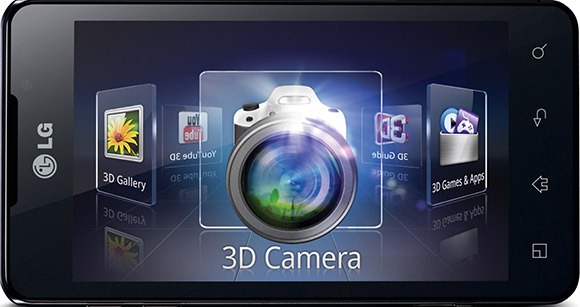 LG wowed the audience at the MWC last year when the LG Optimus 3D was announced. Today the Korean company introduces its successor in Optimus 3D MAX. We are not sure if the new 3D smartphone announced today are using improved 3D display technology but it has several new and improved 3D features.
The new model has a range finder to calculate the distance between the camera and the subject as well as the dimensions of an object through triangulation. According to LG, the Optimus 3D Max has out-focusing shot to enhance camera quality beyond that of other smartphones through image processing using depth information. We will just have to wait for the reviews to see if this is correct. LG Optimus 3D Max has two 5 megapixel camera lenses used to capture 3D photos. Like its predecessor, the Optimus 3D Max has 3D Hot key to toggle between 2D and 3D.
New in the 3D Max model is HSPA+ with download speeds up to 21Mbps. NFC is of course present and the Tag+ feature the company introduced two days ago.
A new feature is the HD Converter which let the user stream HD content to a TV using MHL (Mobile High-Definition Link). Road view apps such as Google Earth and Google Maps can be seen in 3D using the enhanced 3D Converter.
LG Optimus 3D Max will be shipped with Android 2.3 Gingerbread in South Korea in March, and later in Europe and the rest of the world. An Android 4.0 Ice Cream Sandwich update will be available shortly after the launch.
LG Optimus 3D Max highlights
1.2 GHz dual-core processor. OMAP4430
4.3 inch display, 480 x 800 pixel resolution, Corning Gorilla Glass
HSPA+ 21Mbps
1 GB RAM. 8 GB storage
Dual-lens 5 megapixel camera
Android 2.3 Gingerbread
1520 mAh battery
Wi-Fi
DNLA
HDMI out (1080p)
NFC
---
Alternatively post this in the Esato forum
Please sign in to your Esato account to leave a comment regarding this article
This one looks much more promising. Now, why don't they ship it with ICS for once at all!? There will be a lot of people saying they can't update because of this or thast.
Same CPU as last year, no a bad thing as it,s well proven for modded support. I would've loved to have seen this screen n 720p fully with D.
---