iPhone 5 planed launch date on October 7
17 August 2011 by Olav Hellesø-Knutsen
It is that time of the year. Time for the announcement of the next generation iPhone.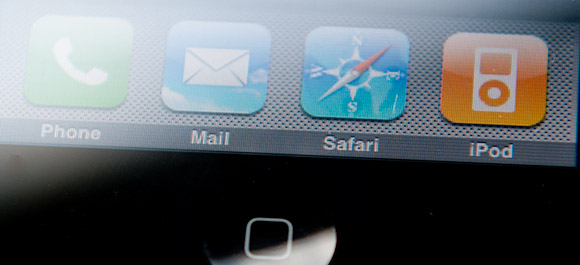 Ever since Steve Jobs first introduced the original iPhone in January 2007, announcements of new iPhone have taken place in June or July, so Apple are overdue schedule. The usually well informed blog 9To5Mac reports that iPhone 5 pre-orders will begin on September 29 or 30. The blog obviously have some well informed sources as they claim to know that Apple has not decided which of the two dates to choose.
We are expecting a followup to the iPhone 4 to be named iPhone 5. Much has been invested in the iPhone brand so we will not see changes there. It is no secret that the device, whatever it will be named, will be running iOS 5. The rest are just rumors
But the iPhone 4 followup is not the only phone expected to be announced. Apple is also expected to introduce a cheaper model this year. This model must be priced low if it is aiming to compete in the entry-level Android market.
As you can see on the chart below, there has been an overlap in availability for two iPhone models. The older models did historically not see an immediate price fall after a new model was launched so we do not expect this to happen with the iPhone 4 either. If Apple chooses to introduce another cheaper iPhone, the sales figures will increased more than ever before. We are missing Q2 and Q3 2011 in the graph which was 18.65 and 20.3 million devices. Will we see a 40-50 million sales per quarter in 2012? Apple can reuse older technology, wrap it in a nice package and present it as an entry-level iPhone. The profit per sold unit might not be as good as from the high-end models, but Apple can still charge the same amount of money from the content distributed in the Apple ecosystem such as music and apps.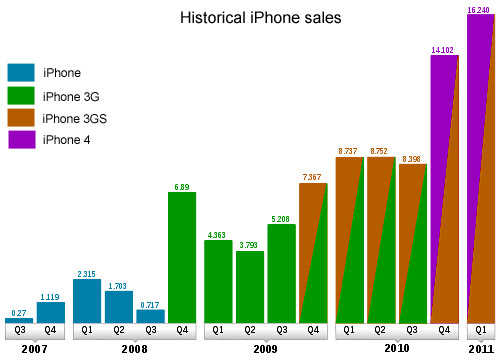 ---
Alternatively post this in the Esato forum
Please sign in to your Esato account to leave a comment regarding this article
Initial rumour was Sep 7th for IP5 launch so is this new date correct?

It's just another Rumours, though as we get closer the Rumours tend to get more accurate.
btw, the picture in the first post is not iOS 5

Oh i see so its still anyone's guess as to when the actual launch is?
Another rumour getting stronger and stronger is that there will be at least 2 new iphone's announced one budget version along with the usual fully loaded one.


I guess if Apple haven't announced it then it's a Rumours.

As for 2 versions, I keep reading the same.iPhone 5 and iPhone 4S.

We'll see...
On 2011-08-17 18:33:00, masseur wrote:
btw, the picture in the first post is not iOS 5

True, its neither iOS5 or iPhone 5. Do you know which model it is?

On 2011-08-17 18:57:17, laffen wrote:
True, its neither iOS5 or iPhone 5. Do you know which model it is?

Its the 3GS?
its pre-iOS 4 for sure. couldn't possibly say if it is a 2g or 3g/3gs though from that small snippet
btw, iOS 5 has the ipos app changed for separate music and video apps ala ipad
The way things are going with SE this is likely to be my first ever iPhone.
Looking forward to seeing the new iteration.
is this because of the rumoured hardware, or the known iOS functionality?
A combination of both but I'd say that the functionality of the OS comes first.
agreed. thats where I'm at these days. Something that looks good is mostly just for show but when its something we use everyday then its the functionality that really matters.
It is a 2G. Isn't that the proper name for the first iPhone?
AT&T's vice president
has confirmed
that Apple's next iPhone will not debut until the first week of October.
The likely design will be this according to the parts and case design leaks..

so, it appears that iPhone will be announced on 4th October... I wonder if it will be almost immediately available as this thread would suggest.
I don't think so as we're still on iOS 5 Beta 7 and there's no sign of GM firmware yet.
still, can't wait for the announcement and final confirmation of what will be my next phone

I'm really getting fed up with all these IP5/IP4S rumours now getting desperate to hear or see something official.
well, it must be true because
Al Gore
says so...
If his views on global warming are anything to go by then I don't believe him.

I'm believing it will be announced on 4th Oct but I'm more and more not convinced about an availability until late Oct as we're still on iOS 5 beta 7 and have been for more than 3 weeks now, which is unusual. That may mean that we'll get the GM release this week or maybe next, or possibly as many think given the state of beta 7, we'll get beta 8 before GM meaning around 4 more weeks.
Great so its on then really looking forward to seeing what they have to offer?
[ This Message was edited by: julias on 2011-09-27 16:39 ]
This is like the new Nokia Windows phones,nobody knows what it looks like yet

---