HTC unveils Q4 2007 device line-up
2 October 2007 by Olav Hellesø-Knutsen
HTC has launched four new devices from its Q4 2007 product portfolio. HTC Touch Dual with keyboard, HTC S730, HTC Shift with Windows Vista and HTC P6500
In addition to its new devices, HTC has developed a range of accessories that are compatible across all HTC devices for consumer's ease of use. These include the BH M200 (Bluetooth headset), HS U110 (3.5 mm audio adapter and headset), and the HS S200 (HTC standard stereo wired headset) to enable effective communications on the move.
Florian Seiche, Vice President of HTC Europe, commented: "We are extremely proud of HTC's reputation as a leading innovator in the mobility space, providing high-quality products to exceed the needs of our diverse end-users," said Florian Seiche, vice president, HTC Europe. "This Q4 line up exemplifies the breadth of HTC's portfolio – setting new standards with the ground-breaking HTC Shift and extending the choice of devices that we offer to our business user audience."
"We want customers to be able to do more with their phone. As a leading supplier of Windows Mobile phones, HTC delivers a wide choice of devices with familiar Microsoft applications and services," said Scott Horn, general manager, Microsoft Mobile Communications Business. "We're excited about these latest additions to HTC's expanding portfolio because customers have the flexibility of finding the right Windows Mobile phone to suit their style at work, at home or on the go". The HTC Shift will be available across Europe from November this year, the HTC S730 from October and the HTC P6500 from November. All devices will be available through HTC's channel and specific operator partners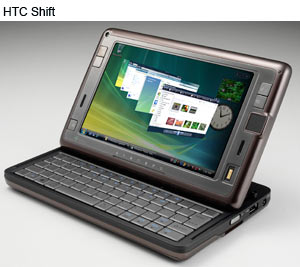 HTC Shift
The HTC Shift ushers in a new era in mobile computing as one of the first mobile computers globally to offer Microsoft Windows Vista and push email. Combining the power of Windows Vista with always-connected 3G/HSDPA connectivity, the HTC Shift delivers unparalleled functionality in a sleek, compact design. The HTC Shift is the first device to feature HTC's innovative new SnapVUE technology. SnapVUE provides instant access to emails, calendar, SMS messages and contacts, without the need to fully boot up the device which helps conserve power and extend battery life. Weighing just 800g and equipped with a 7" touch sensitive 'slide-n-tilt' screen, the HTC Shift is the new way to work effectively on the move.
Receive instant updates with always-on push email
Incredible 2 days standby battery life ensures the HTC Shift won't let you down while you're on the move
Instant access to key information at the touch of a button with HTC SnapVUE
Revolutionary small form factor gives you portability without compromising mobility
Powerful enough to provide you with the full Windows Vista experience
HTC S730
An enhanced version of the successful HTC S710 handset that launched earlier this year, the HTC S730 adds 3G/HSDPA and a 400MHz processor for those consumers and business professionals who want high speed connectivity. It's is a stylish and compact phone which features an auto-sliding QWERTY keyboard making it an ideal choice for the mobile professional who needs easy access to email, messaging and the internet while out of the office. The HTC S730 comes equipped with Windows Mobile 6 and 256MB Flash memory wrapped in a sleek gun-metal grey casing.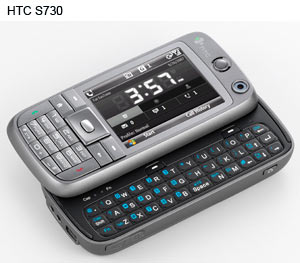 Instant access to Outlook email, calendar, contacts and more with Windows Mobile 6
Take your office with you - download, view and edit your documents
Compact phone with auto-slide QWERTY full keyboard for easy typing
See key information at a glance with Live HTC Home
Enjoy super-fast always-on connectivity with worldwide 3G and Wi-Fi access
HTC P6500
Designed for the enterprise market, the HTC P6500 is ideal for use in a range of vertical sectors, from logistics companies to hospitals and police forces. Incorporating a 3.5" screen, 3 mega pixel camera with auto focus and barcode and fingerprint scanning capabilities, it offers the ideal features to be overlaid with programmes tailored to meet the specific needs of each enterprise. The HTC P6500 is equipped with 256MB internal memory with the option to add up to 1GB in addition to two external SD card slots. This powerful specification set is supported by 3G/HSDPA connectivity as well as a GPS ensuring that the P6500 is a fully future-proofed and versatile mobile platform.
Open Windows Mobile 6 Professional platform facilitates the simple installation of industry applications
Offers high speed Internet connectivity which is up to nine times faster than 3G
Auto-focus 3 mega-pixel camera captures images and enables applications such as 2D barcode and business card reader
Fingerprint ID sensor secures device and critical data
Remote wipe capability enables the remote clearing of all data from device and storage cards if lost or stolen
Dual SDIO interface provides two SDIO ports for memory card storage or accessory connection
HTC Touch Dual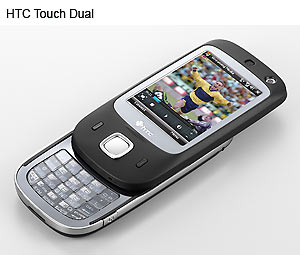 The HTC Touch Dual follows HTC's heritage of bringing a new level of simplicity to the powerful and feature rich device experience that today's mobile users demand. Taking a design cue from the stylish HTC Touch, the HTC Touch Dual adds high speed 3G/HSDPA connectivity and a slide out keypad into a thin and narrow device designed for easy typing. The HTC Touch Dual is the second device to feature HTC's TouchFLO, the same gesture-recognition technology as that in the HTC Touch™, but now with new functionali tyincluding the ability to view photo slideshows using on-screen controls and to zoom and rotate images with only one hand. TouchFLO also allows enhanced finger touch scrolling and browsing of web pages, documents, messages and contact lists.
Size: 107 x 55 x 15.8 mm
Weight: 120 g
Connectivity: WCDMA/HSDPA: 2100 MHz/GSM/EDGE: 900/1800/1900 MHz
Operating system: Windows Mobile 6 Professional
Display: 2.6-inch QVGA flat touch screen
Camera: 2 megapixel plus front facing camera for video calling
Internal memory: 256 MB flash, 128 MB RAM
Removable memory: microSDTM slot
Bluetooth: 2.0 with EDR
Interface: HTC ExtUSBTM (mini-USB and audio jack in one; USB 2.0 Full-Speed)
Battery: 1100 mAh
Talk time: WCDMA: up to 240 minutes, GSM: up to 360 minutes
Standby time: WCDMA: up to 150 hours, GSM: up to 250 hours
Chipset: Qualcomm MSM7200, 400 MHz
Photos: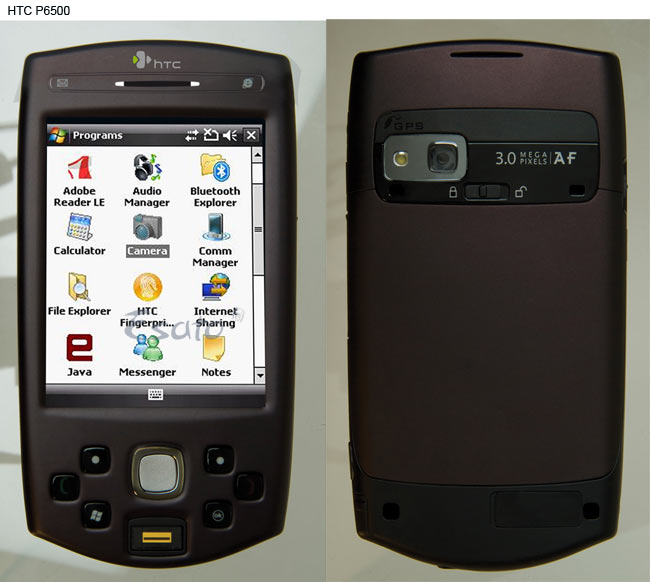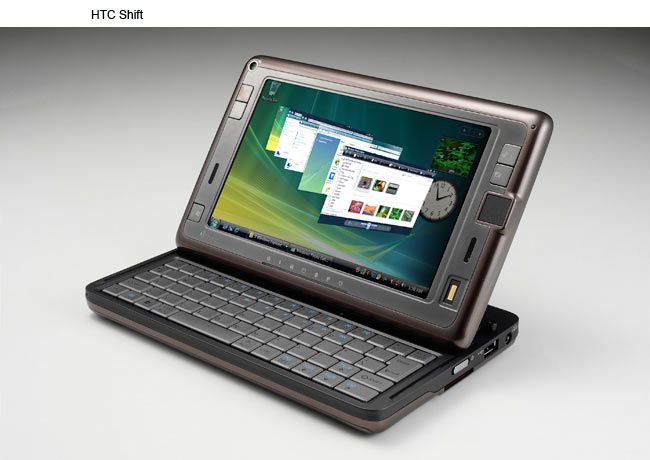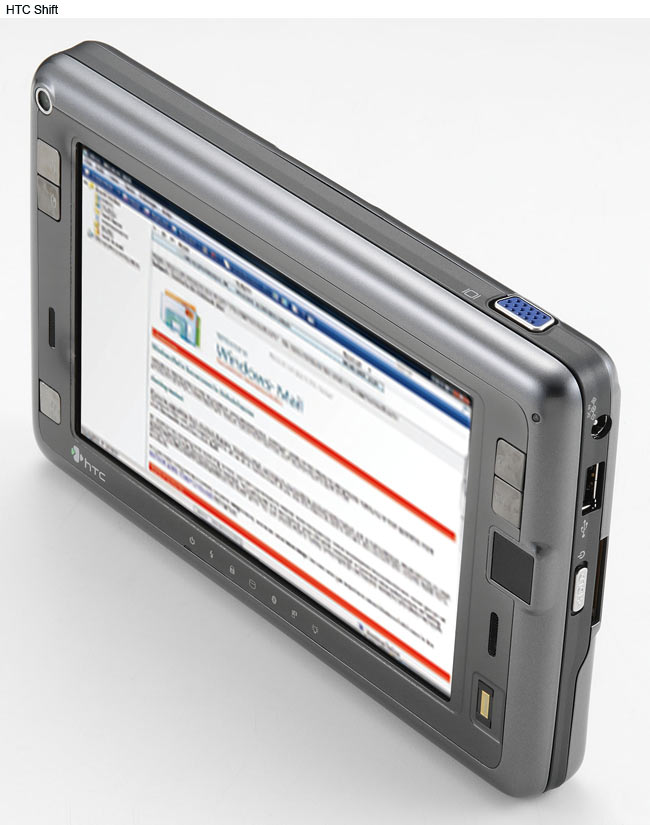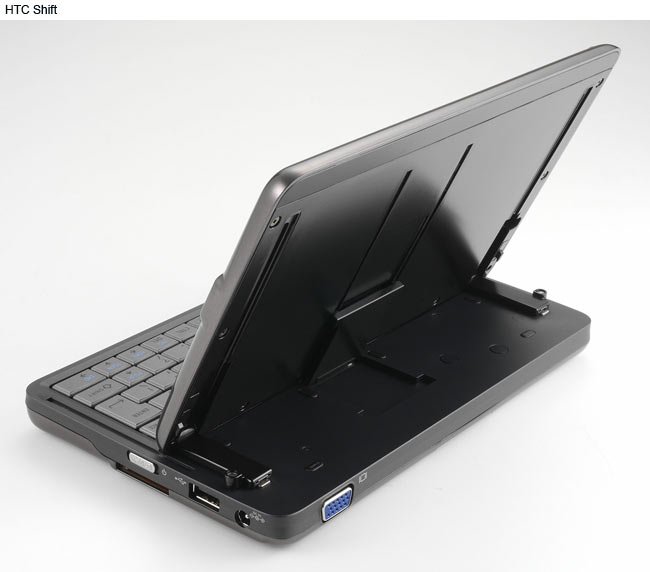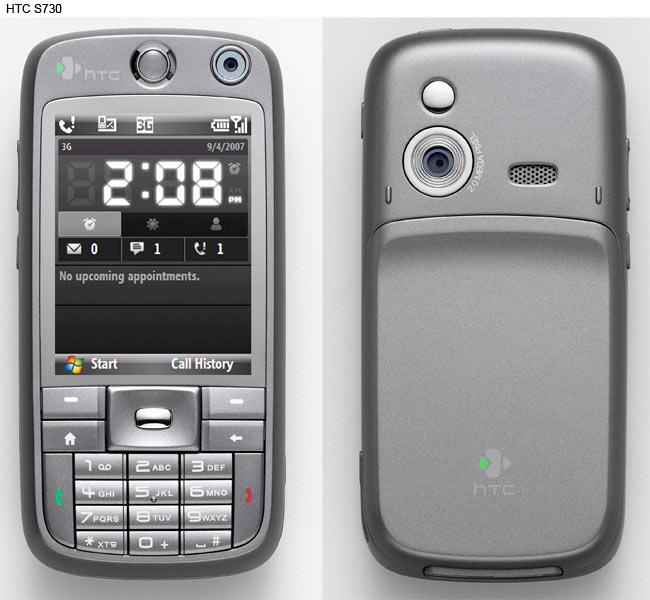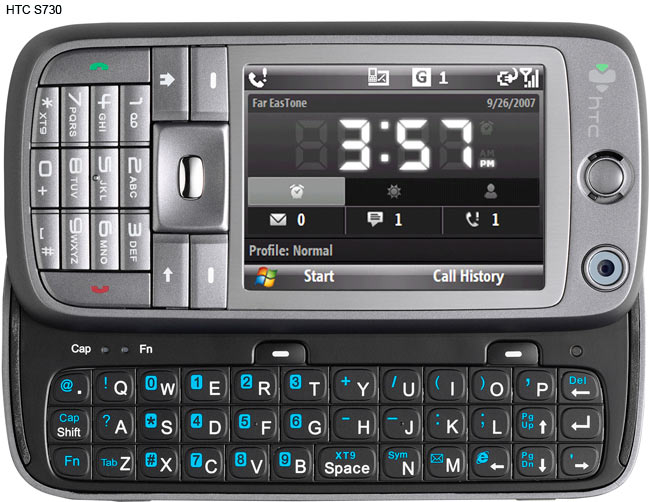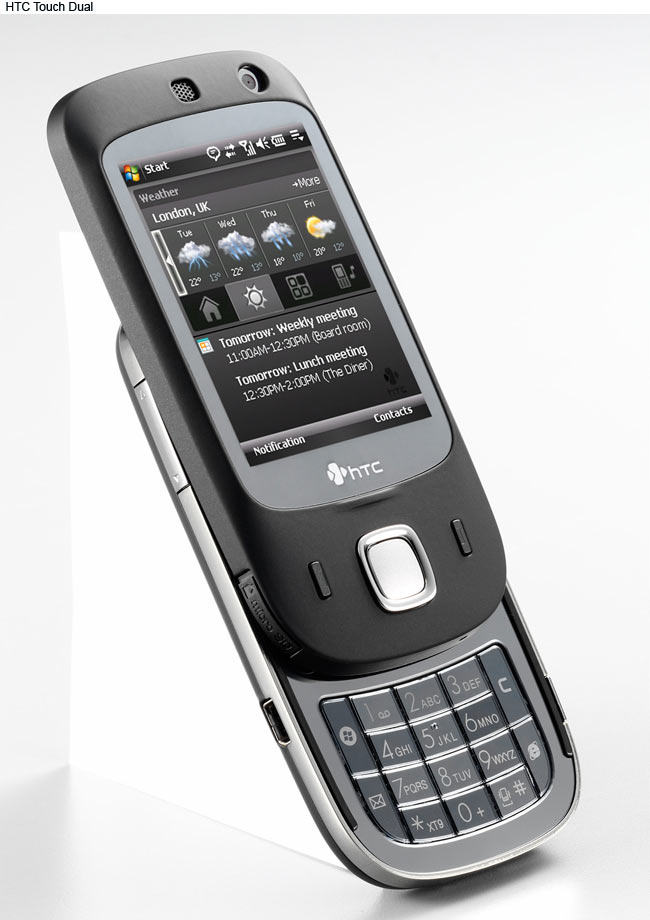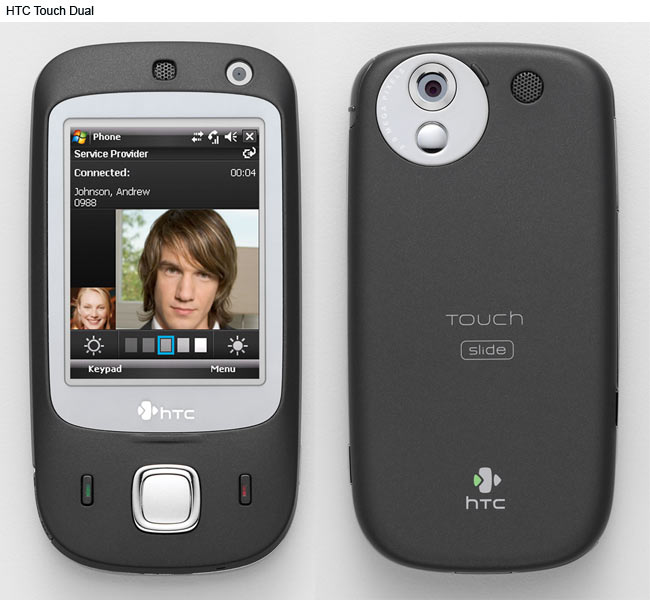 ---