Google introduces the Nexus 7 tablet
28 June 2012 by Olav Hellesø-Knutsen
Google unveils the Nexus 7 tablet which is the first device running the Android 4.1 Jelly Bean OS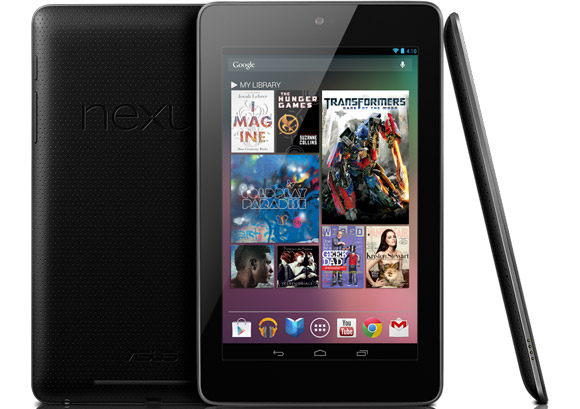 At the Google I/O conference this week, Google announced the Google Nexus 7 tablet with a 7 inch HD IPS display. Google will be offering the Nexus 7 tablet for only $199 without an operator contract so the tablet is obviously sponsored by Google.
Despite the low price, the 7 inch tablet is well equipped with a 800 x 1280 pixels HD IPS touch display with a scratch-resistant Corning glass. Nexus 7 has a quad-core Tegra 3 processor from Nvidia, 8 or 16 GB internal storage and 1 GB of RAM. The powerful 4325 mAh battery will let you browse for up to 10 hours or watch videos for 8 hours.
Google has not manufacture any of its older Nexus devices and neither the Nexus 7 which this time is made by Asus. The hardware specifications are very good for a $199 tablet, but Google is a service company and it want to highlight all the Google services included with the device. Some of the content available for the Nexus 7 are 600 000 apps and games, magazines, over 4 million ebooks and music.
Google Nexus 7 highlights
Size: 198.5 x 120 x 10.45 mm
Weight: 340 gram
Wi-Fi b/g/n
Bluetooth
Nvidia Tegra 3 processor
USB
GPS
NFC
8 or 16 GB internal storage
1 GB RAM
4325 mAh battery
8 hours of active use
1.2 megapixel front camera
Android 4.1 Jelly Bean
Sensors: Accelerometer, magnetometer, gyroscope
---
Alternatively post this in the Esato forum
Please sign in to your Esato account to leave a comment regarding this article
The only reason this would sell well is because of free content and low price. I feel Microsoft did much better job this year , with windows 8 tablet and surface. I find it hard to even consider this.
Surface might even flop just as Intel's ultrabook did, all because of price. History told us that nothing beats a product with an excellent balance of price and performance. netbooks became a hit 5 years ago because of price, android became so widely popular because of mainstream devices powering it, mainstream cars are the most numerous because they have mainstream price-tag. in mobile phones remember how K750 became the hottest selling cameraphone circa 2005 even if there were many high end smartphones that beats it in specs hands down. perhaps some would argue it had the best camera in its time but people outside the technopile sites like this don't know such fact at all.
[ This Message was edited by: razec on 2012-06-28 16:34 ]
I think this will sell well because of the price and specs combination. It being a Nexus device makes it easy to unlock the bootloader as well. I see larger versions of this being built as Google settles in the tablet landscape.
Not bad; it's the only Android tablet I'd seriously consider at present.
It's the first one I'm even considering purchasing and the main reason is the price, secondly it looks pretty good.
Is it just me, or is the bezel around the screen much thicker than on other Android tablets. Which to me makes it look a bit.. budget..
Yes the bezel is rather large. But specs are good for price. Most Android tablets so far have been laggy. But this seems good
Will get me one in September
[ This Message was edited by: pt020 on 2012-08-23 07:43 ]
Today they started to sale the Nexus 7 in the Netherlands ...
Very nice tablet ...
Was busy all afternoon with it and it works good and looks even better than on video/pictures ... but there is one thing I really miss... Adobe Flash player,it is still to early to go without it,will have to find a way to instal it.



Now I do not need to wait for the ICS update anymore

[ This Message was edited by: pt020 on 2012-09-06 08:55 ]
Yesterday I was reading about it ..... today I got it!
My next phone will be a Nexus too

Got one today. Great build and a joy to use

love the updates on the Nexus 7 ...


On 2012-11-06 00:02:42, rikken wrote:
Got one today. Great build and a joy to use

@Rikken,why do you need a tablet when you got the Note 2??

Because I am crazy

Yep
Got my gf one of these, 16 GB thanks to a 20 € rebate for just 179 €.

Updating to 4.2 that very moment, it's a beautiful thing. Too bad the true tablet apps are so scarce...
---