Four new exciting mobile phones from Motorola
24 February 2004
Motorola had some very nice new models to display at the 3GSM World Congress this year. Motorola A1000, MPx and MPx100 are all top of the range phone models closing the gap to the PDA market.
With the
MPx
, Motorola has shown us how it is possible to design a PDA phone when they made the MPx. This device running Windows Mobile on the MOTOPro Innovation Platform has a QWERTY keyboard, dual-hinge display opening both lengthways as a clamshell phone and in landscape mode as a laptop PC (see ill.).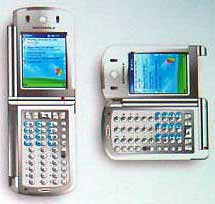 Motorola MPx with dual-hinge flip
The display resolution is 240x320 pixels as in most Pocket PC devices. When the MPx is opened in landscape mode, Internet browsing, streaming video and access to corporate applications are within reach. Connection options include a tri-band phone with built-in Wi-Fi, Bluetooth, GPRS and infrared. A stunning 1 GB memory is possible using expandable memory, and you might want this memory when you use the 1.3 mega pixel camera. All these power-consuming features will have a huge impact on the battery performance. Motorola does not reveal talktime or standby time, but Wi-Fi usage will more likely give this device similar battery performance as a Pocket PC rather than a Sony Ericsson P900 or Nokia 6600.
Other features: MMS, Email, Java, Windows Media Player.
The MPx will be available in the second half of 2004.
---

The Motorola MPx100 is also a part of the Motorola MOTOPro series of handsets featuring Windows Mobile OS. The tri-band (900/1800/1900 MHz) MPx100 is a candy bar device with a 1.3 mega pixel camera, 3x digital zoom and flash embedded. It has room for 512MB memory using a mini-SD slot.

Other features: MMS, Bluetooth, Email, PIM sync, Pocket Internet Explorer, GPRS, WAP 2.0, Java, IrDa, MP3 player, instant messaging capabilities through MSN Messenger.

The MPx100 will be available in the second half of 2004.


Motorola MPx100



---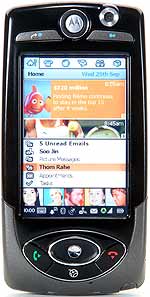 Motorola A1000 3G phone
Finally, two 3G handsets was introduced. The Motorola
A1000
and the
E1000
. The E1000 will probably be targeted at customers looking for an entertainment device. As Motorola write themselves: "Sophisticated gamers, audio/video-phials and entertainment enthusiasts alike will appreciate the latest in 3G capabilities with the Motorola E1000ís lightweight design and cool finish."
Other feature: 8x zoom 1.2 mega pixel camera, Bluetooth, MP3 player, video capabilities, expandable memory, 262.000 TFT color display, MMS
The A1000 is the high-end 3G model from Motorola with all possible features included. This WCDMA 2100, tri-band device with touch-screen only input, has a 65000 color, 208x320 pixel display (same as the Sony Ericsson P800/P900), 1.2 mega pixel video camera with 4x zoom, MMS, E-mail, 2 way video conferencing, HTML browser, PIM application, SyncML, 24MB user memory, Bluetooth, location service, Java and more.
---