First to Offer 8-Gigabyte Memory Stick Micro (M2) Cards For Mobile Phones
31 August 2007 by Olav Hellesø-Knutsen
SanDisk today announed that it will start shipping 8 GB M2 cards later this year. SanDisk will be the first company offering 8GB size.
SanDisk Corporation today announced that it is shipping 8-gigabyte (GB) Memory Stick Micro™ (M2) flash memory cards to phone manufacturers and mobile network operators (MNOs) for testing and evaluation purposes. Primarily used in Sony Ericsson mobile phones, the 8GB SanDisk M2 cards are ideal for the growing number of consumers who make their mobile phone—with its built-in music player, digital camera and video player/recorder—the centerpiece of their digital lifestyle.

At 8GB, SanDisk offers the largest capacity M2 card in the world. The new card will allow consumers to listen to more than 2,000 digital songs, or store more than 5,000 high-resolution pictures, or up to 5 hours of high-quality MPEG 4 videos . The announcement was made at IFA, the world's largest consumer electronics show, where SanDisk is exhibiting at Booth 130, in Hall 15.1 of Messe Berlin, through Sept. 5.
By contrast, Sony announced their largest M2 capacity card in July this year. The size is 2GB and should be available from September. Sony plans to launch a 4GB version later this autumn.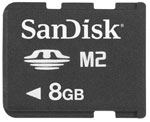 "With the addition of an 8GB SanDisk M2 card, consumers will instantly have the same amount of storage as the largest capacity iPhone," said Jeff Kost, senior vice president and general manager of the Mobile Consumer Solutions division at SanDisk. "Furthermore, removable cards make it easy to share content you create with friends, 'sideload' content and files from a computer and have virtually unlimited storage by simply purchasing more cards. SanDisk is enabling people to get more out of their phones than ever before."

Retail release of the cards and availability to phone manufacturers and network operators is planned for Q4 2007. Pricing has not yet been determined.

In addition to its Memory Stick Micro M2 cards, SanDisk also offers a broad range of both embedded and removable storage solutions for mobile handset manufacturers and mobile network operators. These include iNAND™ and mDOC™ embedded flash drives and microSD™, microSDHC™, miniSD™ and MegaSIM™ cards.

SanDisk is the original inventor of flash storage cards and is the world's largest supplier of flash data storage card products, using its patented, high-density flash memory and controller technology. SanDisk is headquartered in Milpitas, Calif., and has operations worldwide, with more than half its sales outside the U.S.
---