500.000 Android devices activated daily
28 June 2011 by Olav Hellesø-Knutsen
A tweet by Android co-founder Andy Rubin revealed that the number of activated Android devices per day now are over 500.000

According to Andy Rubin, the co-founder of Android Inc, now Senior Vice President of Mobile at Google, the number of activated Android devices are over 500.000 every day. The claimed numbers seems reasonable as they are following a trend we saw back in December last year.
It seems like the number of new Android devices activated daily increases with 100.000 per quarter. If the trend continues like this the next year, number of activated Android devices in August 2012 would be one million device activations per day. The one million mark also matches the 4.4% weekly growth rate tweeted by Rubin.
Dec 2010: 300.000 Android phone activated daily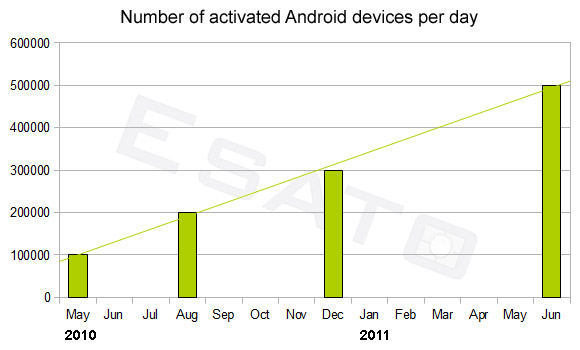 ---
Alternatively post this in the Esato forum
Please sign in to your Esato account to leave a comment regarding this article
Lol, everytime Andy Rubin tweets Android growth stats i remember the Android haters last year claiming it couldnt take the top spot from Symbian, speaking of Symbian, why has Nokia stopped posting how many Symbians are activated a day???


They were more than happy to last year, whats made them change their mind??? hehe...
Absolutely amazing how fast its grown, it is actualy sucking the life out of some of its competitors, cant wait for Ice Cream Sandwich to be completely revealed, i get the feeling this is just the beginning of world domination.

Amazing growth and there seems to be no stopping the Droid invasion - RUN FOR THE HILLS!!!!
I see no way for others to stop Android any time soon. Let's go 1 million!

Oh Dang and this is my 500th post!

[ This Message was edited by: skblakee on 2011-06-28 21:23 ]
Android has shown what it is capable of. Now it's time it shows more stability. Android, compared to other OS, is a little bit unstable. I hope they're going to get it all done with the Ice Cream.
BTW, it'd be good to see another
The growth of Android - A visual tour
...again.
@skblakee: I never thought you weren't gonna make it

That's incredible.
We want to see more.
Tranced:
True, specially when comparing to apps for iOS or even Palm Pre. Lots of FC in their Android counterpart.
iOS is in its 5th version while Android's version 3. Hopefully they'll be fully bugless in a near future.
---