Waterproof Samsung Galaxy Xcover touch screen smartphone announced
11 August 2011 by Olav Hellesø-Knutsen
Samsung today announced the second waterproof Xcover model. This time, it is a touch screen smartphone IP67 certified running Android

A couple of years ago, almost all mobile phone makers had one or two extra tough models in the portfoli. Today, you will have a hard time trying to find one in your regular electronics store. Until now that is.
The Samsung Xcover is classified with a IP67 code. The IP code is a rating standard showing the degrees of protection provided against dust, water and more. The first of the two digits following the IP characters tells us that the Xcover is
Dust tight: No ingress of dust; complete protection against contact
which is the highest degree of protection against dust. The second numer (7) is for liquid protection. Seven means that the smartphone is
Immesion up to 1 m: Ingress of water in harmful quantity shall not be possible when the enclosure is immersed in water under defined conditions of pressure and time (up to 1 m of submersion).
Test duration under water is 30 minutes.
We know many of our readers such as craftsmen have been looking for a real tough phone. A handfull of models exists, but these are mostly feature phones. Samsung claims to be the first manufacture of a waterproof touchscreen smartphone.
The Samsung Galaxy Xcover is powered by a 1500 mAh battery and has a 3.65 inch display. We do not have the claimed battery talk and standby time, but we are pretty sure this model are on line with most 3.5-3.6 inch smartphones which is about 400-500 hour standby time and 450 minutes talk time. The large screen will drain battery and so could features like Wi-Fi and GPS. Users wanting more talk and standby time should instead be looking at the feature phone Samsung E2370 which are using the same 1500 mAh battery but has an impressive 1200 minutes / 20 hours talktime and a 1040 hour / 43 days standby time!
Samsung Galaxy Xcover GT-S5690 highlights
Weight: 135 gram
Size: 121.5 x 65.9 x 11.95 mm
Networks: GSM/EDGE 850/900/1800/1900, UMTS 900/2100, HSDPA 7.2, HDUPA 5.76
3.65 inch display, 320 x 480 pixels
3 megapixel camera, auto focus, LED light
Wi-Fi
Bluetooth 3.0
GPS
FM Radio
800 MHz processor
Android 2.3 Gingerbread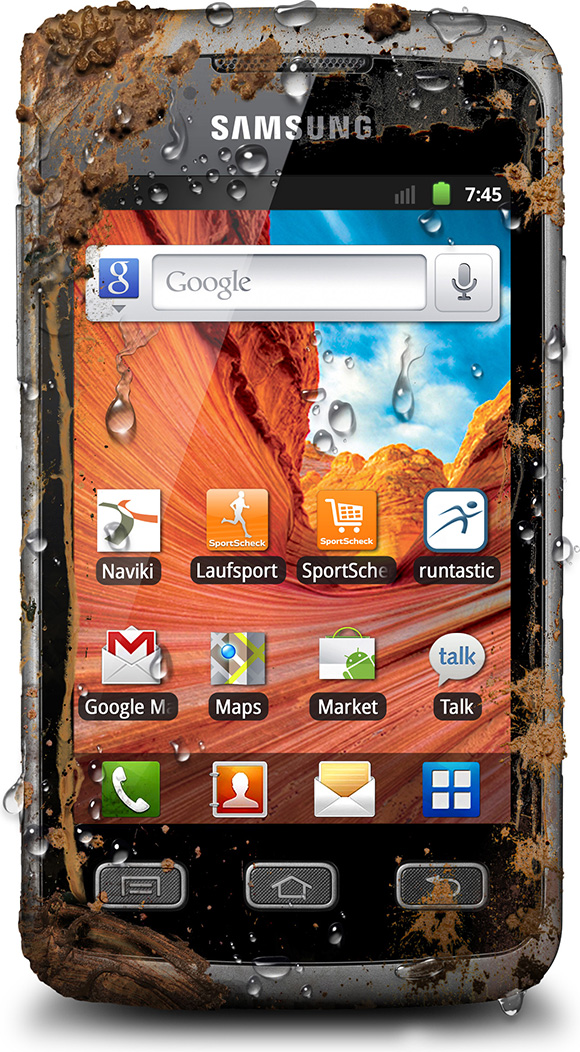 ---
Alternatively post this in the Esato forum
Please sign in to your Esato account to leave a comment regarding this article
And it's a good looking one too!!
http://www.esato.com/phones/compare.php?phone=832&cp=817
still prefer the active, looks much more sporty and looks pretty nice, though it does have a smaller screen...
Shame about the Samsungs camera too, this type of phone could be popular because it could be used as an underwater camera, but a 3MP with a lack of features is pretty dire.
i got one of this phone but am having problem with the battery

cause i need to recharge it every other day!!!!!
Seriously?? Mate not being funny but every other day for a smart phone is good. Most smart phones don't last a day let alone every other day.
YES AM SERIOUS I CHARGE IT EVERY OTHER BUT I DONT USE INTERNET OR ANY APPLICATION JUST FOR SMS AND PHONE CALL ??? AND WITH THIS FUNCTIONS NEED TO CHARGE EVERY OTHER DAY

---