The LG Optimus 2X dual-core smartphone will soon be available in Europe
2 March 2011 by Olav Hellesø-Knutsen
Optimus 2X, the new flagship model from LG, will be available in Europe later this month. The initially release date was January but it is now changed to March.
The LG Optimus 2X availability date was first set to January, but this release date has now been changed to "sometime this month" (March). A little later than expected, but thats not unusual.
We tried the Optimus 2X at the Mobile World Congress and our first impression is that this device is for those having a lot of money wanting the fastest smartphone possible. It will be the The demonstrated benchmark apps was running faster than anything else we have seen, but it is the things you do daily that matter most. And that is probably browsing, checking email, playing games and capture images.
The famous acid3 web browser test is something we run on all Android devices we got our hands on at MWC and the Optimus 2X was clearly the fastest smartphone running this test. The acid3 test is not ment for benchmarking as it just is a complex web page running a series of rendering test. But it could be a quick way to check the performance of the installed web browser, which in our case is the WebKit for Android. Some of the new Android smartphones we tested could use over 10 seconds to complete the test while Optimus 2X was running this on 5-6 seconds. The 2X will not give you twice the speed of similar CPU clocked phones, but it is a little quicker.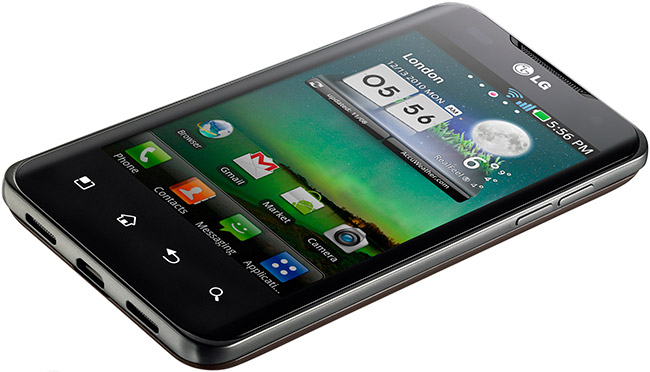 LG Optimus 2X specification highlights
112.4 x 64.2 x 9.9mm
139 gram
Networks: GSM/EDGE 850/900/1800/1900, UMTS/HSPA 900/1700/2100
4 inch touchscreen display, 480 x 800 pixel resolution, 16 million colors
Worlds first smartphone powered by a dual-core processor. NVIDIA Tegra 2 CPU at 1GHz
Full 1080p video recording and playback
HDMI mirroring
DLNA
Wi-Fi
8 megapixel camera. 1.3 megapixel front camera
Android 2.2 (later upgradeable to 2.3)
A-GPS
FM radio
Bluetooth
3.5 mm audio jack
8 GB memory. Expandable up to 32 GB with microSD card
1500 mAh battery
LG Optimus 2X images
For most of you, the LG Optimus Black will be sufficient and it has a better look and feel than the Optimus 2X in our opinion.
LG Optimus Black images
---
Alternatively post this in the Esato forum
Please sign in to your Esato account to leave a comment regarding this article
---