Sony Ericsson finally release the Android 2.1 firmware for Xperia X10, Xperia X10 Mini and Xperia X10 Mini Pro
31 October 2010 by Olav Hellesø-Knutsen
Many of you have been waiting for this update and this Sunday is the day where the relatively new verison of the Android operating system will be available in some markets for Xperia owners
The roll-out are staring today, but only in some markets. It is reported that the Nordic countries will have the update first. And particularly unbranded phones. Sony Ericsson first said that the 2.1 update would be available in 4th quarter this year. Then the release date was changed to 3rd quarter, before it was changed back to 4th quarter again. It is unknown what caused these change of plans, but since the release now was available today on a Sunday, I will guess that it was important to have the release available before we reach November.
Highlights of the changes for the three devices are:
Xperia X10
HD video recording with continuous auto-focus for high quality videos
Upgrade of the Android platform to Android 2.1
New back up and restore application, with extended content back up
5 homescreens for apps, widgets, shortcuts and folders
Social phonebook which automatically syncs contact pictures from Facebook and shows when your friends are online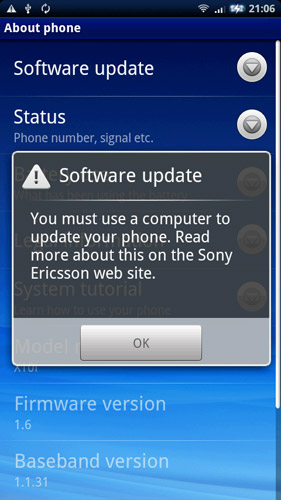 Xperia X10 mini and X10 mini pro
Improved Bluetooth functionality with support for sending and receiving pictures, contacts and more
New backup and restore application with extended content back up
Automatic synchronization of your contact pictures between Facebook and your phone book
Improved ways of handling pictures, audio, text and numbers in your messages
Upgrade of the Android platform to Android platform 2.1
We are currently updating both the Xperia X10 and a X10 Mini Pro where the firmware was available late Sunday evening.
The Xperia X10 was the first phone to be updated. Trying to install the Sony Ericsson PC Companion required to do the update on a Vista 64 machine did not work very well. We have a couple old versions of the PC Companion and a new version of the software usually install itself over the old version. Well, it did not work out this time. The application was installed, but it failed to recognice the connected X10. We had to try the installation on another machine also running Vista, but this time on a 32-bit version. A older version of PC Companion was installed on this machine as well, but it didn't give us any trouble.
The instructinos given by the Sony Ericsson PC Companion app are straightforward and anyone should be able to do the updated. Just make sure you have taken a backup and have more than 50% power left from the battery.
The entire procedure took about 15 minutes and when it was competed, it was time to do a restore from the backup. All user generated content and system settings are backed up (SMS, MMS, Email, Call-logs etc) to the memory card while photos and video are stored on the memory card allready and therefore do not need to be backed up. Apps from Android Market will not be backed up, and you are adviced to download and install them again. The phone know which apps you had installed and are returning a list of direct links to these apps.
Now it is time to start record Videos in HD quality and find out what more is new.
Good luck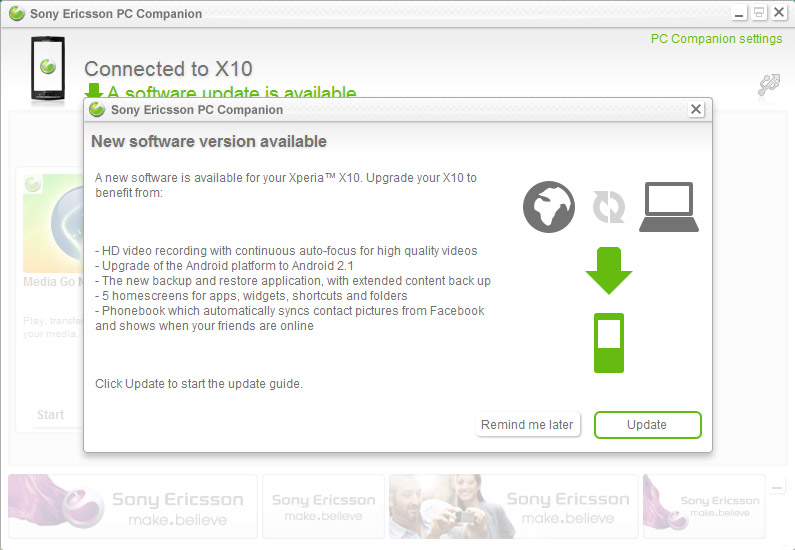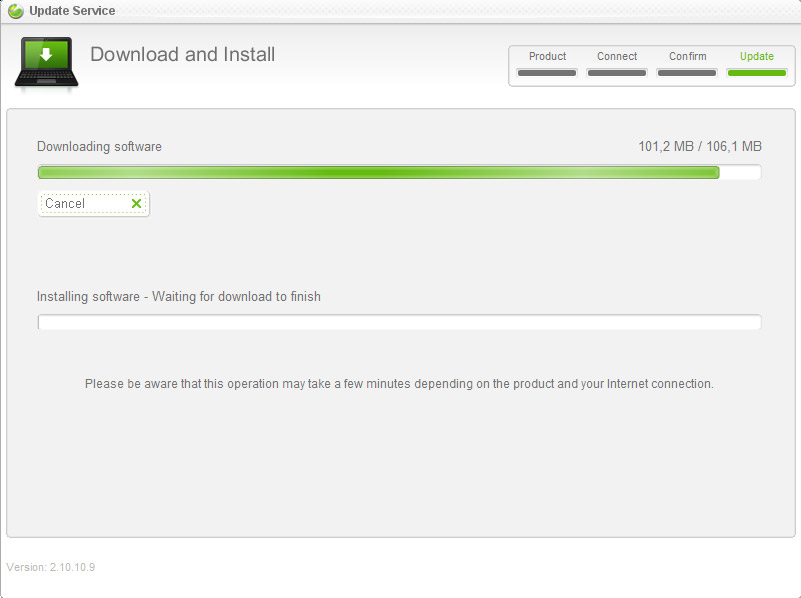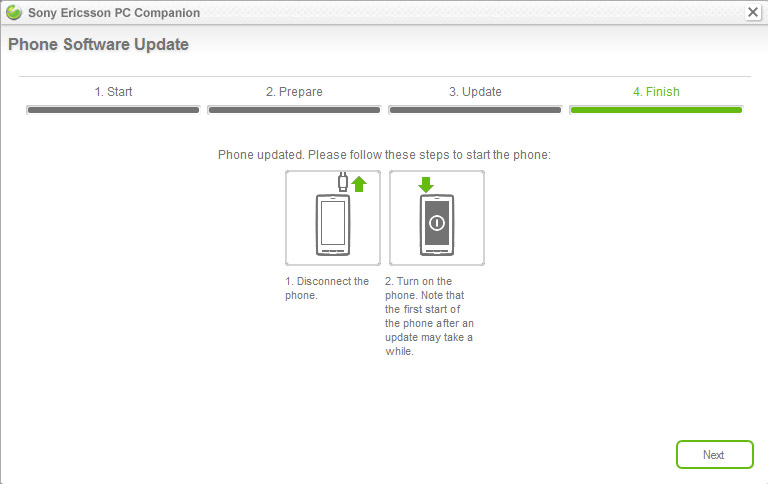 ---