Samsung announces the Galaxy S III Android smartphone
3 May 2012 by Olav Hellesø-Knutsen
At an event in London today, Samsung announced this year's flagship model Galaxy S III. A 4.8-inch model with a HD 720 x 1280 pixels resolution and a 1.4 GHz quad-core Exynos 4 processor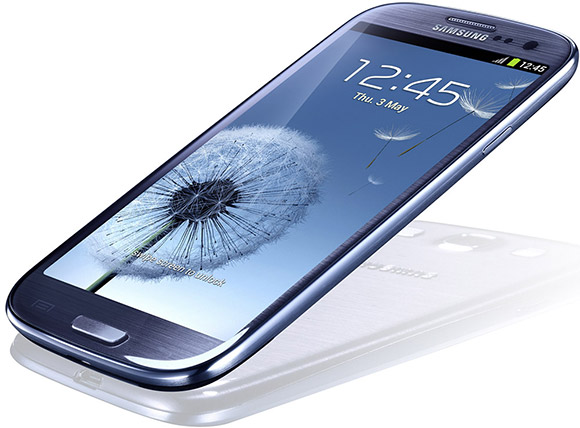 At a press event in London today, Samsung announced what we have been talking about for six months now, the Galaxy S III 4.8-inch Android smartphone. Just like the predecessor Galaxy S II, the Galaxy S III will be the smartphone model which we will use as a base for comparison for the next year.
As you can see from the comparison image below, the Galaxy is quite larger than the Galaxy S III. The smartphone has a more curved design which differentiates it from all the older Galaxy S models. There is no doubt that the large display looks attractive, but we are not sure if a 4.8 inch display is for everyone. Something that could prevent consumers with small hands from buying the Galaxy S III. On the other hand, the larger 5.3-inch Galaxy Note has sold in 2 million in South Korea alone since the launch 5 months ago. According to Samsung, the Galaxy S III bezel is reduced to a minimum, so it might be acceptable after all for those with small hands.
It is the first time we have seen a Super AMOLED display on a 4.8 inch display. The resolution is HD 720 x 1280 which has become a standard by high-end Android devices. Apple is still at 640 x 960 pixels and all Windows Phone 7 smartphones has a fixed resolution of 480 x 800, and we can promise you that you do not want to go down in resolution when you have used a HD smartphone for a while.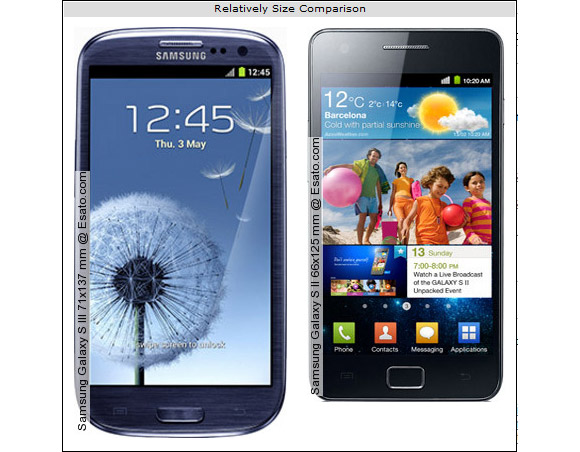 Samsung has kept the camera megapixels down at 8. That is perfectly acceptable for us as long as image quality has improved. We noticed that Samsung has added a few new camera features in addition to the welcomed Zero Lag shutter delay. Burst shot will capture 20 continuous photos and the Best photo will select the best of eight photos for the user. We also noticed HDR listed in the specifications, but are not sure if this is a real-time feature applied during capture, or something applied to the image by an app in a post-processing action.
The Galaxy S III has a powerful 2100 mAh battery and while Samsung did not reveal any figures, they said that the talk time and standby time is above average for touch smartphones. This remains to be tested by independent reviewers, but a 2100 mAh standby time should be above average as this is measured while the display is turned off. What we are most interested in is how the Galaxy S III will perform during daily usage. 1-day usage is a minimum requirement for a brand new smartphone model, but it remains to see if we can experience up to two days of normal usage.
Samsung has included S Voice which is a Siri-light functionality. The phone will recognise many full sentence commands such as "what is the weather forecast for London this week". Other voice commands are: "snooze alarm", "volume up/down", "send text message", "capture photo" and more. This is all part of what Samsung calls Natural Interaction. An example of such behaviour is when a user start to write a text message, but decide to call the recipient instead, he just need to lift the smartphone to the ear and a function called "Direct call" will dial the number instead.
Galaxy S III also introduces a nice feature called Pop up play that allows the user to view video in a small frame so that the user can do other tasks such as reading incoming messages at the same time.
Samsung Galaxy S III highlights
Size: 136.6 x 70.6 x 8.6 mm
133 gram
Networks: GSM/EDGE 850/900/1800/1900, HSPA+ 850/900/1900/2100 and 4G which is dependent on market
4.8 inch Super AMOLED touch display, 720 x 1280 pixels resolution (305 PPI)
8 megapixels camera, auto focus, burst shot, best photo, still capture while video recording, HDR
1.9 megapixels front camera, HD video capture with Zero Shutter lag, BIS
1080p video capture
Wi-Fi a/b/g/n with Wi-Fi Channel Bonding which doubles the Wi-Fi bandwidth.
Bluetooth 4.0
GPS and GLONASS
NFC
Wireless charging
Android 4.0 Ice Cream Sandwich
Sensors: Accelerometer, RGB light, digital compass, proximity, gyro and barometer
Storage: 16GB, 32GB or 64GB. (64 GB available soon). Expandable with microSD card
Batter: 2100 mAh
Pop up play
Smart stay, Social tag, Group tag, Face zoom, Face slide show
Hyperglaze cover
The Samsung Galaxy S III will be shipped with the colours Pebble Blue and Marble White. Availability in Europe is May 29 2012. Price for the 16GB, 32GB and 64GB editions is currently unknown.
---
Alternatively post this in the Esato forum
Please sign in to your Esato account to leave a comment regarding this article
Between this and the One X, I'd choose the HTC.
I would choose the S III witout a doubt. Removable battery (2100 mah), 16,32 or 64 GB memory and a card slot and I am convinced its camera outperforms the OX. I also find this one much better looking

Too big IMO
[ This Message was edited by: Ravager on 2012-05-03 22:00 ]
Never was a fan of Samsung's design and this one is not an exception.
But I am sure it is one of the best phones money can buy.

Design wise, one x is much better than this!
This time the Samsung Flagship looks like

txt pro



Nice specs, but Samsung has to hire SE designers that were laid off and design something completely different.
[ This Message was edited by: razec on 2012-05-04 03:15 ]
Perfect Mobile Phone ! So Simply !!! Congratulations Samsung !!!

razec, A lot of people critiziced the design and built of the S II still it became an enormous success

To me this phone looks really great

It's gonna scratch and mark too easily. And a premium handset should not. Polycarbonate would be better than metal
I never had much issues with scratches. You have to take care of things and not just rely on the materials

You can easily scratch a Mercedes too you know

Yes true but I have always taken care yet body marks still appear
All things used on a daily base will get marks, even your life


The SIII is a BIG disappointment i expected so much more and the design is just poor to say the least, The HTC One X wins on all counts!!!

[ This Message was edited by: julias on 2012-05-04 11:31 ]
Quote:
---

On 2012-05-04 04:13:55, razec wrote:
This time the Samsung Flagship looks like txt pro

---
I prefer the



great specs and everything but poo it looks boring, seriously the only manufacturer making interesting and sexy phones are Sony at the moment
I find the Xperia S boring, uncomfortable to hold and too large for a 4.3 screen phone

Can't we change the back cover? It'd be great if Samsung offered the cover of Galaxy Nexus for S III

Is that it? Jeez it's horrible
Looks appalling even up against
the S2 lol

Miss Uk...Miss UK.... Miss UK.....What are we going to do with you

OFF WITH HER HEAD!

....................

On 2012-05-04 20:39:47, Miss UK wrote:
Is that it? Jeez it's horrible
Looks appalling even up against
the S2 lol



I would hardly say it looks appalling. Still nicer than iPhone

Alot of people in this thread are saying what a disappointment the S3, especially with its design, and like Julias's opinion he stated the One X wins on all counts.
I dont think it does. How does a none-user removable battery win over one that can be hot swapped ? How can the One X win when it runs out of memory space and theres no card slot ? How can it win when it has less cloud storage provided by HTC ?
The main point for me where the S3 beats the One X hands down design wise is the camera. On the S3 its flushed to the back cover. On the One X, it not only sticks out but is the main point where the rest of the phone balances on when placed down on its back cover.
Now thats ridiculous design. How can the entire bulk of the phone rest on the camera glass !?!
[ This Message was edited by: etaab on 2012-05-06 16:50 ]
Lol I dislike the shape of it tbh
But it does have a few new included
Features that are nothing to get excited
about Overall in my case be interesting
Now to see what one comes out after this one
That may blow it away

---