Peer-to-Peer Music Sharing Functionality from your mobile
12 February 2005 by axxxr
Melodeo Unveils Peer-to-Peer Music Sharing Functionality; Users Can Now Pay for and Share Full-Track Downloads Legally and Securely from Mobile Phone to Mobile Phone.

Melodeo, Inc. today announced new peer-to-peer music sharing functionality with its Melodeo Mobile Music Solution. Available during the first quarter in Europe, mobile phone users will be able to securely send full tracks that they have purchased, from one mobile phone to another mobile phone via Bluetooth wireless technology. Melodeo, a Seattle-based company, provides music to wireless subscribers through its Mobile Music Solution. The Mobile Music Solution resides directly on the user's wireless phone, allowing consumers to quickly and easily shop, preview, purchase/download over the air, and play and store full-length music tracks.
"We're thrilled about Melodeo's peer-to-peer functionality, because it is secure and all parties are compensated when music is shared. This makes it a huge win for artists, music publishers, record labels, operators and mobile phone users," said Don Davidge, senior vice president, Melodeo. "We expect that as the service grows it will not only be a significant source of revenue for artists, publishers and labels, but will also bring music to new audiences. Ultimately, we anticipate that sending a song will soon be as common as sending a text message or making a call."
Wireless Operator Support
Wireless operators are deploying Melodeo technology on their networks to offer their subscribers access to Melodeo's extensive music library. With the service, consumers can easily purchase and download full-length songs directly from their handsets, over the air, to their wireless phone. Music tracks that have been downloaded via the carrier's network can then be "super-distributed" via Bluetooth. Tracks sent via Bluetooth technology do not use the operator's network bandwidth, and therefore represent a highly efficient distribution mechanism for digital music. Melodeo's DRM solution fully protects the tracks in both download and peer-to-peer activities.
Many industry analysts see the mobile music market growing exponentially in the coming years. Jonathan Coham, analyst with the Radicati Group, believes that "wireless music delivery is the next logical step. For music labels and artists, the appeal of wireless music delivery is that DRM ensures they will be compensated for their work. Melodeo's distribution model makes for a quick go-to-market strategy, which, combined with an innovative peer-to-peer approach, looks set to stimulate a strong level of interest in the industry."

Using the Peer-to-Peer Feature
To use the peer-to-peer feature, users simply select a song from the play list of tracks on their mobile phone. They then send the full track to another user with a Melodeo-enabled mobile phone located within Bluetooth range. The song file, which is DRM protected, pops up on the recipient's mobile phone and he or she can listen to a 30-second preview of the song. If the person likes it, he or she can easily choose to purchase it and the Melodeo server then sends a decryption key via the carrier's network to unlock the song, and bill the purchase to the recipient's account. The Melodeo peer-to-peer system will also be used to send music as a gift, with the charges billed to the sender's account.
A sender who shares music with a friend may also be eligible to receive a reward from the operator after the friend purchases a certain number of tracks. For instance, after the friend purchases four songs, the user who recommended them or gifted them may be given a complimentary track of a song from the operator.
Quick, Easy-To-Use Solution
Melodeo's Mobile Music Solution includes an extensive music catalog provided by Warner Music Group and other record labels. Finding songs or an artist in this catalog is easy with a patented "power-search" capability. With just a few keystrokes, users can quickly and easily access the music they want.
The Mobile Music Solution includes personalization of a user's music catalog based on the user's preferences. Intelligence capabilities enable the solution to discover an individual's unique music preferences and offer customized recommendations to the subscriber.
Melodeo's software incorporates the most advanced audio codec, aacPlus from Coding Technologies, which produces music files in the 500 to 750K range, significantly smaller than a typical MP3 file, in a solution that is downloaded, not streamed, saving valuable bandwidth. While phone memory varies by brand, users can expect to store roughly 75 to 125 tracks with 64MB of memory.
About Melodeo
Melodeo is entirely focused on the music mobile phone market. Melodeo, Inc. is a privately held company in Seattle, Washington, dedicated to creating software and services to bring music to mobile phones. The Melodeo Mobile Music Solution provides wireless operators and phone handset manufacturers the means to provide secure digital music to wireless subscribers in an easy-to-use, dynamic user interface. Recognizing the growing market for wireless content, Melodeo offers its easy-to-use distribution model that at the same time supports the Digital Rights Management initiative, securing artist and label compensation. For more information, visit the company's website at http://www.melodeo.com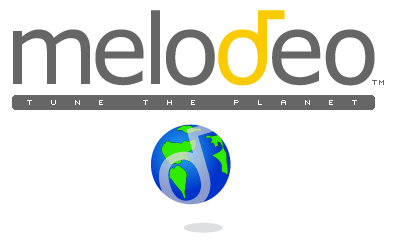 ---