PureView for the masses - Nokia announces Lumia 820 and Lumia 920 Windows Phone 8 smartphones
8 September 2012 by Olav Hellesø-Knutsen
Nokia has announced Lumia 920 and Lumia 820 smartphones. Nokias first Windows Phone 8 smartphone with PureView imaging technology and wireless charging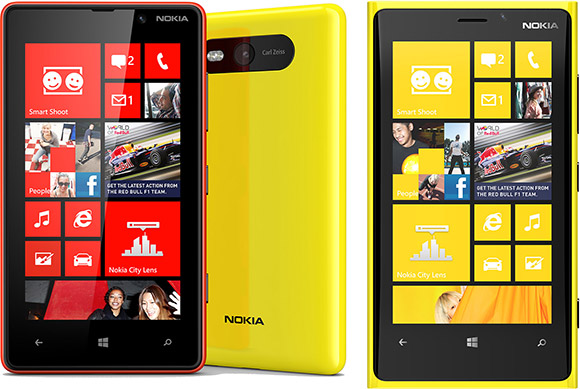 At the Nokia World event in New York earlier this week, Nokia CEO Stephen Elop and Microsoft CEO Steve Ballmer entered the stage and introduced the first two smartphones from Nokia running the latest Windows Phone 8 operating system. Visually, the new Nokia Lumia 920 can be mistaken for being an older Lumia 900. Nokia has not spent much effort in redesigning what they believe is a functional and attractive form factor. The Nokia Lumia 820 has also similarities to the older devices, except that the corners are more rounded. Seems like red and yellow is the colour of the season.
Lumia 920 is the new flagship model from the Finnish company. It has a 4.5 inch LCD touch screen with an impressive 768 x 1280 pixels resolution (HD+). That brings the Lumia 920 up among the top 5 phones with highest pixel density. Just beaten by a handful of Xperia handsets, Lumia 920 has PPI of 331. Larger screens usually result in lower talk and standby times, but Nokia will sell the Lumia 920 with a 2000 mAh battery, which is the most powerful battery ever in a Nokia phone. Using the standard GSM Association battery test for talk time resulted in impressive 1020 minutes before the battery was empty.
Nokia Lumia 920 images
Nokia introduced the term PureView in February at the announcement of the Nokia 808 PureView 41 megapixels monster. The 808 PureView is a Symbian device that has the largest sensor found in a mobile phone to this date. It is large both in terms of physical sensor size and megapixel count. The clever idea with the 808 PureView was that the camera would capture up to 38 megapixels (7152x5368 pixels) and reduce the file size down to 8 or 5 megapixels by interpolate the pixels. By doing this clever real-time pixel joining, the mobile camera would use data from 4.7 times the original pixels to create one final pixel. The 808 PureView sensor size was 1/1.2 inch large which is a diagonal of 13.33 mm. Lumia 920's sensor size of 1/3 inch is less than half the size where the diagonal measures 6 mm. The pixel size on the Lumia 920 is 1.4 micron which is identical to the 808 PureView sensor. Depending on the aspect ratio, Lumia 920 will produce either a 8 megapixel (3264 x 2448 - 4:3) image or 7.1 megapixel (3553 x 1998 – 16:9) image.
For most people, the term PureView is now associated with high pixel count. Nokia now want us to forget what we have learned so far, and the company tries to educate interested consumers that PureView is something more than having a X-large megapixel sensor inside. The new Lumia 920 has got the PureView phrase attached but Lumia 920 with its 8.7 megapixel camera does not reach up to the image quality of the 808 PureView. Nokia want us to associate PureView with a set of imaging technologies which includes optical image stabilisation (OIS). Optical image stabilisation will probably be a very useful camera feature for point-and-shoot photographers as it eliminates camera shake when capturing images of static objects. This is one approach for capturing good images in dark environments, but high ISO could solve the same camera shake challenges as well. Remember that stabilisation only helps reduce camera motion but it will not stop subject motion. Image stabilisation can also be done with software but the optical solution is much better. Nokia claims that the OIS in the Lumia 920 will help users to take pictures with a 8x longer shutter speed than cameras without OIS. One of Nokia's test result shows that they were able to use shutter speed down to 1/4 second.
Lumia 920 has a back-side illuminated sensor (BSI). This means more light will reach the photo diodes without hitting obstacles such as metal wiring like front-illuminated structures tend to do. The Exmor-R sensor from Sony is back-illuminated.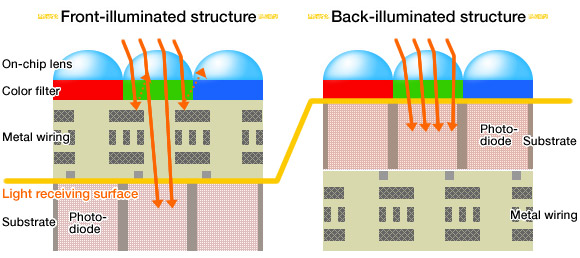 As one of the main goals with the new PureView technology is to capture photos in low light, Nokia added both the optical image stabiliser and improved the aperture size to f/2.0. The small f-number/large aperture size means more light will reach the sensor.
In our opinion, the low megapixel count will be difficult to sell to consumers as long as they do not know what PureView imaging technology really is. Nokia has a difficult task of explaining that pixel count alone not are features consumers should look out for. There is nothing impressive with a 8 megapixel camera any more as the new standard in high-end smartphones has moved towards 12-13 megapixels.
Something completely different is the new charging solution offered with the Lumia 920. Both the Lumia 820 and Lumia 920 can be charged wireless and the Lumia 920 has built-in support for wireless charging out of the box. If you want to charge the Lumia 820, you will need to buy an additional charging shell. Wireless charging has been available from third parties for years, but it is the first time we have seen this from a smartphone manufacture. There is no wireless charging stand or plate included in the sales package, so these must be bought separately.
The Lumia 920 is quite heavy with its 185 gram. It is even 5 gram heavier than the 5.5 inch Samsung Galaxy Note II. The extra weight might come from the additional hardware required from the wireless charger.
Nokia Lumia 820 images
Will Nokia succeed with the new Windows Phone 8 models? The company has a couple of advantages. It is first to the market with the new Windows Phone 8 OS. Being one of the first with the new OS could trigger the buy instinct for some consumers. It is the PureView imaging technology which we think will give the new Lumias added value compared to competitor handsets. But there is no doubt that Nokia has lost its appeal among many first movers. It is not cool to own a Nokia smartphone these days. And we think many consumers select brand based on the status owing one particular brand. This group of people has either bought an Android smartphone or still has the iPhone.
Nokia has released a range of new promotional videos on YouTube. One of these videos is supposedly showing the IOS capabilities of the Lumia 920. The advertising agency made a huge mistake during the post-production of the short clip. They forgot to remove the part where we can see that the super steady shot was shot with a professional camera from a moving van instead of by the guy on the bicycle.
Nokia Lumia 920 highlights
Weight: 185 gram
Size: 130.3 x 70.8 x 10.7 mm
Networks: GSM/EDGE 850/900/1800/1900, WCDMA/HSPA 850/900/1900/2100, LTE 800/900/1800/2100/2600
4.5 inch HD+ IPS touch display. 768 x 1280 pixels, 16.7 million colours, 15:9 aspect ratio. 331 PPI
Wi-Fi a/b/g/n - WiFi Hotspot
8.7 megapixel camera with BSI sensor, Carl Zeiss lens, auto focus, 26/28mm focal length. f/2.0, optical image stabiliser with up to 3EV stabiliser performance, geo tagging
1080p video capture @30fps
720p video capture for front camera
Flash: Short Pulse dual LED
Bluetooth 3.1
NFC
A-GPS and Glonass
DLNA
2000 mAh battery
Standby time (2G): 400 hours
Talk time: 17 hours
1.5 GHz dual core Qualcomm Snapdragon S4 MSM8960 processor
1 GB RAM. 32 GB internal storage. 7 GB in Microsoft SkyDrive
Windows Phone 8
Qi Wireless charging
Internet Explorer 10
Nokia Maps and Nokia Drive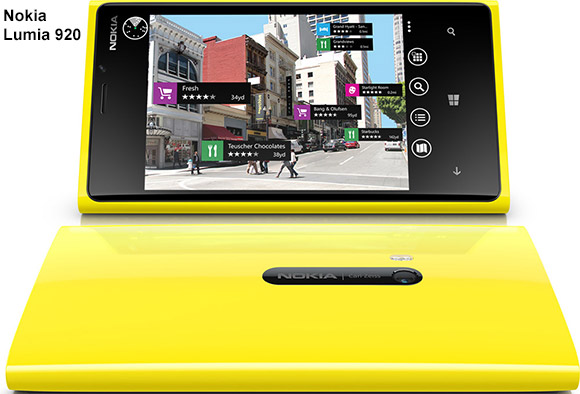 Nokia Lumia 820 highlights
Weight: 160 gram
Size: 123.8 x 68.5 x 9.9 mm
Networks: GSM/EDGE 850/900/1800/1900, WCDMA/HSPA 850/900/1900/2100, LTE 800/900/1800/2100/2600
4.3 inch touch display, 480 x 800 pixels, 16.7 million colours
8 megapixel camera, Carl Zeiss lens, auto focus, 28 mm focal length, f/2.2, geo tagging
1080p video capture @30fps
VGA video capture front camera
Flash: Dual Led
Bluetooth 3.1
NFC
A-GPS and Glonass
DLNA
1650 mAh battery
Standby time: 330 hours
Talk time: 14 hours
1.5 GHz dual core Qualcomm Snapdragon S4 MSM8960 processor
1 GB RAM. 8 GB internal storage. Expandable up to 32GB with microSD card. 7 GB in Microsoft SkyDrive
Windows Phone 8
Internet Explorer 10
Nokia Maps and Nokia Drive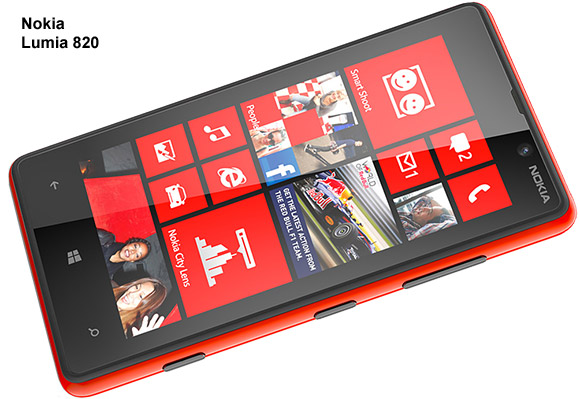 ---
Alternatively post this in the Esato forum
Please sign in to your Esato account to leave a comment regarding this article
This ain't pureview for the masses. These will be more expensive than PV808 itself.
Love the hardware but i wish they were less Fisher Price looking!
There is white and grey versions too. I love em
When Sony did the back illuminated sensors, they dramatically reduced the size of the sensors, I thought i did not read about the sensor size of the lumia 920. For if they used back illuminated sensor, and kept the size of the sensor as before, i guess that should be beter.
[ This Message was edited by: ILoveBhe on 2012-09-09 23:46 ]
Still would have been nicer to see the 808's camera in the 920 (not the 902 laffen).
[ This Message was edited by: etaab on 2012-09-09 20:00 ]
Maybe they will next year but that maybe too late. I still like these phones. Maybe it is Microsoft limitations that prevents Nokia making a true Pureview in Windows
Doubt it, i think its more the case that if they were to stick the camera from the 808 in either of these two, the hump on the back wouldnt go with the rest of the phones sleek look that people desire.
Exactly, people want thin phones and you can't stick the 808's cam in a thin phone, that's life, you can't have it all

Megapixels don't mean a thing, when the cam is good, 8mp is enough for a phone.
---