New memory card format announced
14 September 2007 by Olav Hellesø-Knutsen
Lleading mobile phone manufactures and semiconductor providers has announced that they will support the creation of a new memory card format. The standard is named Universal Flash Storage (UFS) and will be finalized in 2009
Micron Technology, Inc., Nokia, Samsung Electronics, Sony Ericsson, Spansion Inc., STMicroelectronics, and Texas Instruments announced today that they support the creation of a far-ranging industry specification for removable memory cards and embedded memory solutions being standardized by the JEDEC Solid State Technology Association (JEDEC), a leading open-standards organization in the semiconductor industry. JEDEC is well known for its expertise in the standardization of component technologies and solutions.
The new specification, dubbed Universal Flash Storage (UFS), reflects the industry's need for a universal memory solution that removes the need for adaptors to accommodate different removable memory card sizes.
Widespread demand for higher densities and higher performance, plus the surging popularity of multimedia content, is accelerating the need for advanced memory solutions as removable card or embedded formats. UFS will provide a revolutionary leap towards supporting very low access times required for memories, as well as enabling high-speed access to large multimedia files, while reducing power-consumption in consumer electronic (CE) devices. The target performance level is expected to be a significant advancement beyond that of the varied flash cards popular today. Today, users experience a three-minute access time for a 90-minute (4 Gigabyte) high-definition movie; with the new standard, this would be reduced to a few seconds.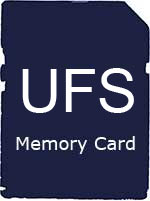 Major applications such as mobile handsets, digital still cameras and other CE devices will benefit from the convenience of a universal open standard based specification that is intended to reduce the time-consuming process of enabling interoperability among the various types of removable and embedded memory solutions at the system level. UFS is planned to provide consumers in the future with the convenience of a unified removable memory card that can be shared among various mobile, portable and other CE devices without the need for any adaptors.
The UFS standard is expected to be finalized in 2009.
Company quotes
Micron Technology

"Universal standards hold a pivotal role in the development of more cost-efficient and better designed products. Standardization of flash-based technologies will be crucial in determining how fast storage devices will be able to fully support industry demand for higher densities and faster transmission speeds," said Frankie Roohparver, vice president of NAND development for Micron Technology.
Nokia

"Nokia will actively participate in the development of the UFS specification, which aims to provide future mobile devices with high performance and flexibility. This collaborative UFS effort will provide the industry with an open standard mass memory solution with optimal performance and interoperability," said Seppo Lamberg, Senior Vice President, Technology Platforms, Nokia.
Samsung Electronics

"The proposed UFS specification is good news to card manufacturers and set designers alike. The proliferating use of flash memory as a storage medium underscores the importance of introducing a universal connectivity to memory cards where high performance and reliability are critical," said Jon Kang, President, Samsung Semiconductor, Inc.
"Samsung's Mobile handset division is happy to stand with our peers in support of standard technology for removable memory devices that will result in much simpler interconnectivity," said W.S. Lee, vice president, handset R&D planning, Telecommunication Network Business, Samsung Electronics Co., Ltd.
Spansion

"Spansion, as the worldwide leader in pure-play Flash memory solutions, endorses the development of the versatile UFS bus," said George Minassian, vice president of Strategic Planning and Systems Engineering, Wireless Solutions Division at Spansion. "It not only provides significantly higher bandwidth, but also supports low latency accesses and is positioned to provide an essential infrastructure in future mobile devices."
STMicroelectronics

"STMicroelectronics' Flash Memory Group has been a strong believer in this approach since the beginning of the storage experience and we're pleased we can contribute to this important standardization activity. We think that this Universal Standard will cover the needs of the embedded and removable markets for many years," said Giuseppe Crisenza NAND Flash Group General Manager.
About Micron

Micron Technology, Inc., is one of the world's leading providers of advanced semiconductor solutions. Through its worldwide operations, Micron manufactures and markets DRAMs, NAND flash memory, CMOS image sensors, other semiconductor components, and memory modules for use in leading-edge computing, consumer, networking, and mobile products. Micron's common stock is traded on the New York Stock Exchange (NYSE) under the MU symbol. To learn more about Micron Technology, Inc., visit www.micron.com.
About Nokia

Nokia is the world leader in mobility, driving the transformation and growth of the converging Internet and communications industries. Nokia makes a wide range of mobile devices and provides people with experiences in music, navigation, video, television, imaging, games and business mobility through these devices. Nokia also provides equipment, solutions and services for communications networks.
About Samsung Electronics

Samsung Electronics Co., Ltd. is a global leader in semiconductor, telecommunication, digital media and digital convergence technologies with 2006 parent company sales of US$63.4 billion and net income of US$8.5 billion. Employing approximately 138,000 people in 124 offices in 56 countries, the company consists of five main business units: Digital Media Business, LCD Business, Semiconductor Business, Telecommunication Network Business, and Digital Appliance Business. Recognized as one of the fastest growing global brands, Samsung Electronics is a leading producer of digital TVs, memory chips, mobile phones and TFT-LCDs. For more information, please visit www.samsung.com
About Sony Ericsson

Sony Ericsson Mobile Communications serves the global communications market with innovative and feature-rich mobile phones, accessories and PC-cards. Established as a joint venture by Sony and Ericsson in 2001, with global corporate functions located in London, including R&D sites in Europe, Japan, China and America, Sony Ericsson celebrated the 5th anniversary of the start of the joint venture on 1st October, 2006. Sony Ericsson is the global title sponsor of the Women's Tennis Association, and works with the Association to promote the Sony Ericsson WTA Tour in over 80 cities during the year. For more information on Sony Ericsson, please visit www.sonyericsson.com
About Spansion

Spansion is a leading Flash memory solutions provider, dedicated to enabling, storing and protecting digital content in wireless, automotive, networking and consumer electronics applications. Spansion, previously a joint venture of AMD and Fujitsu, is the largest company in the world dedicated exclusively to designing, developing, manufacturing, marketing and selling Flash memory solutions. For more information, visit www.spansion.com.
About STMicroelectronics

STMicroelectronics is a global leader in developing and delivering semiconductor solutions across the spectrum of microelectronics applications. An unrivalled combination of silicon and system expertise, manufacturing strength, Intellectual Property (IP) portfolio and strategic partners positions the Company at the forefront of System-on-Chip (SoC) technology and its products play a key role in enabling today's convergence markets. The Company's shares are traded on the New York Stock Exchange, on Euronext Paris and on the Milan Stock Exchange. In 2006, the Company's net revenues were $9.85 billion and net earnings were $782 million. Further information on ST can be found at www.st.com.
About Texas Instruments

Texas Instruments Incorporated provides innovative DSP and analog technologies to meet our customers' real world signal processing requirements. In addition to Semiconductor, the company includes the Education Technology business. TI is headquartered in Dallas, Texas, and has manufacturing, design or sales operations in more than 25 countries. More information is located on the World Wide Web at www.ti.com
---