Toshiba announce 32 GB SD High Capacity memory card
25 August 2007 by Olav Hellesø-Knutsen
Toshiba adds new SD High Capacity (SDHC) cards and microSDHC card to memory card line-up
Three new cards were announced, including the worlds first 32-gigabyte (GB) memory card in this high density. Alongside the 32GB SDHC card, Toshiba also announced a 16GB SDHC card and an 8GB microSDHC card. All the new cards meet the Class 4 specification in the SD Speed Class, ensuring they deliver the high level performance and functionality essential for advanced mobile phones and other personal digital products.
The 16GB SDHC card will be available worldwide from October, and the 32GB SDHC card and 8GB microSDHC card will be launched worldwide in January next year.
SDHC Memory Cards can be used with devices that support the SD Memory Card Ver. 2.00 standard. They are not backward compatible with standard SD Memory Cards. Toshiba say that they have only been able to produce standard SD cards up to a maximum size of 2GB. In order to meet high-capacity needs, the new SDHC-standard cards was presented. SDHC cards use the FAT32 file system and are high-capacity.
The market for high density memory cards is growing fast, driven by increasing demand for personal digital equipment able to handle motion pictures and high resolution images. Demand for high density microSDHC cards is expected to emerge in the mobile phone market, as on-board cameras advance multi-megapixel capacities, and demand for music and motion pictures are expanding as well.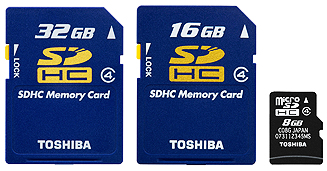 The expanded new card series will be featured at the IFA 2007, in Berlin, Germany from August 31 to September 5.
---