Neonode smart phone to ship minus key features
20 July 2004 by axxxr
Neonode promised today to offer N1 on a first come, first served basis
"We will manufacture approximately one thousand mobile phones during the summer," he said in a statement. "So there will be far from enough for everyone that has shown an interest.
"In total there are approximately 20,000 pre-orders in Neonode's database and during the summer... We will be increasing the speed of production as soon as possible in order to meet the existing demand."
The N1 was launched in December 2002, and Neonode assured potential customers that the handset would go on sale in May 2004. However, come the forecast ship date and Neonode was forced to admit that the handset was not "still is in its final phase of development" and consequently not yet available to buyers.
Last month, it emerged that Neonode had told one web site that it had begun shipping initial pre-orders. However, today's statement suggests that that was not the case, and that the early "limited edition" release plan has not yet begun. Sales of these 'early adopter' models will presumably help fund ever bigger production runs.
And early buyers will not gain the handset's full functionality until Neonode offers a software update at a future, unspecified time. E-mail, web browsing, GPRS connectivity, IR connectivity, ActiveSync, MMS, WAP are among the promised features that will be missing from the the first generation handsets. But at least you'll be able to send text messages, take and make calls, and play Tetris.
The N1 is based on Microsoft Windows Mobile for Smart Phones, but offers its own optically-enabled touch-sensitive interface, zForce, all running on a 220MHz ARM processor. The dual-band handset ships with a 64MB SD card, 16MB of which is used for system memory. It's not clear whether the machine uses the card instead of built-in RAM, but that's certainly what the company's web site implies.
Generating most interest, however, is the handset's size. At 8.8 x 5.2 x 2.1cm, this one of the smallest smart phones on the market - or, rather, it will be when it ships.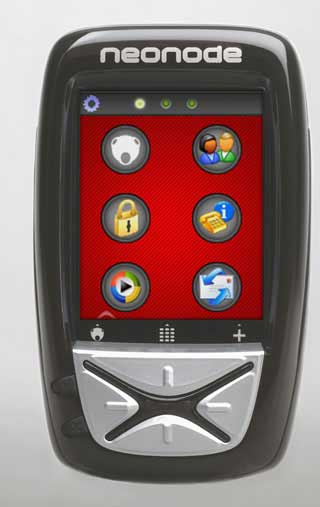 ---