Mymo, my first mobile
24 August 2004 by axxxr
The Mymo is a phone so simple even a four-year-old child could use it.
Five-year-olds now have another option for a mobile phone targeted specifically at their user level, complete with location tracking. Or rather, their parents do.
The Mymo is a child-targeted mobile phone from UK-based MyMoShop. Compatible with any UK network, the Mymo is designed for parents to allow their young children ages 4-8 limited mobile phone access. With an interface consisting of only three buttons, it is intended to be simple enough for any parent to use. It can dial up to five stored numbers, pre-programmed by the parent. The child has to be able to read the name on the screen, however, so it also serves as an incentive for the child to learn how to read.
To avoid damage, the Mymo is ruggedized against typical child wear and tear. To avoid losing the phone, the Mymo comes with a neck strap so that it can be worn as a necklace. And to avoid losing the child, it comes with a service called Loc8tion so that parents can request where the phone (and presumably the child) is at any given time. To ensure that the child keeps the phone on him or her, it comes in two playful colors; Pretty in Pink and Ice Age White. It also supports pay-as-you-go service so that parents needn't worry about service plans.
The Mymo costs 59.99 GBP. It has been confirmed to work on all major UK networks and should work on any GSM 900/1800 MHz network worldwide. Loc8tion service may not work outside of the UK, however.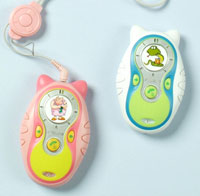 via:infosyncworld.com


---