Motorola has also announced the A1010
14 February 2005 by axxxr
Ready for a mobile that has everything? Motorola introduces the new model A1010, the ultimate 3G convergence phone that allows you to do almost everything while looking stylish and staying on the cutting edge.
With this multi-functional mobile's voice and data functionality, you can feel confident leaving the office and taking your work on the road. Get more done while you review documents and conduct conference calls at the same time and open up a whole new way to communicate and share information with two-way videoconference capabilities. The Motorola A1010 is a PDA smart phone for a smarter you.
Do It Faster
Never be out of touch, out of sync or out of enjoyment with the model A1010's voice and high-speed data functionality. 3G technology combined with Tri-band functionality keep you connected globally. And, the full HTML browser allows you to surf the net - keeping you instantly in-the-know while on-the-go.
Tantalize Your Senses
Who would've thought your camcorder could keep you so connected? Now that the Motorola A1010 is available you can take video and pictures with the integrated 2.0 mega-pixel camera with zoom capability. Experience the brilliant color display and awesome audio with polyphonic ringtones that engage your senses and bring your snapshots, streaming video and images to another level.
Multi-Task Master
Don't have time to mess around? No problem! The Motorola A1010 lets you do it all at once! Conduct a phone call while simultaneously using other wireless services, such as surfing the Internet or accessing corporate data. Need to be hands-free? Bluetooth® Wireless Technology keeps it simple with no wires. No matter where you are or how much time you have, the A1010 helps keep you together.
SUMMARY OF FEATURES:
• Compact Tablet / PDA Form Factor
• WCDMA 2100 MHz, GSM/GPRS 900/1800/1900 MHz functionality for global use
• Large, Brilliant Color display (208 x320 TFT)
• 2.0 Mega-pixel & VGA integrated camera (Video record / Image capture with 4X digital zoom)
• 2 Way video conferencing (Point to Point Video)
• Multimedia: Streaming, Capture & Playback (MP3, MPEG4)
• Messaging: SMS, MMS, Push E-mail (IMAP4, POP3), Instant Messenger
• Full HTML Browser with Small Screen and full screen Rendering
• Picsel™ Document Viewer / Edit (Supporting Microsoft Word®, Microsoft Excel®, Microsoft PowerPoint®, Adobe PDF, Unzip)
• PIM Application (Calendar, Contacts, Notes)
• Synchronization: SyncML (OTA), Desktop PC Sync
• Removable TransFlash Memory
• Integrated USB, Bluetooth® Wireless Technology
• A-GPS support for Location Services*
• Virtual Private Networks Support
• Symbian™ 7.0 Operating System / UIQ 2.1
• J2ME™ (MIDP 2.0 + APIs)
• Download pictures, video, audio, ringtones, wallpaper, and applications*
The Motorola A1010 is expected to be available in Q4 2005.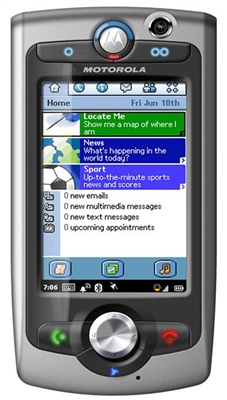 ---