Motorola and Apple Launch the World's First Mobile Phone with iTunes
8 September 2005 by Olav Hellesø-Knutsen
Motorola and Apple today announced the availability of the world's first mobile phone with iTunes, enabling music lovers to transfer up to 100 of their favorite songs from the iTunes jukebox on their Mac or PC to their mobile phone
The Motorola ROKR features easy-to-use menus, simple navigation and playback, and the ability to simply switch from listening to music to talking on the phone and back again with the push of a dedicated music key.
Motorola ROKR specifications:
GSP 900/1800/1900 and GSM 850/1800/1900
108 x 46 x 20.5 mm
107g
Talktime up to 260-560 minutes
Standby time up to 160x230 hours
176 x 220 pixels 262k color TFT display
Java
MMS
Email (POP3 and IMAP4)
Bluetooth
GPRS
WAP
Optional TransFlash memory cards
Intuitive iTunes® interface : even displays album art
Side lights sync with games, ringtones, music and ambient sounds
Make and transfer playlists from your PC to your phone : note approx. transfer time is 30 seconds for 4MB music (transfer times will vary)
Matching wired stereo headset : Listen to music or calls in privacy on a matching wired stereo headset (note: Bluetooth® devices are for voice calls only)
The new Motorola ROKR (pronounced "Rocker") is available in the following markets: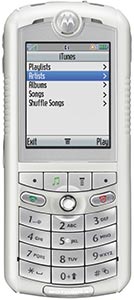 U.S. – today, exclusively with Cingular
U.K. – available first with Carphone Warehouse, expected in mid-September and then with O2, followed by Orange, Virgin Mobile, BT Mobile and other top retailers through September and October
France – expected to be available by late September through key retailers
Italy – expected to be available by late September through key retailers
Germany – expected to be available through distributor and operator channels in 2H 05
Canada – expected to be available in mid- to late-September with Rogers Wireless
Hong Kong – expected to be available by late September through multiple retail outlets and operator channels
Australia, Singapore and the Philippines – expected to be available late September through early October through retail and operator channels
Argentina, Brazil, Mexico and other markets throughout the world – expected to be available in the fourth quarter
"The Motorola ROKR represents the ultimate convergence of mobile communications and music," said Ed Zander, chairman and CEO of Motorola. "Fusing iTunes with your always-with-you mobile phone, we're revolutionizing the way the world experiences mobile self-expression and entertainment."
"We've worked closely with Motorola to deliver the world's best music experience on a mobile phone," said Eddy Cue, vice president of iTunes. "We're also thrilled to be working with some of the largest wireless carriers in the world to bring this pioneering phone to market."
The Motorola ROKR features a color display for viewing album art, dual built-in stereo speakers and stereo headphones that also serve as a mobile headset with microphone. Music fans can randomly autofill or manually fill the mobile phone with playlists of their favorite music, audiobooks and Podcasts from their iTunes library via a USB connection. The Motorola ROKR pauses music automatically when users take a call and offers the ability to listen to music while checking messages or snapping a photo.

---