LG will provide a 2D to 3D game converter engine
29 August 2011 by Olav Hellesø-Knutsen
LG will be the first smartphone manufacture to offer a 2D to 3D game converter engine for existing 2D games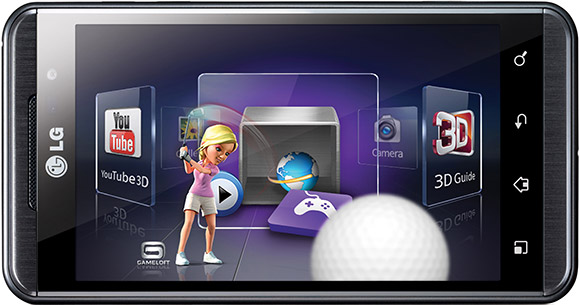 The LG Optimus 3D announced in February was the first smartphone from the company to offer both 3D recording and 3D display capabilities. A couple of games was included at launch, but more have been release since then.
LG today announce another cool feature for those owning a 3D smartphone. An OpenGL-based 2D to 2D game conversion engine will be available to the smartphone platform. We are guessing this means the Android platform. LG's 3D Game Converter is a software based app which let you run 2D games from withing the app which will convert the shown output into 3D. At launch in October, the 3D Convert will have a list of more than 50 popular games where the 2D to 3D conversion settings are optimized by LG. It will be possible to convert other games as well, but the user will have to adjust the 2D to 3D settings manually.
The 3D Game Converter examines the depth information based on each object and separates the 2D graphic images for each eye. Previously installed 2D games can be converted by activating the 3D Game Converter. This will only work in Landscape mode.
LG Game Converter will be available to tbe LG Optimus 3D smartphone via the first Maintenance Release starting in October.
The game conversion engine will be demonstrated at IFA 2011 in Berlin next week.
source (PDF)
---
Alternatively post this in the Esato forum
Please sign in to your Esato account to leave a comment regarding this article
---