LG announces the 8.9 inch Android tablet Optimus Tab LTE
18 January 2012 by Olav Hellesø-Knutsen
LG today announced the first LG tablet with LTE 4G network support. The 8.9 inch tablet is running Android 3.2 Honeycomb and weighs 497 gram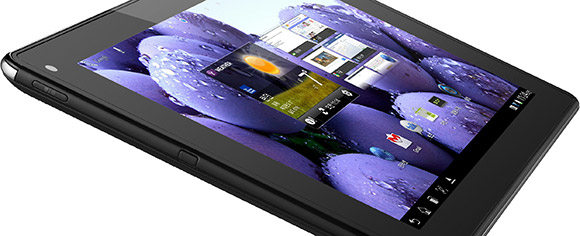 The latest tablet from LG in the Optimus Tab series is just one of many new tablets being released this year. But not many tablets can offer support for LTE networks so far. It seems like the development effort has been to reduce thickness and weight, and maybe added a higher display resolution than the last years model had.
Two emphasized features with this new LG Optimus Tab LTE tablet is the LTE network support and the amount of expandable memory. LG also claims that the Optimus Pad LTE is the worlds first tablet with support for microSD cards up to 32 GB in size. Thank you LG. It gives us a choice. Adding 32 GB more memory to your tablet will cost below 30 Euro. Some makers of tablets today request 80 Euro for that 32 GB extra fixed memory. We doubt it, but hopefully expandable memory will be the de-facto standard from now on.
Optimus Tab will run on Android 3.2 Honeycomb and it will initially be launched in Korea. No words on future update to Android 4.0 Ice Cream Sandwich, but we are guessing it can be upgraded later this spring.
During the announcement, LG said something interesting. Tablets are generating five times more traffic than the average smartphone. According to CEO of LG Mobile Dr. Jong-seok Park, this is one of the reasons why LG now will offer a LTE variant.
LG Optimus Tab LTE highlights
Weight: 497 gram
Size: 245 x 151.5 x 9.34 mm
8.9 inch IPS display True HD 1280 x 768 resolution
LTE network support
Wi-Fi
8 megapixel camera - main camera
2 megapixel camera - front camera
1.5 GHz dual core processor
6800 mAh battery
HDMI out
DLNA
---
Alternatively post this in the Esato forum
Please sign in to your Esato account to leave a comment regarding this article
---