Is This What the New IMac Will Look Like?
16 August 2004 by axxxr
This is pure speculation, of course, based on a somewhat-believable report in ThinkSecret that the new iMac will be an all-in-one design.
According to ThinkSecret, Apple is ditching the Luxo-lamp look in favor of a flat-panel screen with the hardware strapped to the back; something like Sony's Vaio W700G, only better looking. And here is what fantasy Mac designer Isamu Sanada thinks it will look like. Note ThinkSecret's projected form factor and the use of aluminum, Apple's new favorite material.
The soon-to-be-announced, re-designed iMac will be available in two 17-inch models with a 1.6GHz G5 processor and two 20-inch models with a 1.8GHz G5 processor, reliable sources have told Think Secret.In addition, the new models will be housed in an all-in-one body with the motherboard and components attached to the back of the display.
Highly reliable sources have provided Think Secret with incontrovertible evidence of the new iMac specifications. Sources would not confirm specific pricing, but did acknowledge that MSRP will probably fall in the same range as current iMac models -- between US$1,300 and $2,200 -- but could venture slightly higher.

The new iMac line will begin with a bare bones "education" model using a 17-inch widescreen, active-matrix display. Running on a 1.6GHz PowerPC G5 processor, the educational model will not include an optical drive or internal 56K modem, sources said. Its main features will include a 40GB Ultra ATA hard drive, 256MB of DDR SDRAM, 512K L2 cache, NVIDIA GeForce4 MX graphics processor with 32MB of DDR video memory, VGA video output, S-video and composite video output, 10/100BASE-T Ethernet, two FireWire 400 ports, three USB 2.0 ports, and two USB 1.1 ports on the keyboard.

The entry-level consumer iMac will have the same specs of the 17-inch educational model, but with a slot-loading Combo drive, 80GB Serial ATA hard drive, NVIDIA GeForce FX 5200 Ultra graphics processor with 64MB of DDR video memory, and a 56K internal modem.

The widescreen 20-inch iMac will include a 1.8GHz G5 processor, slot-loading SuperDrive, 80GB Serial ATA hard drive, NVIDIA GeForce FX 5200 Ultra graphics processor with 64MB of DDR video memory, and 256MB of DDR SDRAM. All other features will be the same as the 17-inch models.

The top-of-the-line 20-inch model will be identical to the mid-range, 20-inch iMac with the exception of a larger, 160GB Serial ATA hard drive.

All of the new iMac models will feature a microphone and stereo speakers built right into the enclosure. All models will also support up to 2GB of DDR memory, be AirPort Extreme-ready, and come with the standard software suite presently found on the existing iMac models. The new models will come with a wired mouse and keyboard standard.

One interesting addition to the entire lineup will be an optical digital audio output, just as is found on the Power Mac G5 towers. The optical output will support 5.1 digital surround sound, but will not include Dolby support, as Apple is not a licensee of the technology found on similar Windows-based PCs.

Sources told Think Secret that the new iMac design is "impressive" and "an eye catcher." The new unit will not have a display with adjustable neck as found on the current iMacs, but will feature an all-in-one design with the logic board, optical drive and other components housed on the back of the flat-panel display.

Sources said the new model will be similar in design and style to Sony's VAIO W700G, but with sleeker lines and contours. "It's not fair to compare the new iMac to the Sony model," said a source. "But it's the closest thing to it that currently exists."

Experts Think Secret has spoken to believe one of the reasons for the decision not to include an optical drive on the educational model is to not only keep prices down, but to fulfill a request by many schools not to include the drive. Some schools have told Apple that they have experienced increased security problems from having optical drives in their Macs. Many schools have deliberately locked down their optical drives to prevent sharing and copying of copyrighted material.

The new iMacs will undoubtedly be criticized for their small amount of memory; one industry expert commented that it is time for Apple to include 512MB of memory in all its systems not just because most Windows-equipped PCs ship with that much RAM, but because many Mac applications now need that much memory to run efficiently. Many experts believe that Apple has decided not to jump to 512MB of RAM in an effort to protect profit margins, which are constantly under pressure and are looked at very carefully by market analysts and investors.

Sources have also confirmed Apple is still planning on debuting the new iMacs at a keynote address scheduled for August 31 at the Apple Expo in Paris. It is still not known if Apple CEO Steve Jobs will deliver the presentation, but Apple is not expected to delay the debut of the new iMacs; Jobs has been recovering from recent surgery to remove a cancerous tumor from his pancreas. It is not known who would replace Jobs as keynote speaker and show organizers tell Think Secret no such decision has been announced yet by Apple.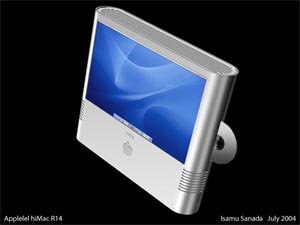 Another Design speculation: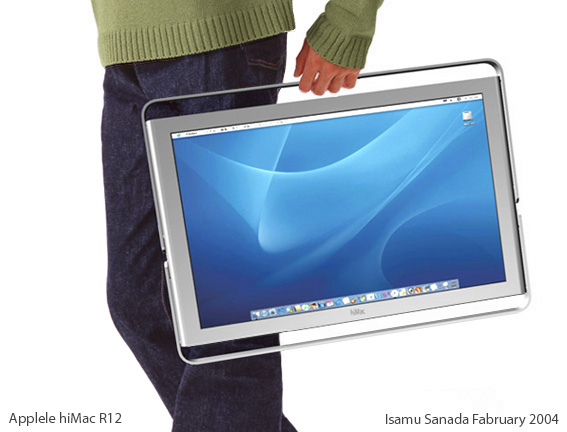 Via:thinksecret.com

---