HTC announces Rhyme Android smartphone
20 September 2011 by Olav Hellesø-Knutsen
The Android powered HTC Rhyme has a 3.7 inch display, HTC Sense, 5 megapixel camera and a range of optional HTC Rhyme accessories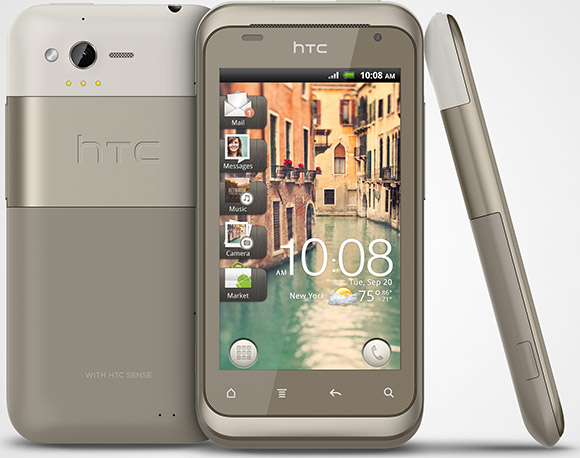 HTC today announced the HTC Rhyme Android smartphone with HTC Sense experience. The basic specifications are a 3.7 inch display with a 480 x 800 pixel resolution. It has 1 GHz processor, 5 megapixel camera, runs on Android 2.3 Gingerbread, has 768 MB memory and 4 GB internal storage which can be expanded with microSD card.
HTC has focused on user experience and a couple of Rhyme accessories:
Rhyme Docking Station - a charger and a desktop stand with Bluetooth and built in speakers
Rhyme Charm - A diode connected to the Rhyme via a cord which will blink when there are new message or an incoming calls.
Rhyme Sport Watch
Rhyme Tangle Free Headphones - Headset with flat wires
Rhyme Bluetooth Headset - Wireless headset with similar design as the HTC Rhyme phone
Rhyme Bluetooth Car Speaker - Car speaker which are attachable to the sun visor.
You might have seen this coming and yes, the HTC Rhyme is aimed for the feminine half of the consumers. Usually the design/lady models are not those with the best specifications, but a 1 GHz processor could make this devices attractive to girls wanting both tech and design in one package.
HTC Rhyme highlights
Weight: 130 gram
Size: 119 x 60.8 x 10.85 mm
Networks: GSM/EDGE 850/900/1800/1900, WCDMA 850/900/2100, HSPA 14.4/5.76
3.7 inch display, 480 x 800 pixel resolution
5 megapixel camera, autofocus, LED flash
720p HD video recording
VGA front facing camera
Wi-Fi b/g/n, DLNA
Bluetooth 3.0
GPS
3.5 mm audio jack
Android 2.3 Gingerbread
1 GHz processor
768 MB memory, 4 GB storage
1600 mAh battery
Standby time: 295 hours (GSM)
Talk time: 620 minutes
HTC Rhyme will be available in selected markets in the end of September / beginning of October.
---
Alternatively post this in the Esato forum
Please sign in to your Esato account to leave a comment regarding this article
So just a slightly modified version of the desire then for the ladies?
Nicer design than the usual brown phones they make. What is those 3 small yellow things below the lens?? Looks like more LED'S cos I see a white one too.
[ This Message was edited by: Bonovox on 2011-09-20 19:56 ]
The dots on the back are contacts for the docking station. The UI is much nicer that what I have on my Desire now. I think its a girly phone judging from the charm thing.
HTC is doing great. Make a phone a little different, ad some nice gadgets, done.
Nice colour combination, not everything "girly" has to be pink

Even if i was a woman

i would never buy a pink phone
I think women should buy only pink phones!

Sexist

No woman should buy a "lady-phone"

horrible term

His & Hers
Oh Great another Wildfire

Just what the lady wants? not me

[ This Message was edited by: Miss UK on 2011-09-21 00:52 ]
The colors just remind me of a new purse my GF bought.
But coming back to topic, HTC made a good move adding a battery like that. At least it has the 2 3g bands used here.
And all the accessories are in the box

Its alot better than the Wildfire specs wise
Maybe so but it's to much of a Wildfire looker
the first Wildfire was really beautiful then HTC did the S and that is so fugley


---