HTC announced a new Touch Cruise
22 January 2009 by Olav Hellesø-Knutsen
The new HTC Touch Cruise (09) will let you save GEO taggs/GPS co-ordinates with many common taksts like recording, photography and notes. The new location based experience from HTC is called HTC Footprints
Press release
Taipei, Taiwan – January 22, 2009 – HTC Corporation, a global leader in mobile phone innovation and design, today announced its latest personal navigation handset with inbuilt GPS. The new HTC Touch Cruise, an update to 2008's popular HTC GPS device of the same name, boasts a new, more compact design and a host of new capabilities to offer a richer and more intuitive experience in one powerful package.
Introducing HTC Footprints
The new HTC Touch Cruise is the first mobile phone to offer HTC Footprints, an application experience that enables people to permanently chronicle their special moments by capturing a digital postcard on their phone. Once captured, Footprints provides the ability to take notes and an audio clip of that favourite restaurant or special place while identifying its specific geographical location. In addition to identifying each postcard with its specific GPS co-ordinates, Footprints also auto-names each postcard with its general location or area.
Flipping back through their photos, HTC Touch Cruise users will be able to retrace their steps to that exact location in just a few touches. Unlike other devices with geo-tagging functionality, HTC Footprints works effectively outdoors and indoors, offering a more accurate record of location for future reference and navigation.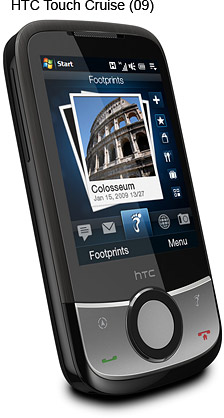 "Just as we have seen GPS technology transform how people navigate to new places, we are now seeing location-based applications like HTC Footprints changing how we interact and carry our memories," said Peter Chou, President and CEO, HTC Corporation.
HTC Touch Cruise Car Cradle
The HTC Touch Cruise is also an advanced in-car navigation system. When placed into its accompanying car cradle, the HTC Touch Cruise automatically transforms its user interface into an easy-to-use, one-touch interface that provides seamless turn-by-turn directions.
Boasting a compact and sleek design with a 2.8 inch QVGA display, the HTC Touch Cruise is a further demonstration of HTC's continued commitment to innovation, providing consumers with a variety of devices designed to meet their individual needs. Using HTC's TouchFLO technology, the HTC Touch Cruise provides fingertip access to phone, contacts, email, messaging, calendar and GPS applications, making it a strong all-around device.
The new HTC Touch Cruise will be available to customers across all major global markets in spring 2009.
Key HTC Touch Cruise Specifications
Size: 102 x 53.5 x 14.5mm
Weight: 103 grams
Connectivity: WCDMA/HSPA: 900/2100MHz. HSDPA 7.2 Mbps
Operating system: Windows Mobile® 6.1 Professional
Display: 2.8-inch TFT-LCD touch-sensitive screen with QVGA resolution
Control panel: HTC TouchFLO, 4-Way navigation wheel with Enter and HTC Footprints buttons
Camera: 3.2 MP, with fixed focus
Internal memory: 512 MB flash ROM, 256 MB RAM
Expansion Slot: microSD memory card (SD 2.0 compatible)
Bluetooth: 2.0 with EDR
Wireless: Wi-Fi 802.11b/g
GPS: GPS/A-GPS
Interface: HTC ExtUSB (mini-USB 2.0 and audio jack in one)
Battery: 1100 mAh
Talk time: GSM: up to 400 minutes
Standby time: GSM: up to two weeks
Chipset: Qualcomm® MSM7225, 528 MHz
---