HTC admits Android Wi-Fi security bug. A fix will soon be available
3 February 2012 by Olav Hellesø-Knutsen
HTC has announced that some of its Android devices has a Wi-Fi bug which let third party apps view Wi-Fi passwords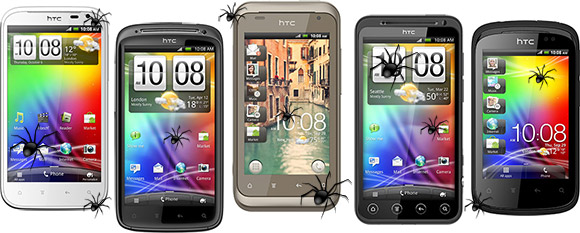 HTC has published a statement on their support site saying a fix for a Wi-Fi security flaw has be released. The company says that most phones have received this fix already through regular updates and upgrades but that some phones will have to be updated manually. A fix for the Wi-Fi security bug will be available next week.
HTC and Google was made aware of this Wi-Fi bug as early as September last year. It all started on September 7th when Chris Hessing from the Open1X notified HTC and Google about a password exploit on some HTC smartphones running on the Android OS. HTC and Google verified the exploit the day after. Several follow-up conference calls with HTC Global and Google took place between September last year and early January this year. A public disclosure was postponed several times during these months. On January 31st HTC published information about this bug on their support web site.
According to Chris Hessing, Google has made changes to the Android code to help better protect the credential store. HTC has quietly release a fixed for several models and issued updates for those. As we wrote in an previous published article, Google has added internal tools for scanning all apps in the Android Market. They have scanned the code in all apps found in the Android Market, but did not find any apps exploiting the vulnerability.
The bug can expose the user's Wi-Fi (802.1X) password to any program installed on the handset. The running app with Internet permission could then send this information to a remote server for collection. Normally on Android handsets the username and password is hidden from installed apps, but not so on 9 verified HTC devices.
The list of affected smartphones are:
HTC Desire HD
HTC Glacier
HTC Droid Incredible
HTC Thunderbolt 4G
HTC Sensation Z719e
HTC Sensation 4G
HTC Desire S
HTC EVO 3D
HTC EVO 4G
---
Alternatively post this in the Esato forum
Please sign in to your Esato account to leave a comment regarding this article
---