Cell Phone Users Value Design Over Price
22 August 2004 by axxxr
Research has shown that Korean mobile phone users look for design over price when purchasing a new handset.
According to SK Teletech on Sunday, a survey has shown that design and function turned out to be the two most important elements when buying a mobile phone for 324 customers who have purchased handsets recently. The result of the research will be valuable material to handset makers who have misunderstood that function and price were the most important factors to purchasers.
SK Teletech stated that the percentage of the repliers who have chose design 1st or 2nd were 55.0 percent. Function was the second most selected with 46.3 percent, followed by price with 41.7 percent.
Respondents in their late teenage years were the most among those who selected design as the primary factor with 36.7 percent, followed by those in their early 20's (28.3 percent), late 20's (22.5 percent), early 30's (20.8 percent), and late 30's (19.2 percent). The order of the age range of those who picked function as the primary element was late teens (39.2 percent), late 30's (26.7 percent), late 20's (25.8 percent), early 20's (25.0 percent), and early 30's (17.5 percent).
Meanwhile, people in their early and late 30's were those who were most concerned about the price with 25.0 percent each. Those in their late 20's (23.3 percent), early 20's (17.5 percent), and late teens (11.7 percent), showing that older customers are more concerned about price when buying a handset.
An official said, "Price and function used to be the primary factors when purchasing a cellular phone. However, nowadays, customers tend to prioritize design over price, and this will continue for a while."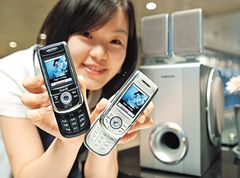 Via:chosun.com
---