---
Posted by
laffen
Sony today announced the 6.9 mm thick 10.1-inch Xperia Tablet Z with a 1920 x 1200 pixel resolution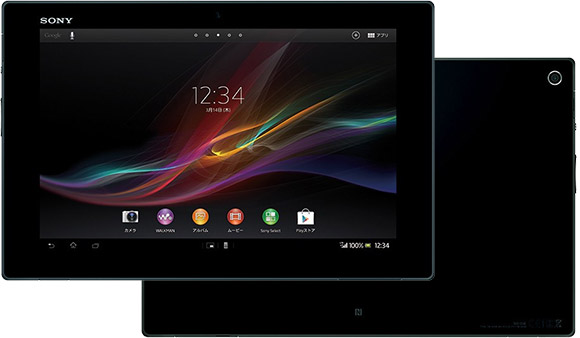 Esato News
[ This Message was edited by: laffen on 2013-01-21 03:01 ]
---
---
Posted by
Guarulhos
Beautiful... Well Built And Specification Techniques With Respect !

Without Doubt A Great Release !
A Great Competitor From The Height
Apple IPad 4
!
P.S: Congratulations SONY... What Will Bear Availability In Europe, Usa And South America (Mainly Brazil) !!!
---
Posted by
Tsepz_GP
Very pretty as usual with Sony devices, but I hope it will perform and get much better FW support than the Xperia Tablet S, Tablet S and Tablet P, the latter seems to have been completely forgotten, and the other two seems to still be on 4.0.4 with no word of 4.1.2.
I've been put off Android tablets due to lack of content, as well as lack of high quality and well optimized apps/games/eBooks/Magazines etc... We seem to be treated as an after thought by the developers when it comes to tablets.
I hope Sony do what Amazon did and create their own store with stuff made for their tablets, as it would be great to have apps take full advantage of that incredible display.
---
Posted by
jcwhite_uk
A very nice tablet but I suspect it will be very expensive.
---
Posted by
goldenface
I wouldn't be surprised if this was priced higher than most. It's a premium product, good specs and very slim, one of the slimmest tablets around.
---
Posted by
Bonovox
Sexy Sony
---
Posted by
Ricky D
There is a fair amount of buzz and chatter regarding international release. In my opinion, enough to have reasonable hope on a fairly quick affair. I do hope we see 32GB worldwide though. Even with microSD, 32GB is better and more flexible in what you do with the thing.
---
Posted by
Bonovox
I think it is very good what Sony is doing with waterproofing expensive devices

---
Posted by
moogoo
if only this bad boy pumped out a resolution comparable to apple's retina or even the Nexus 10.. i think it would do better. being thinnest and waterproof isn't enough to make it a winner, i think.
i think people obsess more about resolution and pixel density when it comes to full size tablets.. but that's my opinion. would have been nice if they had put glass on the back of this too to make it ultra premium feel and match it perfectly with the Z phone, but i guess they were going for lighter weight.
i like it, but not enough to make me a tablet user and if sony can't do it. no one will.

---
Posted by
Bonovox
What's the battery size as it is thin??
---
Posted by
Detox
6000 mAh.
---
Posted by
Ricky D
@moogoo
The pixel density is better than the Note 10.1 and Galaxy Tab 2 10.1, which I believe are two of the more popular android 10 inchers.
Most 10" tabs except the Nexus 10 and iPad have 1280x800. The Nexus is double that, the iPad is not far behind.
The Tablet Z is exactly in the middle at 1920x1200.
I don't think the resolution on this is not bad in any way. It's not truly market leading, but is more than adequate and the design makes up for it.
Waiting for the official word of global release on this is what's really putting me in a tight spot. I was all-in for getting a Nexus 10, just waiting for stock at my dealer, but now I want to wait to for Tablet Z and having to wait might put me out at work. The timing of the release is absolutely critical to me buying it or not.
----
If anyone knows anyone who can get one for me ahead of schedule I'm willing to pay, so long as it is a full production unit and not a development unit that won't be upgradable. PM me.
---
Posted by
Tsepz_GP

6000mAh battery on a 10" tablet with a 1200x1920 (224ppi) display??? Will that be enough juice for it? The iPad4 with 9.7inch 1536x2048 (264ppi) display (slightly higher resolution and PPI than Xperia Tablet Z) has a 11,560mAh battery, that's near DOUBLE the capacity. I understand that the iPad4 has a far more powerful CPU/GPU set so it may demand more power but it can't demand that much more juice than the S4Pro in Xperia Tablet Z, and the Tablet Z has a larger display to power, as well as a 2GB RAM chip and Android which requires more resources than iOS.
I put my iPad4 through some very hard use, with a ton of web browsing, reading newspapers, magazines, Im always on Facebook/Bloomberg/Twitter, I play music on and off from it when I gym, and the odd bit of YouTube, this is on a daily basis, with that usage it has around 40% battery by the time I go to bed at midnight, if I did the same with the Tablet Z I wonder if it would make it to midnight.
Didn't realize Sony had compromised so much on the battery, I'm quite shocked as us tablet users have become so spoilt by the long battery life these things give, my Galaxy Tab10.1 has a 7000mAh battery and that's with a 1280x800 res display. The Nexus10 has a 9000mAh battery and that's with a 2560x1600 (299ppi) display, I wonder if 6000mAh maybe too little for the Tablet Z.
---
Posted by
moogoo
@RickyD..
i hear ya man. I didn't say it was bad resolution. As you said, it is right in the middle with only the nexus 10 and ipad retina having better resolution. I was just trying to say that if Sony really wants to make a splash in the tablet world after a fairly poor showing with the Tablet S, they should have pumped out a device that was maxed out on virtually every level and added the water resistance and sexy design on top of that.
that being said, if i were in the market for a tablet, the resolution would not bother me so much. what i would worry about much more is the battery capacity.
luckily, i don't have to think about such decisions since i'll never be a tablet user

---
Posted by
Ricky D
I'm dying here waiting for this. More excited than any other gadget release since Aino (one of the best most underrated old SE handsets).
I'm becoming obsessed and twice refreshing pages for my local electronics market in the hope that a price and availability appears.
I'm also wondering if Sony will fill the space where the antenna is for global release. A stylus would be nice, but unlikely, extra battery would be nice, but unlikely. I guess they won't put anything there which is a shame really.
---
Posted by
goldenface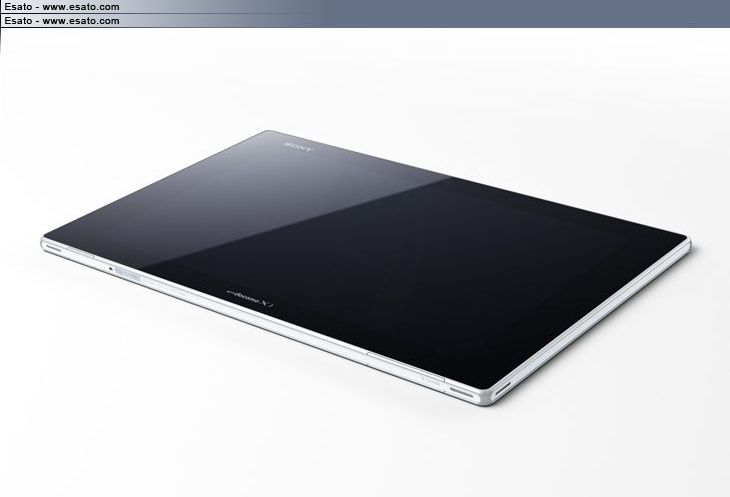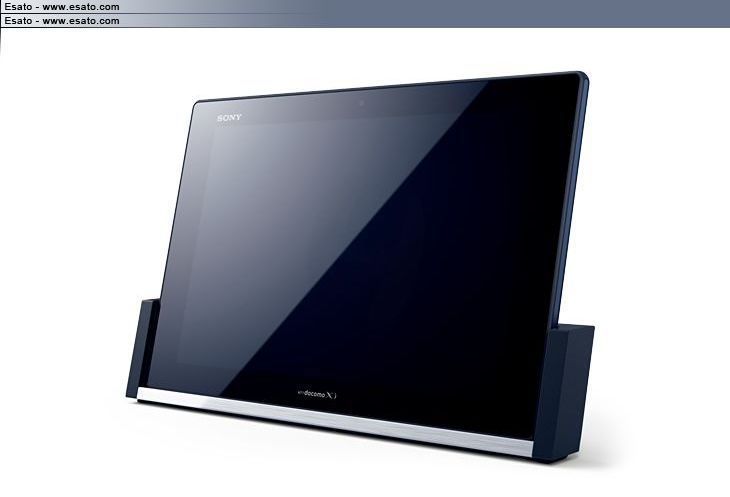 With the integrated keyboard and cover...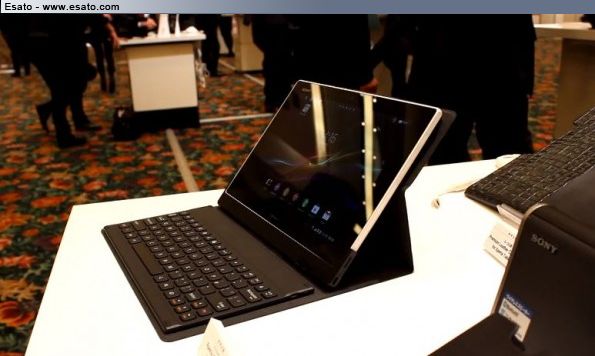 [ This Message was edited by: goldenface on 2013-01-27 15:33 ]
---
Posted by
Bonovox
I know this has LTE but why is the HSDPA speeds so slow?? Only shows 14mbps
---
Posted by
Indiandawg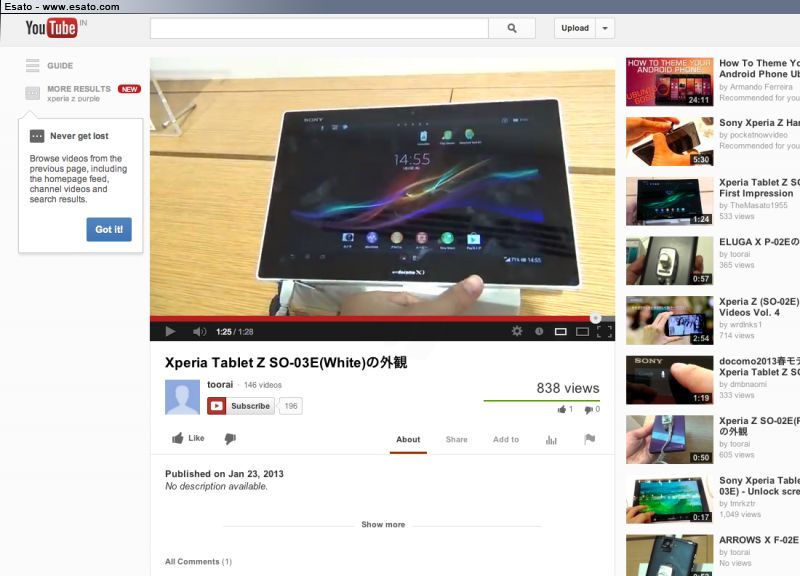 http://www.youtube.com/watch?v=dK4NTo6O0sk
What a beautiful Tablet!
---
Posted by
goldenface
A must have, very desirable. Especially in white.
---
Posted by
Ricky D
Does anyone know if this will have microUSB or some sort of proprietary connector?
---
Posted by
Detox
Bluetooth Special Interest Group listing for the Xperia Tablet Z:
https://www.bluetooth.org/tpg/EPL_Detail.cfm?ProductID=27203
[ This Message was edited by: Detox on 2013-02-18 19:25 ]
---
Posted by
Ricky D
Finally officially announced. Looks tasty too.
I can't wait.
---
Posted by
goldenface
I think we may have to, it looks like this might not be hitting shelves until May, correct me if I'm wrong, please!
---
Posted by
randomuser
I must admit I never liked tablets and still think tablets are the most useless gadgets ever.

BUT this Xperia Tablet Z is sooooooooo tempting

I might get one

---
Posted by
Ricky D
I heard mid-April for UK, but that was a while back, it could have been pushed to ensure launch sync with the rest of the world, I think they're trying to sync releases world-wide with recent devices. China didn't get Xperia Z even a day earlier than anywhere else and we often get handsets a week or so earlier at least.
---
Posted by
laffen
I have heard from Sony staff at MWC that it's out in Europe in May
[ This Message was edited by: laffen on 2013-03-06 11:55 ]
---
---
Posted by
goldenface
The press release just says Q2 but I'd expect it to be available in Europe before the US.
I'm hoping so anyway. Doesn't exactly fall in with their new strategy of 'a short time from announcement to availability' does it.
Feb - May is 3 - 4 months, like it was in the bad old days.
---
Posted by
goldenface
http://www.youtube.com/watch?[....]=player_embedded&v=h5QWbURNEpA
Official Advert.
---
Posted by
Indiandawg
Xperia Tablet Z launches in India on May 13, 2013
---
Posted by
Bonovox
Tablet Z teardown
http://www.xperiablog.net/2013/03/21/xperia-tablet-z-in-teardown-video/#more-13624
---
Posted by
julias
Sony Xperia Z Tablet 16GB Pre-Order @SonyUK £399.00
http://www.sony.co.uk/product/xperia-tablet-z/sgp311gb
---
Posted by
Ricky D
This is excellent news. I can not wait a moment longer to get my hands on this beauty.
---
Posted by
Ricky D

Due date on the Sony site is now end of May
I really hope that's because they're planning on shipping to retailers first and the Sony online store is the last to get the stock.
---
Posted by
goldenface
This is now coming soon at Carphone, no price yet although I'm trying to find that out.
link
---
Posted by
Ricky D
Finally some movement!
I'm seriously itching for this. I notice on the Carphone Warehouse site they picture black and white and mention 4G too, but on the
Sony site
the 4G version only comes in black. I'm sure they'll clear that up when release comes around, but a 4G white tab to match my white Xperia Z would be awesome.
---
Posted by
goldenface
Only one version comes in Black and White, the second most expensive one. The white one is beautiful. CArphone is usually more expensive than the normal retail price though, which is a bummer.
---
Posted by
Ricky D
Starting to get very excited a touch edgy waiting for this. Hope it hits the markets here in Beijing sooner rather than later and I hope I won't have to wait an extra month for white to become available like has happened to me in the past.
Weirdly there's still no movement in terms of advertising or coming soon/pre-order place holders on websites or in shops here.
---
Posted by
goldenface
Yeah, it should only be a couple of weeks now. I'm really looking forward to this. I've already seen it for £390 with free shipping on google shopping.
---
Posted by
Ricky D
A lot of the pre-orders from Sony have had emails saying to expect delivery around end of this week.
Anybody know if any of the other regional variants have a 32GB LTE white version which would be compatible with UK networks?
I'm in a bit of a bind as to what to buy. I want white definitely, 32GB if at all possible, LTE preferably (although I'd probably not even buy a sim for it, I'd probably just tether to my phone). These are the variants I know of ant what I know about them:
SGP311
- 16GB Wifi only (in the UK only available in black)
SGP312
- 32GB wifi only (in the UK available in black/white)
SGP321
- 16GB LTE (in the UK only available in black)
SGP331
- ??
SGP341
- ??
SGP351
- ??
Can anyone fill the gaps?
---
Posted by
esoqq
The £499 LTE version is now in stock and available from Sony UK. No sign of stock for the Wi-Fi only versions yet.
There's a 7% discount on all models if going via the Education store (e.g. £371 for the entry-level model), but it looks like stock via this route isn't available yet.
---
Posted by
goldenface
It's sold out according to Xperia Blog

http://www.xperiablog.net/201[....]blet-z-sold-out-across-europe/
---
Posted by
winnerzero
Preordered mine as well...launching 6 June in Australia...
can't wait...i really hope this tablet will be nice and fluid...hate laggy tablets which, unfortunately is like 99% of tablets...
---
Posted by
Ricky D
Did a bit of digging and found SGP341 is an HSPA+ only version which supports extra HSPA+ bands and is available in 32GB (not 100% certain on colour availability).
I think this one, if available in white, in my solution seen as none of the LTE versions seem to be 16GB and black and China and the UK don't have wise support for LTE yet. LTE would just be a waste especially if sacrificing it means I can get the 32GB internal.
Anyway, I was quoted 4500RMB (~450GBP) for one today but they had no stock. I'll go back next week to have a look.
---
Posted by
jameshopes
It is looking so nice. How much does it cost? Is it available in Australia?
[ This Message was edited by: jameshopes on 2013-05-22 11:33 ]
---
Posted by
Ricky D
@jameshopes Not sure when it's available in Australia. My guess is sometime in the next two weeks if it's not out already.
---
Posted by
Indiandawg
saw Xperia Tablet Z today at Sony Store Paris.
It's very thin and very sleek though the display ratio is little different from iPad but overall looks perfect. Didn't play much around so cant comment on the UI front but it was snappy from where I was using the home screens
---
Posted by
Ranjith
Pre-Order price for 3g+wifi 16GB in India 45,000.00 INR/808$



isnt that like toooo much?
[ This Message was edited by: Ranjith on 2013-05-22 20:25 ]
---
Posted by
Supa_Fly
On 2013-05-22 21:24:20, Ranjith wrote:
Pre-Order price for 3g+wifi 16GB in India 45,000.00 INR/808$



isnt that like toooo much?
[ This Message was edited by: Ranjith on 2013-05-22 20:25 ]
Maybe that's a sign for you to get into the import business for India and make some serious deals with those in power & the government

---
Posted by
Bonovox
Nice tablet this is only thing I don't like is too much bezel
https://www.youtube.com/watch?v=OWwspS4erHo&feature=youtube_gdata_player
_________________
Material things don't matter,but Rock n Roll does!!!!
Sony Xperia P
[ This Message was edited by: Bonovox on 2013-05-23 14:05 ]
---
Posted by
itsjustJOH
HOLY COW! PHONEARENA GAVE THE TABLET Z A 9! THE WORLD'S END IS NEAR!

Sony Xperia Tablet Z Review