---
Posted by
tranced
New 3G Smartphone Delivers High-End Features and Performance With a Compact and Highly Refined Design
Waterloo, ON - Research In Motion (RIM) (Nasdaq: RIMM; TSX: RIM) today announced the sleek and powerful
BlackBerry® Bold™ 9700 smartphone
. The new BlackBerry Bold 9700 offers an extensive array of high-end communications and multimedia features in a compact and highly refined design that will appeal to both men and women and for both professional and personal use.
The BlackBerry Bold 9700 smartphone offers top-of-the-line performance, functionality and features with support for 3G HSDPA networks around the world, a next-generation (624 MHz) processor, 256 MB Flash memory, built-in GPS and Wi-Fi®, a 3.2MP camera and a sharp, dazzling display. Cutting edge engineering and premium finishes extend to the exterior of the handset as well, with a smoothly integrated touch-sensitive trackpad and a highly tactile, distinctive, fretted keyboard. The dark chrome frame and leatherette back add to the new smartphone's sleek and elegant look, while the narrow profile, balanced weight and soft-touch sides allow it to feel incredibly comfortable in one hand.
"The BlackBerry Bold 9700 builds on the success of the original BlackBerry Bold with new, state-of-the-art features and a smaller, lighter and highly optimized design that looks, feels and performs great," said Mike Lazaridis, President and Co-CEO, Research In Motion.
Key features of the BlackBerry Bold 9700 smartphone include:
- Sleek design measuring 4.29" x 2.36" x 0.56" (109 mm x 60 mm x 14.1 mm) and weighing only 4.3 oz (122 grams)
- Sharp and dazzling 2.44" light-sensing display (480 x 360 resolution at 245 ppi)
- Highly tactile full-QWERTY keyboard – with finely sculpted keys and chrome frets – for fast, accurate typing
- Innovative touch-sensitive trackpad that allows intuitive and responsive navigation
- Built-in Wi-Fi (802.11 b/g) with support for Wi-Fi calling via UMA where available
- 3.2 MP camera with variable zoom, autofocus, flash and video recording
- BlackBerry® OS 5.0, offering users email management and calendar enhancements* as well as a better browsing experience with faster JavaScript and CSS processing
- Built-in GPS for maps and other location-based applications, as well as photo geotagging
- Media player for videos, pictures and music (music play now extended up to 38 hours), plus support for BlackBerry® Desktop Manager for both PCs and Macs, and BlackBerry® Media Sync for easily syncing iTunes® and Windows Media® Player music with the smartphone**
- 3.5 mm stereo headset jack, dedicated volume controls, Lock and Mute keys seamlessly integrated across the top of the handset
- microSD/SDHD memory card slot that supports up to 16 GB cards today and is expected to support 32 GB cards when available; a 2GB card is included
- 256 MB of Flash memory
- Access to BlackBerry App World™, featuring a broad and growing catalog of mobile applications developed specifically for BlackBerry smartphones. Categories include games, entertainment, IM and social networking, news, weather, productivity and more.
- Premium and easy-to-access phone features, background noise suppression technology and high quality speakerphone
- Bluetooth® (2.1) with support for Secure Simple Pairing, hands-free headsets, stereo headsets, car kits and other Bluetooth peripherals
- Support for BlackBerry® Internet Service and BlackBerry® Enterprise Server
- Available in two versions to support various carrier 3G network frequency combinations:
>UMTS/HSDPA 2100/1900/850/800 MHz and quad-band EDGE/GPRS/GSM
>UMTS/HSDPA 2100/1700/900 MHz and quad-band EDGE/GPRS/GSM
- Removable, rechargeable 1500 mAhr battery that provides approximately 6 hours of talk time and 17 days of standby time in 3G mode
The BlackBerry Bold 9700 smartphone is expected to be available from carriers around the world beginning in November. For more information visit
www.blackberry.com/bold9700.
* Some features require BlackBerry Enterprise Server 5.0
** Certain music files may not be supported, including files that contain digital rights management technologies
Full Press
---
---
Posted by
>500
this could very well be my next phone...
its about time blackberry had 2 variants, one for NA and one for rest of world. i always needed a 900/2100mhz hsdpa capable phone, but blackberry only offered 850/2100 or just 2100.
---
Posted by
Aware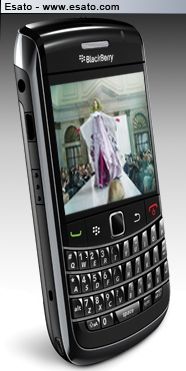 ---
Posted by
Tsepz_GP
Realy nice!

How interesting, the screen has been taken down to 2.4" inch, looks like RIM learnt the same lesson that NOKIA did when making the E61i successor, the E71.

---
Posted by
p900 lover
So its finally officially announced. Great phone but not sure if its worth the upgrade from my 8900
---
Posted by
nicv27
I like it and will end up getting it i guess. The only thing i dont like is it`s smaller than my bold.
---
Posted by
fatreg
Just in time for my upgrade

Wjo would have thought it!
---
Posted by
smartphone1
Smartphones
are always welcomed by people, especially business persons. Since the new one come out, many people will change their phone to this one``

---
Posted by
fbloise
is not worth it... no fm radio, lousy camera...
---
Posted by
Merc_Man
@ fbloise, BlackBerry's are usually used by business people, who don't really care about the Camera quality or FM radio.