---
Posted by
laffen
SanDisk Corporation and Sony Corporation today announced that the two companies have agreed to a Memorandum of Understanding (MOU) with the intention of developing the SxSTM (S-by-S) memory card specification, with high-speed transfer technology compliant to the ExpressCard industry standard
Esato News
SxSTM memory cards will leverage the technology strength of SanDisk and Sony, who have a long and successful history of co-developing and promoting flash memory products. With this high-performance and high-reliability memory card, both companies are targeting workflow improvements for professional camcorders and non-linear video editing systems.

The SxSTM memory card specification uses flash memory and complies with the ExpressCardTM industry standard, and the card connects directly to computer systems through the high-speed PCI-ExpressTM bus. ExpressCardTM has been rapidly adopted by PC manufacturers to replace the legacy PC CardTM form factor, giving the SxSTM memory cards broad support in post-production hardware.

Sony will adopt this high-speed SxSTM memory card specification in its "XDCAM EXTM" series professional camcorders. SxSTM memory cards from SanDisk and Sony are expected to be available later in 2007.
Benefits:
High-speed data transfer of large video files.
SxSTM memory cards are the first native PCI ExpressTM solid-state storage media1. PCI ExpressTM has a maximum data transfer speed of 2.5 gigabits per second, twice as fast as PC CardTM-based storage media. In addition, SanDisk and Sony have optimized the technology protocol for controlling communication between hardware and SxSTM memory cards to enable high-speed transfer of large files, such as high-definition video, to PCs for non-linear video-editing. The target transfer speed of SxSTM memory cards is 800 megabits per second2.

Compact Size.
The SxSTM memory card specification uses ExpressCardTM/34 modules (width: 34mm, height: 5mm, length: 75mm), half the size of PC CardsTM. This enables the design of professional camcorders that are smaller and lighter, while still offering high storage capacities.
"Sony and SanDisk share the goal of providing leadership in high-performance, high-capacity recording solutions for professional video," said Eli Harari, Chairman and CEO of SanDisk. "I am proud of the close cooperation we have had with Sony over the years, and I look forward to the exciting new products that SxSTM memory cards will enable."

Yutaka Nakagawa, Executive Deputy President and Corporate Executive Officer of Sony Corporation, said: "Sony has successfully collaborated with SanDisk Corporation in promoting the Memory Stick formats. Significant milestones have been the Memory Stick PRO format in 2003, the Memory Stick Micro in 2005 and Memory Stick PRO-HG in 2006. I am delighted by today's joint announcement of this new technology, which expands our collaboration to a new area, the professional video market, offering great benefits to users in this field. With the introduction of this SxSTM memory card, we will seek to expand its use throughout professional video applications to enable highly efficient workflow systems."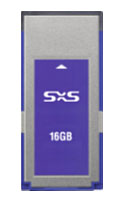 ---
---
Posted by
*Jojo*
@laffen - Nice report ! But how I just wish that Sandisk did it ALONE . . . . I hope that eventually this will be available on Digital Cameras as they can CAPTURE - videos too (like that of camcorders/video cameras).
---
Posted by
Twometre
I also wish the same thing @jojo. Anyways the did is done.
---
Posted by
Chartreuse Eyes

Wow!