Sony Ericsson X1 Xperia review
In the package
Charger (with USB Type-A female connector)
USB cable (Type-A to Micro-B. For charger or PC connection)
Handsfreeset with three types of earplugs.
CD-ROM with Windows Activesync software, Windows Mobile Device Center 6.1, X1 Handbook, and Wayfinder Navigator
Four instruction leaflets (Getting started, Panels, Multimedia, Browsing the Web and Messaging)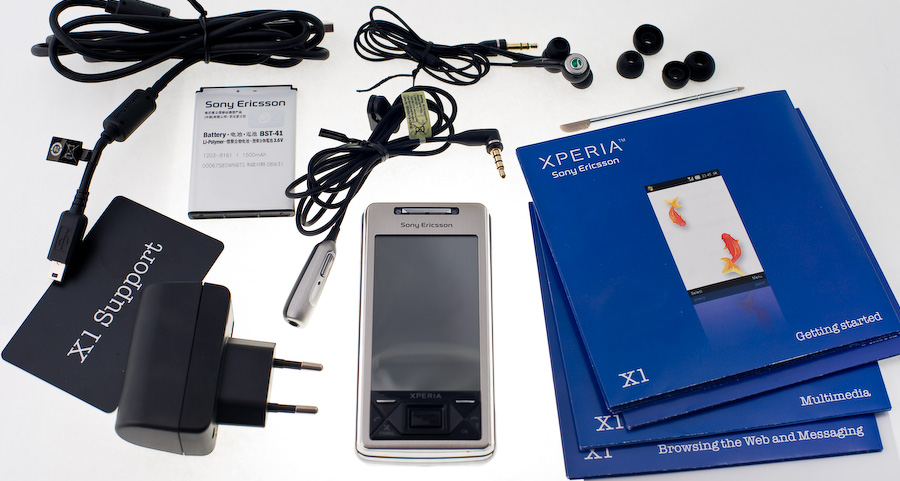 Sony Ericsson X1 and included accessories
There are no printed user manual included! As an comparison: The Sony Ericsson C905 has a 82 pages instruction manual included and when I bought my latest DSLR camera, it was accomplished width a 442 pages manual. I had to read through most of these 442 pages to be able to operate the camera and to understand all it's functions properly. On the other hand, when you buy a new Windows PC there are no manual for the OS included either. It is taken for granted that you know how to operate a new bought PC or Windows Mobile phone. The interactive X1 help system will guide you through many obstacles but it can not help you with X1 specific features. Searching Help for "panel" or "camera" return zero results.

USB charger and cable for PC connectivity
It is obvious that Sony Ericsson has co-operated with HTC during the designing of this device. As I wrote before, it is nothing wrong with that. HTC is one of the manufactures with most Windows Mobile handsets out there. Hopefully, Sony Ericsson has learned a couple of things during the process of making the first Xperia model. Next generation Xeperia will probably be announced during Mobile World Congress in February this year. The rumors say that the Sony Ericsson/HTC co-operation has ended for this time. Maybe Sony Ericsson will do the next Windows Mobile entirely by them self?
Pro
Large 800x480 pixel display
Battery capacity
Input options (QUERTY keyboard, stylus, handwriting recognition, finger gestures, D-pad, touchpad)
Connectivity options
Email protocols supported (POP3/IMAP/Exchange push)
Con
Slow Camera interface (*)
No accelerometer
Poor volume adjustment posibillities
Difficult to write text with just one hand.
Note:
A couple of days before I finnished writing this review, Sony Ericsson release a new X1 firmware which adresses the problem with the slow camera response. I have not updated the X1 and are not able to verify this.
X1 Photo Gallery