Sony Ericsson X1 Xperia review
Media, Imaging and Music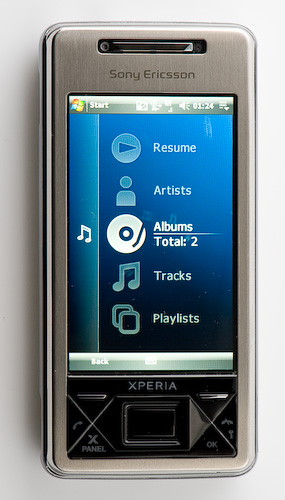 The X1s Mediaplayer Panel
Sony Ericsson X1 has support for most popular music formats: MP3, AAC, AAC+, EAAC+, WMA, AMR and MIDI. To play these files you can choose between Windows Mobile Media Player (WP) or the Sony Ericsson Media player (SP). If you want to view WMV video files or play WMA music files it is only Windows Media Player that can play these formats. I have all my music library stored on a server in lossless format. Windows Media Player does not play FLAC-files but converting the files to WMA-lossless is the same thing. This should not be much of a consern for most users. When we have music files with bit-rates of 200 or more it is more likely the headset that limit the quality and not the file format used. SP will recognize WMV files as media files, but will open them in WP instead of it's own player.
The Sony Ericsson Media Player (SP) is without doubt the best application for organizing and playing media files. It is the same user interface also found in Sony PSP, Playstation and new Sony Ericsson mobile phone models. Media files like games and contacts(?) are easily access by dragging a finger across the display. Windows Media Player requires the use of a stylus to operate properly while SP is designed for simple finger gestures. Another note about the display orientation: The SP video section automatically rotates the video to match the display while the photo viewer does not. Here, it would have been nice to have a dedicated button or something to quickly change the display orientation. An accelerometer (auto-rotation of display oriantation) would certainly been nice to have. Typically, half of the pictures in the camera album are shown the wrong way. Seeing photos taken in landscape mode on a display held in portrait mode is a waste of space on this excellent screen. It is possible to rotate the saved images and this will usually reduce image quality as the compressed JPEG file is compressed again after rotation. Not so on X1. I tested to see if a rotated image had changed in size and quality but this was not the case. So my conclusion is that rotating photos capture in landscape mode will fit the display much better than portrait mode photos and it is possible to do this numerous times without loosing image quality. The drawback is that these photos also are rotated when they are transfered to a computer later. The standard Windows Mobile Pictures & Video application has an option to optimize for portrait or landscape pictures during slideshow.
A modest image editor is installed, and a few basic editor functions can be applied to images. These are: rotate, crop and auto correct. If you need more powerful tools, you will have to install from a third party source.
Sony Ericsson X1 has a built in FM radio but it can strangely enough only be started by activating the radio panel. The radio panel has a simple to use interface where most basic options are controlled. Channel presets , auto and manual channel search, volume, on/off and output speaker or headset. Since Radio is a dedicated panel, the settings (band, themes, AF and time format) are changed by the theme configuration page. As usual, a handsfree must be used as an antenna before powering on the Radio is possible. The radio will power off automatically if the handsfree is removed.